However 'difficult to succeed' people may refer to the restaurant industry as, the numbers don't lie. As of 2020, the restaurant industry employed 11.26 million people in the US alone. It clearly shows that despite the challenges posed by the restaurant industry, a lot of people still enter it with the intent to start a restaurant that will earn them great recognition and profits.
And why not? When you have a strategic plan and invest in a good tech solution, it is possible to stand out from the crowd of similar restaurants. One of the top things most successful restaurants have in common is a strong Front of House(FOH) and Back of House(BOH). In this blog, we are going to delve into the BOH in greater detail and learn best practices to manage your restaurant back of house effectively.
What is restaurant BOH (Back of House)?

BOH or Back of House refers to the backend and invisible, non-public facing areas of a restaurant. It includes the kitchen where the chefs work and the inventory storage rooms for the food & beverage supplies. It also includes the restaurant owner's office, if any, and a break room for the staff.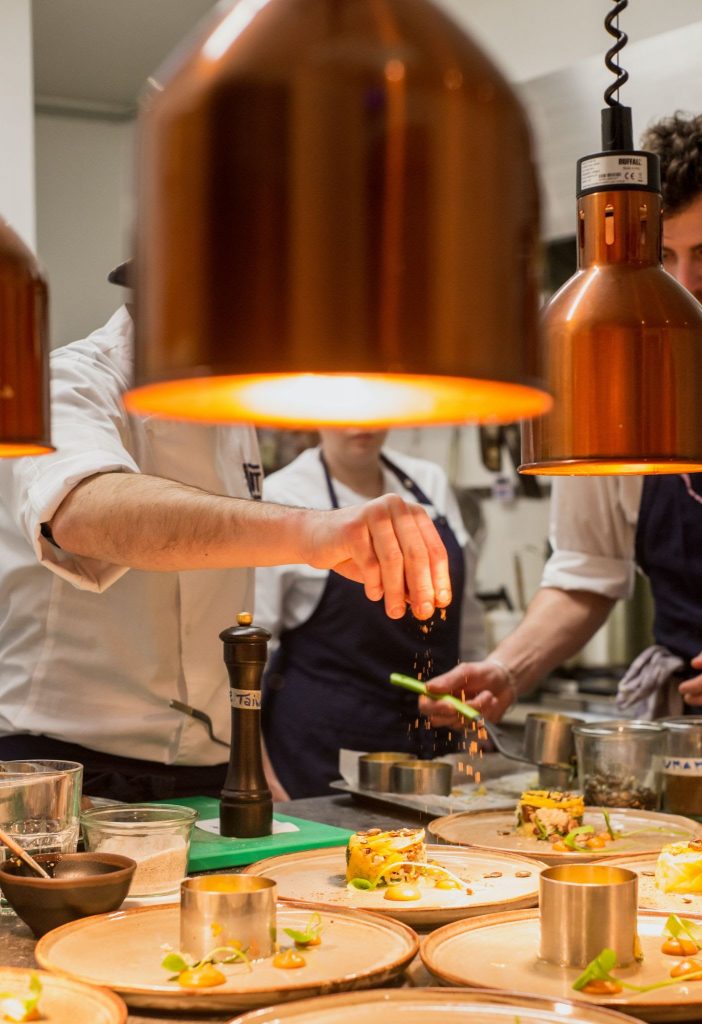 The restaurant BOH is often assumed to be messy because the customers never walk into the BOH. It is the battleground of the restaurant where everything from cutting to cooking to washing dishes is done. But it is crucial that your BOH is as clean as your FOH.
The key to a restaurant's high level of customer service is a seamless connection between the FOH and the BOH. American restaurateur and MasterChef judge Joe Bastianich said, "Working in a restaurant means being part of a family, albeit usually a slightly dysfunctional one. Nothing is accomplished independently."
BOH staff roles in the restaurant
The main function of a restaurant BOH is to create sumptuous food in the kitchen to be served to the hungry customers. The kitchen back of house restaurant positions consist of the kitchen manager, purchase manager, executive chef, sous chef, commis, CDP's, runners, and the cleaning staff. Accounting and payroll-related functions also come under BOH. These staff members are collectively responsible for the following 7 functions of the Back of the House:
Raw Material Purchase
Food Production
Storage & Maintenance
Human Resources
Sales & Marketing
Accounting
Security
Difference between BOH and FOH
Think of a high school auditorium where the stage is the FOH and behind the curtains is the BOH where the performers prepare for their turn on the stage. The stage showcases well-prepared performances but the backstage is not as organized as the stage. Similarly, the FOH of a restaurant has to look top-notch because that's what the customers see while the BOH is chaotic at most times.
The FOH takes care of the customers while the BOH is mainly responsible for food purchase, storage, and production. A general manager serves as a connecting link between the FOH and BOH of a restaurant. There needs to be a perfect collaboration between BOH and FOH because it helps in improving the table turnover rate and increases your sales and customer satisfaction.
Chef Will Gilson states, "The key to running a successful kitchen is what I call the 3 F's – Be Firm, Be Fair, and Be Friendly with your staff, your guests, and yourself." A lack of coordination between the FOH and BOH can lead to misunderstandings and prevent you from offering your customers an enjoyable experience of dining at your restaurant.
Best practices to manage your restaurant BOH:
The BOH includes a lot of aspects that contribute to the functioning of a restaurant. To ensure the BOH fulfills all the responsibilities and produces expected results, here are some of the tried and tested ways to manage your restaurant BOH:
1. Invest in a restaurant management system:
Is it necessary, you ask? Considering how crippled we feel after the pandemic has forced people to stay indoors and order home delivery, it has become crucial to have an automated system. A system that not just makes it easy to keep track of orders being received from various channels but also allows you to monitor your inventory to prevent food waste.
Food waste is something no restaurant can afford at this moment. Find a restaurant management system to ensure you have a good understanding of your inventory, your COGS, and your sales. This will make it easy to manage supplies & prevent you from being in a situation where your BOH suddenly runs out of supplies or ends up wasting a lot of supplies due to expiry.
Our tech tool helps you keep an account of your recipes, your inventory, purchases, sales, and much more and allows you to get analytical insights into your restaurant's financial performance. Here's a Restaurant Tech Ecosystem Map updated in 2021 that shows how tech solutions have helped in making overall restaurant management more efficient: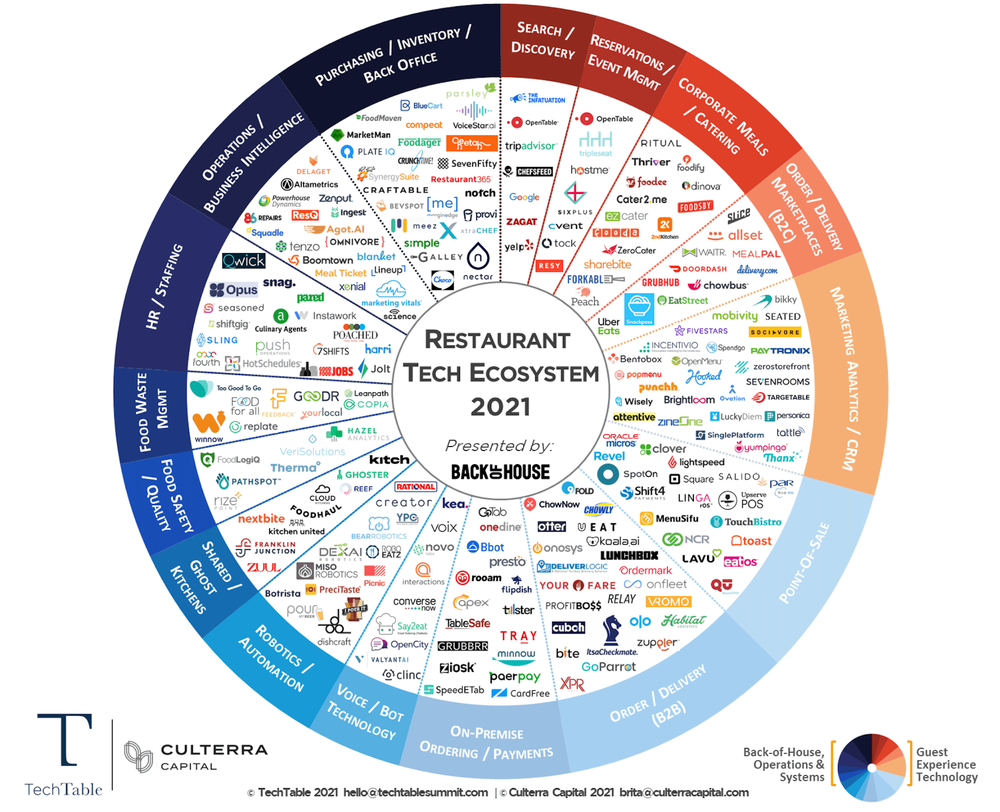 Image Source: https://thespoon.tech/2021-restaurant-tech-ecosystem-serving-up-a-digital-lifeline/
2. Communicate effectively with FOH:
Lack of communication can ruin business performance not just for a restaurant, but for every business in the world. For a restaurant Back of House, it becomes crucial to have seamless and clear communication with the Front of House to ensure there is no mistake in orders and customers are served exactly what they asked for.
It can be a very unpleasant experience for a customer if they receive the wrong order or poor quality of food because of the poor coordination & communication between the FOH and BOH. Usually, this leads to the customer never coming back and contributing to the negative word-of-mouth publicity of the restaurant.
To prevent this from happening, make sure your FOH and BOH staff is trained together as a group. While they may have very different responsibilities, training them together can help them be aware of who exactly is responsible for what roles in the restaurant. It also helps foster mutual respect for each other's roles and responsibilities. It also increases the chances of a staff member being able to multitask during unusual circumstances.
3. Take inventory count regularly:
A fully functional restaurant kitchen needs strong management. This does not just mean someone overlooking every aspect of the BOH, but having good control over the inventory being needed by the kitchen. Most of your BOH management issues can be resolved with the help of a dedicated inventory management system.
By taking a regular inventory count, you can optimize the stock levels and ensure your BOH has everything they need and doesn't run out of stock. This will lead to better planning, forecasting needs for the coming days, reduced ordering mistakes and over stocking. Just like table turnover, inventory turnover should be monitored.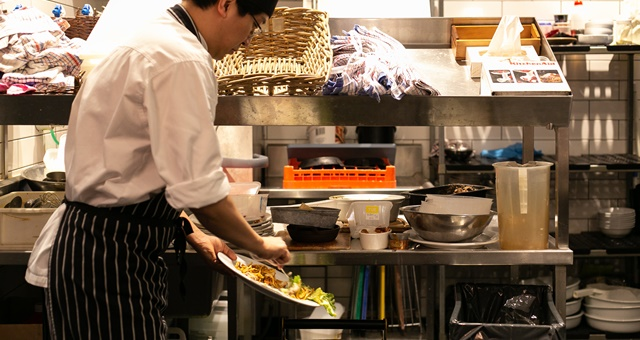 To ensure high quality of food in your restaurant, you may want to ensure you have an idea about the expected consumption for the month and procure supplies accordingly. Buying fresh supplies on time and keeping track of them reduces food waste significantly. Your restaurant storage facility also needs to be well-maintained, shelves and racks clearly marked and arranged to ensure quick and efficient operations in the BOH.
4. Keep your staff motivated & engaged:
In a restaurant, your staff is your biggest asset. If any of them underperforms or makes a mistake, it can lead to a bad reputation for your restaurant business. Offer them opportunities to learn better ways to do their job and learn new cooking trends that enhance their knowledge.
Employees who receive growth opportunities feel grateful towards their owners and stay loyal to the business.
Apart from training your staff to perform to the best of their abilities, it is vital to keep them engaged. Staff engagement is paramount to ensure they are dedicated to the success of the business. Make sure to compliment your staff when they perform well and give them feedback on their work so they learn ways to improve their work output. This keeps their motivation high and ensures your BOH works more efficiently.
Recently, a popular Mumbai restaurant set a great example of keeping staff motivated. By initiating a practice of the 'Employee of the month' award along with a cash bonus purely based on performance, they were able to inspire their staff to work more diligently. They also offer an incentive to a staff member with the highest attendance record for the month. With two such powerful motivating factors, your staff is bound to stay engaged at work.
Did you know McDonald's has a reward and incentive system to motivate employees? In 2014, they assessed customer ratings to identify their top 5% restaurants in the months of February, March & April. The reward was a trip to the Fifa World Cup in Brazil. This worked pretty well for McDonald's because they were one of the sponsors. But the important thing to note is that their customer satisfaction score heavily improved in this phase and their average speed of service increased by 6.1 seconds compared to the previous year.
5. Create a BOH checklist:
It's always best to put forward clear expectations so there are fewer chances of misunderstandings in the BOH. Create a checklist for your BOH so they know their daily, weekly, and monthly tasks. By doing this, you can hold your staff accountable for their behavior in case they don't fulfill their duties.
Here is an example of how you can create a basic checklist for your kitchen staff for their daily duties. Similarly, you can create checklists for the FOH and the storage & maintenance department. You can customize them based on your unique requirements. The elements included in these lists will vary based on the size of your setup and your staff.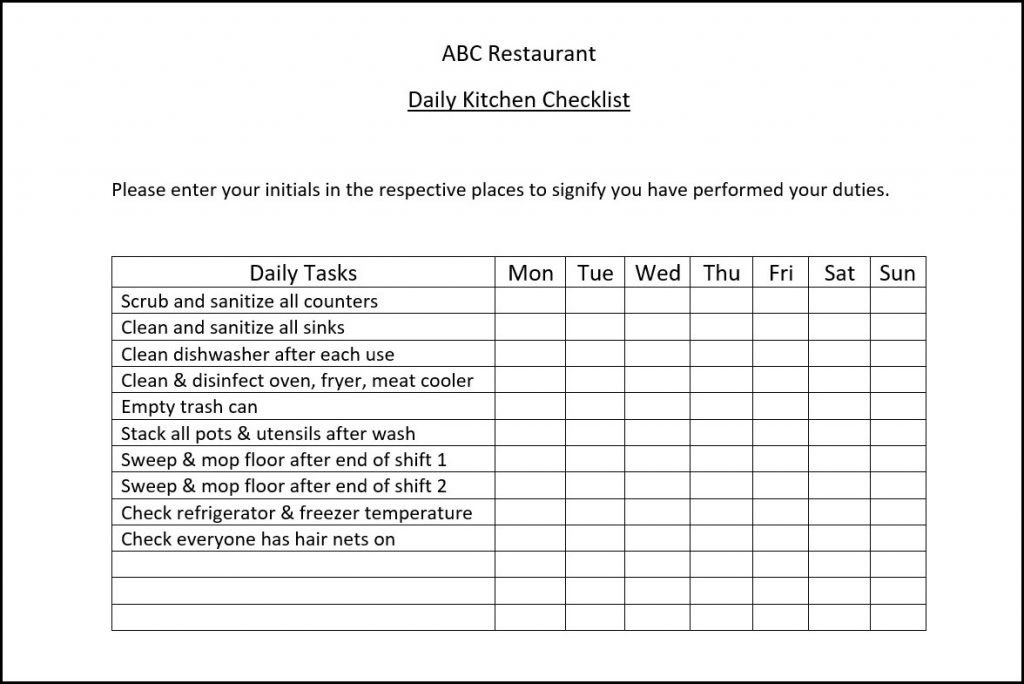 A BOH manager from a renowned restaurant chain in Bangalore says, "Since I have handed over a detailed checklist to my team, there has been a significant reduction in conflicts in the backend. Everyone knows what is expected of them as they have a very easy-to-follow and specific list of things to do. We are able to operate smoothly even during peak rush hours."
You may find interesting also ''How to Create a Restaurant Operations Manual''
6. Reduce stress:
The BOH is a fast-moving environment and sometimes this can lead to a lot of stress. Many times, conflicts may arise due to the stress build-up and can lead to poor coordination between your BOH staff. This is very dangerous for the restaurant's performance as it creates a very negative backend environment.
It is the responsibility of the kitchen manager to ensure such situations are resolved at the earliest. Not all conflicts will need intervention, but it is crucial to ensure your employees know that the unity of the BOH cannot be compromised for personal issues. Try to foster a culture that teaches your staff to be supportive of each other.
You can create a fulfilling work environment by celebrating small wins and achievements together with the entire staff. Making them feel that they are a part of the recognition that the restaurant gains is a great way to reduce stress and encourage them to keep performing well in the long run.
Conclusion:
In addition to these points, make sure to seek your staff's ideas on how to make operations more smooth. They are the ones working on the ground and go through various hurdles. It's always best to hear out their suggestions as it promotes an open-minded work culture and increases your chances of tackling issues quicker.
Looking for a better way to manage costs?
Here's how EagleOwl solves all your cost management related problems for a seamless back-of-house experience.