The restaurant scene has changed since the global pandemic hit in March of 2020. Consumers have gravitated towards ordering food online rather than dining in. In other countries, lockdowns have been implemented and people have no choice but to order their food online. Because of this, delivery for restaurants has become a necessity.
→ With delivery service restaurants taking commissions from your food costs, it's imperative that you optimize your costs and maximize your profitability. Click here to get a demo now on how we can help you do that.
Fast forward to today, even if restaurants have reopened, some consumers still prefer to order food online. If your restaurant is not on these apps, it is a huge possibility that you're losing out on sales.
Based on researching online ordering statistics, these statistics are really eye-opening. First, the number of users that will be ordering food online by 2025 is 164 million. Second, delivery for restaurants has grown 300% more than dine-in traffic since 2014. Since June 2020, ordering online has increased by 135%. Lastly, it is projected that 40% of overall restaurant sales will be from ordering online.
As the numbers would suggest, food aggregators are a premium and will continue to be for a long time.
In this article, we'll be discussing the difference between in-house vs third-party delivery for restaurants and the most popular delivery apps for restaurants.
Delivery for Restaurants: In-House vs Third-Party Apps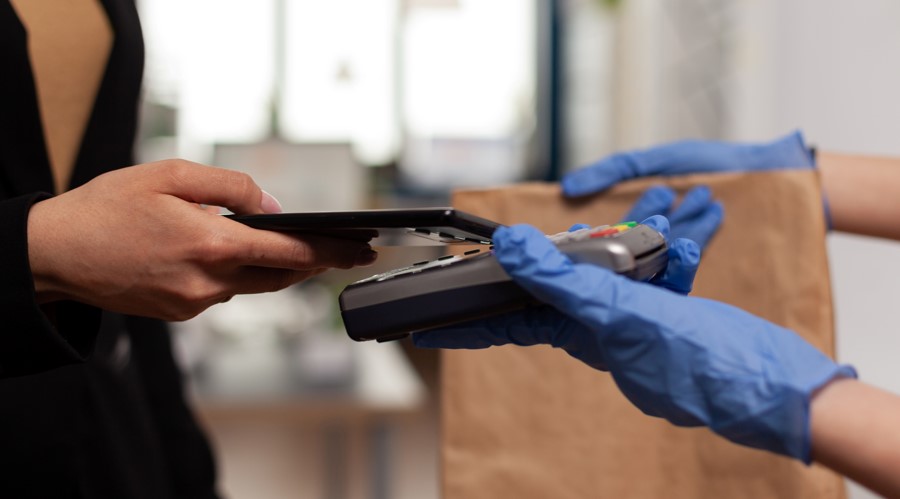 In-house delivery means that you have your own fleet of vehicles to deliver orders to customers. On the other hand, third party apps are a service that enables you to deliver to customers without having a fleet of your own. Let us look at the pros and cons for each so you can decide which is the best for your restaurant.
In-House Delivery for Restaurants: Pros
With in-house delivery, a restaurant reduces the risk of food contamination. The handling of food is streamlined to your staff only and they are able to handle the food with the care that it needs.
In addition, it is easier to communicate to the customer if there's a possible mistake with the order. Third party delivery tends to only care about your food being delivered and does not check if the food is delivered in one piece or not.
Aside from this, in-house deliveries will let you keep 100% of the SRP of the meal. There will be no splitting portions with delivery companies.
In-House Delivery for Restaurants: Cons
A restaurant who is operating an in-house delivery system will have trouble scaling up their delivery efforts. Having one is capital intensive as you will need to invest in motorcycles, vans, delivery riders, insurance, and more.
Having your own delivery system needs an abundance of training. Running restaurant operations is difficult enough, it will only become harder if you have to decide to run logistics operations also. Poor logistics training can lead to negative customer experience and loss of business.
Third-Party Delivery for Restaurants: Pros
If you're not yet on third-party delivery platforms for restaurants, these reasons might help you change your mind.
Additional Revenue
Being on third party delivery apps can help bring in extra sales for your restaurant. If people like your food and are lazy to go, they'll order and enjoy at the comforts of their home despite not dining in at the restaurant. For restaurants, this is a bonus since they'll be able to save seats for dine-in customers and get additional sales from deliveries.
More Reach
According to driver partners, the radius wherein customers can see your restaurant is 5 kilometers. In some instances, some apps have long distance delivery enabled and that radius is increased to 10 kilometers. Simply being on the app can help expand your reach to those customers that aren't in your local vicinity.
For example, a local restaurant in Pasadena, California is only popular there and is unknown to Los Angeles. If the restaurant is on the app, there's a chance that people from Los Angeles might see it when they're browsing. So, just being on the app provides additional marketing to help extend the reach of your restaurant.
Convenience
With your entire menu accessible via a third party app, it is very convenient for customers to order without physically going to the store. For those looking to keep physical contact with strangers at a minimum, ordering online is as convenient as it comes.
With the advancement of technology, customers don't even need to talk to someone on the phone. All it takes is a few clicks for the customer and their orders will be fulfilled.
More Options for Payment
Multiple payments mean more chances of getting paid. In the past, the most common payment options for deliveries were cash and credit cards. With the advent of restaurant delivery apps, additional payment options are made available to customers and they can choose at their own convenience.
As for restaurants, payment is usually made weekly, bi-monthly, or monthly by the delivery partner. Payment is usually remitted to the restaurant's chosen bank account.
Third-Party Delivery for Restaurants: Cons
Every third party delivery app requires the business to pay delivery service fees for restaurants. The usual rates can go for as low as 10% of the total bill to as high as 40%. It will all depend on your negotiations with the delivery partner.
Let's say that the total sales you get from delivery partner A for December is $100,000 and $80,000 from delivery partner B. If the contract that you have for delivery partner A is 20% commission and 35% commission for delivery partner B, then the corresponding monthly cost for commissions are $20,000 for delivery partner A and $28,000 for delivery partner B.
As with any business, it is imperative to calculate your margins before joining a certain platform. It has to make sense for the restaurant before jumping into a platform. If the profit margin for food at your restaurant is at 15%, it doesn't make sense to partner with a third party app who's taking a 30% commission from you. Study your costs and decide whether a certain delivery app will be beneficial to you or not.
Delivery platforms for restaurants and cloud kitchens: What's the difference?
Food aggregators bode well for cloud kitchen concepts. A cloud kitchen is a kitchen space for food businesses to serve their customers via delivery. Cloud kitchens have no physical space and the only way you can order their food is via third party delivery apps. In short, restaurants in cloud kitchens have minimal operating expenses.
They do not need an abundance of front of house staff because as mentioned, there is no physical space. Depending on the scale of the restaurant, 2-3 back of house staff is enough for a cloud kitchen.
The only huge line items they need to pay is rental and utilities to the cloud kitchen lessor. Because of this, the profit margins will be enough to cover the commissions from delivery services.
The 6 Best Delivery Services for Restaurants Across the Globe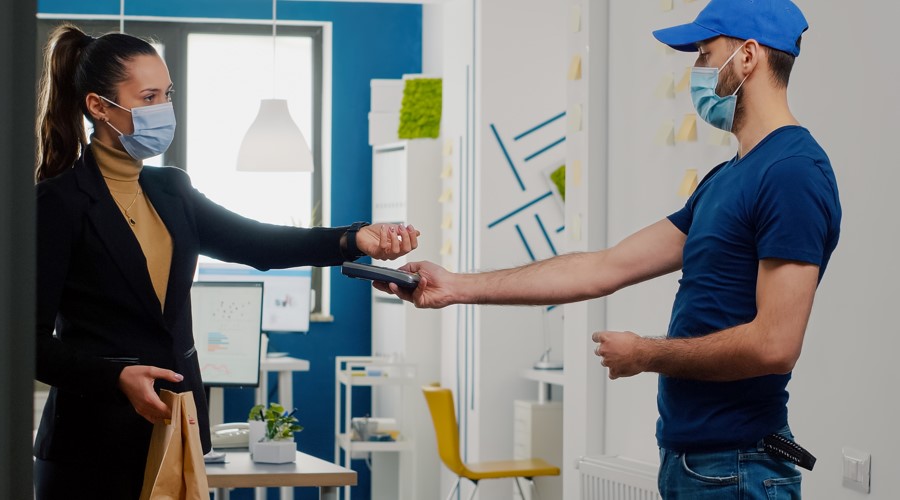 DoorDash
DoorDash is the largest online food aggregator in the United States. According to its Wikipedia page, DoorDash owns 56% market share in the United States while also having a 60% market share in the grocery delivery category. As of December 31, 2020, the platform was used by 450,000 merchants, 20,000,000 consumers, and 1 million riders.
DoorDash is available to many countries including the United States, Australia, Canada, Germany, and Japan. The app has features such as easy ordering, tracking your food delivery, pick up option, and scheduling of delivery. In addition, DoorDash has a rating system called Yum Score that rates the food and the restaurant. It also boasts a $9.99 monthly subscription called DashPass that will help consumers save on delivery fees.
It is considered as one of the best options for restaurants to be on because of its reach. Because of this, more customers can find your restaurant on the app.
Key Highlights:
No commission for the first 30 days. They then proceed to get 30% commission after.
No activation fee.
Available in 900 cities in the US.
UberEats
UberEats is the food delivery version of the ride-hailing app, Uber. It is available in 24 countries & 500 cities across the world. UberEats was available in India previously but they stopped operations last January 2020 as they were bought out by Zomato.
Consumers can easily search for their favorite restaurant or explore nearby restaurants. Similar to booking an Uber, consumers can order and track in real-time.
According to several restaurant owners, UberEats has one of the higher commissions for delivery apps. They request 30% commission if you're using their own riders. This gets lowered to 15% if you use your own.
Key Highlights:
30% commission if you're using their riders. 15% if you use your own.
$350 one-time activation fee. (Currently waived due to the pandemic)
Available in 6,000 cities globally.
Collects a service fee by percentage of sales on the app. This fee usually makes up for the support, marketing, credit card fees that UberEats does for your restaurant.
Grubhub
Grubhub was the first online service of food delivery for restaurants before competitors came along. They held the market share for so long before giving it up to DoorDash. All in all, Grubhub has over 300,000 partner restaurants in over 4,000 U.S. Cities.
The app gives you the option to search a restaurant by location or by cuisine, a quick order feature, and track your order when it's on the way to you. Consumers get free delivery when they sign up for GrubHub+ for $9.99 per month.
The base commission rate for GrubHub orders is 10% plus a processing fee of 3.05% + $0.30. This varies and it can reach up to 15-30% in total commissions. In addition, GrubHub can also work with your existing delivery force while also having an online ordering integration on your website. All in all, the features of GrubHub looks like it's a must for restaurants to join in.
Key Highlights:
Commission rate varies from 15-30%.
No activation fee.
24/7 live support.
Enhanced filtering and searching capabilities for customers to find the restaurant they want to order from.
Caviar
Caviar offers one of the most unique concepts in food delivery for restaurants. They created their own niche by targeting high-end restaurants.
With Caviar only being available in limited cities, it is not an option for most restaurants. You can only find them in big cities like San Francisco, Brooklyn, Los Angeles, etc. Commission for a Caviar partner is around 25%. It has the same features as the other delivery partners but what sets them apart is a customer service trunk line. With high-end restaurants and food, this is to be expected.
This is one of the best options for high-end restaurants if it's available in your city.
Key Highlights:
Commission rate is around 25%.
Available in 20 different cities in the US.
High-end food delivery service for restaurants.
Swiggy
Swiggy is the largest online service of delivery for restaurants in India. As of September 2021, they are operating in 500 cities in India. They've also tapped into the grocery market and packaged delivery market. Swiggy has named these concepts Instamart and Swiggy Genie, respectively.
Commissions for Swiggy depends on the restaurant. On average, they charge around 18% commission. For newer restaurants, they'll charge higher at around 23% while for more popular restaurants, they'll charge lower commission.
For restaurants in India, it is imperative that you're a part of Swiggy as they hold the market share of the third party services. Your reach will definitely expand if you're a member.
Key Highlights:
Commission rate is around 18-23% for restaurants.
Available in 200 different cities in India.
Swiggy has a cloud kitchen concept for local restaurants to operate in. They made this so local businesses can compete with chains.
Postmates
Postmates is a delivery service with a smaller scale. Despite this, their app has many great features and many satisfied customers. Postmates has a lot of restaurants on its platform and gives customers a lot of options to order from.
Similar to its competitors, Postmates has its premium service called Postmates Unlimited. For $12 a month, customers get to enjoy free delivery on all their orders. This might be too steep for a private customer but for corporate accounts, this is certainly a bargain.
Key Highlights:
Commission rate between 15-30% of orders.
Allows customers to order not only food. It also allows you to order groceries and alcohol.
Available in over 1500 different cities in the US.
Charges $5 per month for tablet rentals.
Final Thoughts
Third party delivery software for restaurants have arrived and are here to stay for the long term. For customers, the convenience that online ordering brings to them is paramount and this behavior will not change anytime soon.
Nowadays, restaurants need a delivery service to be competitive in the landscape. Some opt for in-house delivery for restaurants while others opt for third party services. We've listed down the best delivery services for restaurants so you have options to choose from. 
Being on delivery platforms for restaurants comes with a high cost but it can also streamline some of your processes.
We hope that after reading this post, you will identify the best delivery management system for your restaurant and take your restaurant to new heights.
Learn how to grow with EagleOwl. Our restaurant management system can help optimize your finances and increase your restaurant's net profit by at least 25%. Contact us now to schedule a free demo!