A restaurant's biggest asset is its employees. They are a true reflection of your restaurant and its dining environment. Restaurant managers know that without a great team, it is impossible to deliver exceptional customer service. This makes hiring for restaurants an even more challenging task. Add to that the ongoing labor shortage and the problem becomes even more grave.
Denny's, a popular American restaurant chain with more than 1,700 restaurants across the globe, started a to encourage people to join their staff. The reason? Their CEO John C. Miller said they had trouble filling positions. The idea behind the hiring tour was to take the job to the candidate and make the experience easier for them.
If you're a manager who is wondering how to recruit employees for restaurants, here are some of the restaurant hiring tips that are highly effective:
→EagleOwl helps restaurant owners manage their inventory, optimize food purchases, and reduce food wastage. Want to see how? Schedule a quick demo with our team.
Define Roles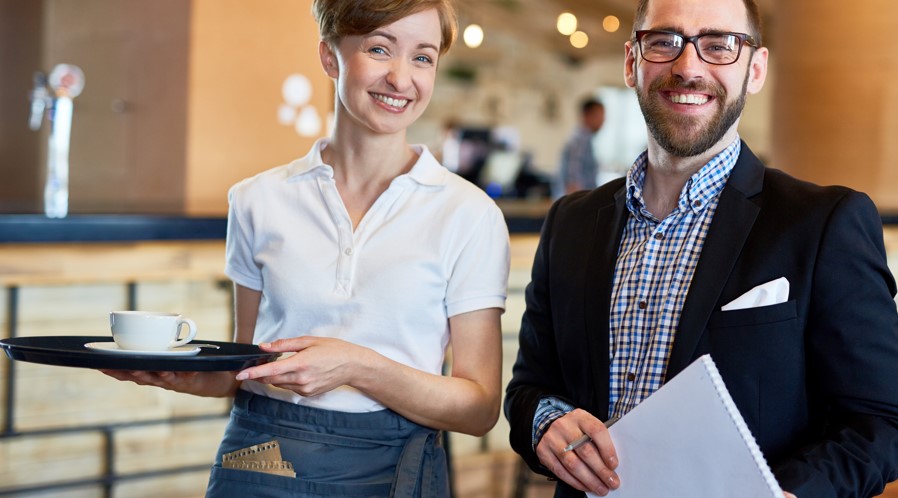 The very first task in the process of hiring and managing restaurant staff is defining the roles for which you need more staff. Knowing what positions you're hiring for makes the process more streamlined and allows you to filter candidates easily. This also helps in setting the right expectations for the new staff joining your team. 
In the pandemic, restaurant staff was required to manage various responsibilities. There are various roles that require multitasking but the core responsibilities of the staff should be defined in order to hire the right person. To help you out on how to recruit employees for restaurants, we have compiled a list of FOH and BOH restaurant roles:
FOH (Front Of House)
Restaurant manager
Bar manager
Cashier
Host/Hostess
Waiter/waitress
Sommelier
Server
Bartender
Busser
Delivery driver
BOH (Back Of House)
General manager
Kitchen manager
Executive chef
Sous chef
Head chef
Line cook
Prep cook
Kitchen caller
Dishwasher
Write An Attractive Job Description
When posting an ad online or in the local newspaper, put your best foot forward to attract the right candidates for the job. A confusing, poorly described job will lead to many disappointing applications. This leads to massive wastage of time, effort, and energy of the manager.
This makes it essential to draft a gripping yet accurate job posting specifying all the skills and traits you are looking for in the ideal candidate. Use this opportunity to market your restaurant and advertise its work culture. After all, it's not always about money. People looking for jobs in the restaurant industry value health benefits and a good work culture.
Mention details about leave policy, health insurance, internal training programs, etc to show that your restaurant cares for its staff. If your restaurant has had a track record of high employee retention, highlight it in the job posting. Make sure the posting has the filter for work experience as it can help in removing all the applicants that do not fit the bill.
Identify Channels For Advertising
In order to attract the right applicants, you need to identify the right channels for advertising the available position. For instance, we have more educated chefs than bussers or dishwashers. So putting up an advertisement on LinkedIn for a chef makes total sense, but not for the other roles. For bussers and waiters, you can try advertising in local newspapers.
Of course, the old-school "Now Hiring" sign at the restaurant door is always an option but it may not always lead to qualified candidates walking in. So you need to put up a well-drafted and detailed description on online hiring platforms. Some popular hiring platforms for the restaurant industry are Cookfinder, Kickchef, Good Food Jobs, Culinary Agents, etc.
Another great way to spread the news about available positions in your team is to advertise on your website and Instagram handle. You can also post the job description on Facebook job groups to reach the right candidates. The ad structure for each platform will differ based on the content that works on that particular platform. For instance, an image-based ad is best suited for Instagram but for your website, you must opt for a detailed text-based description.
Offer A Referral Bonus
A successful way of hiring good quality staff for your restaurant is encouraging your existing employees to spread the word in their circle. Your staff knows other people in the same industry and will also know how to recruit employees for restaurants. But to ensure they actually bring in good candidates and not just anyone, clearly define the role to them. 
Since your staff member already knows the candidate, they will be able to pinpoint any shortcomings that you need to consider before hiring the candidate. This way, you can interview the candidate more carefully to discover extra details about them before actually hiring them.
A referral bonus can ensure they take the effort to look for good candidates for the available position. This bonus can be in the form of cash or gift vouchers. Reward them the bonus only when the candidate finishes a month in the restaurant and has shown good potential.
List Out Interview Questions
How to recruit employees for restaurants? Ask the right interview questions. Once you have shortlisted candidates, it's time to create a list of questions that can help in getting the right information out of them. In addition to a restaurant worker's experience, their attitude also matters quite a lot. Having the right attitude towards learning new things can often compensate for the lack of skills. 
Doug Radkey, President of KRG Hospitality Inc., quotes in his book Bar Hacks: Developing The Fundamentals for an Epic Bar, "Values beat experience when experience doesn't work hard." So when you're listing the questions to ask in an interview, include both situational and behavioral interview questions.
For instance, "How would you deal with a rude and abusing customer?" is a good situational interview question for the bar manager and bar staff. "Can you share a conflict you had with a coworker in your last job? How did you handle it?" This is an excellent question to identify the behavioral traits of a BOH position applicant.
Create An Onboarding Program
The hiring process doesn't stop at the interview. Once you find a candidate who fulfills all your criteria, it is crucial to introduce them to your restaurant culture by giving them formal training. A well-curated onboarding program helps a new staff member quickly get acquainted with the functioning of the restaurant.
Use it to educate them about their role & responsibilities within the establishment. The initial onboarding training shapes their perspective about the team. Use informal training methods as well to help them learn from their peers. This will enhance their skill set without making them feel pressured to perform.
According to the National Restaurant Association, the restaurant turnover rate in 2018 was 74.9% annually. Since training them is a great way of making them more confident, it allows them to perform better in their roles. This decreases their chances of leaving their job early.
Share SOPs
So you found a candidate who fits the bill and has the right attitude. You make them go through an onboarding program to refine their skills and make them a suitable member of the restaurant team. The last step of the process is to write down SOPs for their position and share it with them.
An SOP guides your staff about the ideal way to perform their responsibilities in order to deliver expected results. Every restaurant has a system they want the new staff member to adopt. This is done to ensure the operations are smoother and work gets done without any conflicts.
SOPs ensure consistency in performance by guiding the staff member about the step-by-step procedure. They not only reduce mistakes due to miscommunication but also prevent any errors that can affect the restaurant service. Sharing SOPs with every staff member is a great way to ensure everyone is on the same page and avoid confusion.
Ensure Compliance From The Very Beginning
Violation of the restaurant industry's laws can turn out to be very expensive for any restaurant. This brings to light the need for compliance in the restaurant by all staff members. When hiring a new staff member, make sure they understand the importance of using safe and proper cooking techniques.
Always share clear instructions with them to follow and learn easily. For instance, if you are hiring kitchen staff, make it clear that they have to always wash their hands before and after touching any raw material. The intent is simple : get the staff to comply with the rules & regulations diligently so as to reduce mistakes and offer better customer service.
In addition to this, make sure new staff members are aware of the restaurant policies in terms of shift timings, kitchen hygiene, packaging, speed limits for delivery, etc. To ensure staff members are able to work together in harmony and to avoid instances of conflict, always take the necessary steps from the very start.
Closing Thoughts
We hope we answered your question how to recruit employees for restaurants. As evident from the above steps, restaurant staffing requires a lot of effort from the manager's end. It's challenging to find the ideal candidate along with all the necessary skills, which is why training is recommended. When training them for their role make sure to inculcate in them the idea of performing tasks outside their roles as well. An all-rounder staff member will always prove to be an asset, especially in unprecedented times like today.
Try EagleOwl
EagleOwl restaurant management system helps restaurants to optimize their finances and increase net profit by at least 25%. Contact us now to schedule a free demo!