The restaurant industry is very competitive. Restaurant owners endure lots of sleepless nights trying to find ways to stand out. For example, some restaurant owners come up with unique cuisines and crazy designs. However, it is difficult to run a restaurant that depends on innovation alone. It is important to build a sustainable restaurant that earns profit so it can last for a long time. So, how much do restaurants make in a day? Is it a venture that you should go into?
Different Types of Profit-Making Restaurants
Before diving into the numbers, it is important to point out that there are different types of restaurant that you can go into. Each restaurant type has different average daily revenue because of the pricing of their menu items.
→ EagleOwl is a holistic restaurant management platform that will increase your restaurant profits by up to 25%. Request your Demo today.
Cloud Kitchens
A relatively new concept that really prospered during the coronavirus pandemic. With lockdowns happening all over the world, dining in simply wasn't an option. In short, a cloud kitchen is a virtual restaurant that only offers delivery options. Restaurant owners venture into this type of restaurant to save costs on the Front of House.
All-You-Can-Eat Restaurants
A buffet offers a variety of food choices to its guests. These restaurants are usually priced with an all-in price that could range from as low as $25 to as high as $75. Stand-alone buffet restaurants tend to be inexpensive because their overhead is lower. On the other hand, buffets that are located inside hotels usually have a higher price point.
Buffets tend to do well because they are able to save up on FOH staffing costs. Customers do the waiter's job for them as they go up and get their own food. Therefore, only a handful of waiters are needed with their primary task being to collect the dishes used by the customer.
Quick-Service Restaurants
McDonalds, KFC, Subway – ring a bell? These are some examples of quick-service restaurants. The main purpose of these restaurants is to offer a quick bite to customers who're mostly on-the-go.
QSR's usually earn profit by volume. These types of restaurants have products that sell for as low as $0.99. While the highest priced product for a QSR usually tops out at $8.00. The ultimate benefit of opening a QSR is customer turnover. Since cooking time and serving time are both fast, the ideal customer turnover for a QSR should be less than 5 minutes.
Over the years, the QSR scene has evolved. It has included several unique concepts such as salad stops and bubble tea stores, to name a few. With the innovation of food concepts in this generation, look for more unique ones to appear in the near future.
Full-Service Restaurants
FSR's are divided into two subcategories: fine dine-in restaurants and casual dine-in restaurants. The main difference between these two is the ambience they exude.
Contrary to the QSRs, FSRs require a complete setup of its Front of House and Back of House. Customers go to FSRs to dine-in and enjoy the ambience. As a result, servers should be knowledgeable about the products and be pleasant with their personality when engaging customers.
The products for full service restaurants are usually on the higher side. A steak dish can sell for about $40-$60 while appetizers could sell for $15-25. Some FSRs have high COGS but also have high profit margins. For example, a $60 steak dish with 50% cost of goods will still give a gross profit of $30 per order.
Bars
Alcoholic drinks are one of the restaurant items with the highest profit margin. As a result, restaurant concepts such as a bar and grill or a pub that focus on alcohol sales will do well.
Let's look at the cost and profit analysis for several alcoholic beverages. For example, ABC Bar would like to sell draft beers at 330ml per glass. So, they purchase a 20L keg for $150. A 20L keg can typically serve 60 glasses of draft beer. If ABC bar sells a glass for $4.50 each, the maximum profit they can get for a 20L keg is $120 – $270 revenue minus $150 cost.
How Much Revenue Do Restaurants Make in a Day
No two restaurants are the same. Even if both restaurants offer the same concept, there will be a broad difference in their profit margin. It is important that you calculate your profit margins to know how much you make for each dish. Above all, make sure that your restaurant has made a business plan to outline your idea further.
It is no secret that restaurants earn a relatively good amount. This is why most people would want to venture into this industry. However, what they only see is the revenue and not the costs that come with operating a restaurant.
Let us dive into how much do restaurants make in a day in the US, month, or year.
Average Restaurant Daily Sales in the United States
According to an article by Womply, restaurants in the US bring in an average of $1,350 in daily sales. This is broken down into 47 transactions a day with an average check of $28.43. To go further, an average restaurant makes $40,500 per month and $486,000 annually.
Based on the numbers in the same article, an average restaurant in the US makes more during weekends. 54% of their total weekly sales comes from Friday, Saturday and Sunday. Using the averages above, the weekly average sales for a restaurant is $9,450. That would mean $5,103 would be earned during the weekend.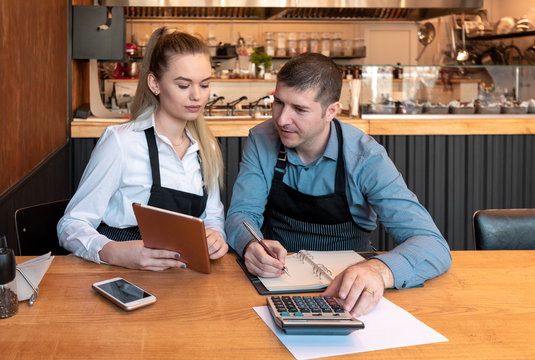 Are Restaurant Businesses Profitable in the United States?
It is important to note that sales does not equal profit. A restaurant's profit margin will still depend on a few factors.
First, a restaurant's profitability will depend on its menu. The cost to source local ingredients is cheaper than imported ones. That is why American cuisine will always have better profit margins compared to an authentic Japanese or Italian restaurant in the country. Secondly, the expenses you'll incur paying employees and their benefits. Lastly, other expenses such as utilities, royalties (if any), and consultants are all factors that contribute to a restaurant's net profit.
Assuming an ideal profit margin for restaurants is 10%, then it might be a good idea to venture into the business. But take note, it takes a lot of work to operate a successful restaurant.
Now let's understand how much do restaurants make in a day in India.
Average Restaurant Daily Sales in the India
Based on our conversations with restaurant managers in forums and social networks, an average full service restaurant in India makes an average of INR 50,000 per day. On the other hand, a quick service restaurant in India has an average daily sales of INR 40,000. This will equate to 15 lakhs for a full service restaurant and 12 lakhs for a quick service restaurant every month.
Are Restaurant Businesses Profitable in India?
The type of restaurant you'll open is a big factor in terms of profitability. For example, opening a fine dining restaurant in India takes a lot of investment. One of the cheaper fine dining restaurants can cost you an amount that's already good for two casual dining restaurants or six quick service kiosks. Despite the fact that you can sell your products higher, there's just not that many people in that segment of the market who can afford them.
A quick service restaurant offers a better chance to earn profits. Given their lower selling prices, QSRs rely on volume to make a profit. As an example laid out by a restaurateur, a vada pav kiosk who sells 1 piece for INR10 usually takes home INR2 in profit. That's at least a 20% net profit. If a vada pav kiosk can sell 1,000 a day, he'll earn INR 10,000 in revenue and INR 2,000 in net profit.
Conclusion
Now that you've got a better understanding of the types of restaurants and how much restaurants make in a day, you can now make informed decisions if and when you enter the business.
Whether you decide to open a fine dining American restaurant or a quick service kiosk, optimizing your profit margin should be a priority. Some strategies that you can try are doing store promotions, menu profit analysis, menu engineering, and giving exceptional customer service. These are great ways to increase profits and distance yourselves from competitors.
EagleOwl
EagleOwl is a back of the office solution that's meant to increase a restaurant's profitability. With our software many restaurants are able to increase their profitability by up to 25%.