Restaurateurs across the globe are rapidly realizing that technology is changing their industry. Over the past decade, numerous restaurants have embraced various tech tools that not just simplify restaurant management but also elevate the dining experience for the guests. One such tool is a QR code menu. If you're wondering how to create a QR code menu for your restaurant, we're here to help you. Let's start with the basics.
What is a QR code menu?
To understand what a QR code menu is, we'd like to first shed light on what a QR code is.
A QR code is an image that can be scanned through a mobile camera or a machine to derive information about a product. A QR code is like a barcode but can store much more information. QR codes can hold a variety of data including links for an app and website URLs. This means you can use QR codes to encourage customers to download your app or visit your website to place online orders.
So QR code menus are basically digital menus used by restaurants. Customers just need to point their smartphone camera to a QR code, scan it, and view the restaurant menu on their phone. Since they are viewing a digital version of the menu card, the process becomes contactless and adds an extra layer of safety.
Whether you run a cafe, a fine dine restaurant or a sweet shop, a contactless QR code menu serves the same purpose – making customers aware of what you're selling and at what price. But why does a restaurant need a QR code menu? Here are some of the top reasons for creating a QR code menu for your restaurant: 
→Do you want to understand which recipes are the most popular, optimize your menu, and increase your menu profitability? Schedule a demo with EagleOwl to see how it works.
7 benefits of a QR code menu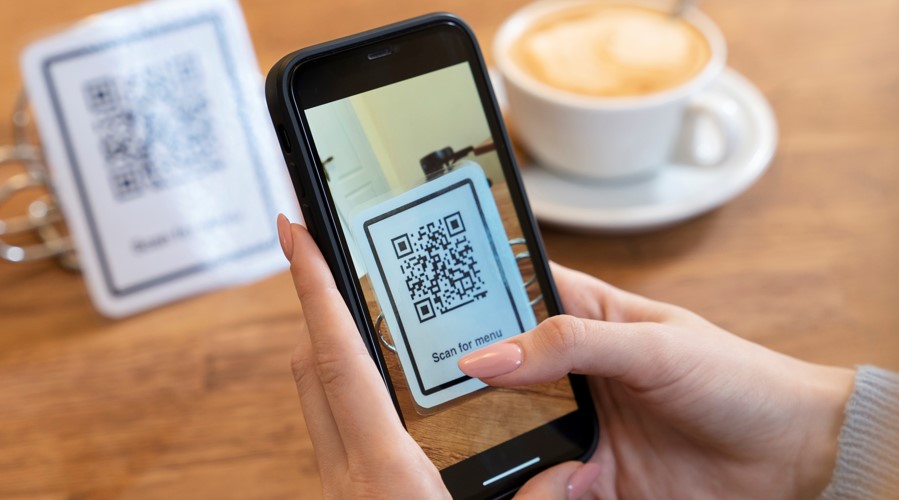 Looking at the current industry stats many would argue that digitization contributes heavily to a restaurant's success. According to a survey by Deloitte in 2021, it was discovered that 64% of customers preferred placing their order digitally when visiting a QSR. If we take a look at the Restaurant Readiness Index report 2021 edition, 33% of the restaurant managers have accepted that QR Codes are the key to enhancing their business.
In addition to this, a research by The Digital Life Index revealed that 74% of diners say one of the top three factors influencing their choice of restaurant is health and safety procedures. Since going contactless heavily contributes to improving a restaurant's hygiene, a lot of restaurants are now looking at creating QR code menus.
Let's dive into the benefits of QR code menus in a more detailed way.
The most important reason for using a QR code menu in your restaurant is that it reduces the chances of germs being handed over from one customer to another through a physical menu card. Based on your restaurant foot traffic, you'll have a lot of people touching the same menu card in a single day trying to decide what to order.
Given the unprecedented times we are living in that require a high level of hygiene, this touchless menu experience is a must. Place a QR code menu display stand on each table so every customer can quickly scan it and read the menu on their own phone. This makes the dining experience safer for your customers.
No restaurant can perfectly estimate the supplies they may need for a day. Sometimes you run out of items and cannot create a specific menu item due to the shortage. But the menu item is still printed on your physical menu card and the customers have to be told NO when they ask for it. This makes it very embarrassing for your FOH.
But with a QR code menu, you can instantly update your menu whenever you run out of items. As soon as you update the menu, it simply won't show the unavailable items.
You can also easily add seasonal dishes, upload special menus for festive days, include promotions, etc. You can update it as many times as you want with minimal effort. The best part? All it takes is a few clicks and a new menu section is there or a missing item is hidden.
A good-looking menu captures the customer's attention and entices them into ordering more. When you opt for a digital QR code menu, you have a wider scope of making the menu design more appealing. Moreover, you can engineer the menu to highlight your high-profit items.
Want customers to order something new in addition to their usual order? A touchless QR code menu makes it very easy to encourage them to try new items from your menu by allowing you to add appetizing food pictures. Plus, there is no limit to how creative you can get with the ample space you get in a digital menu.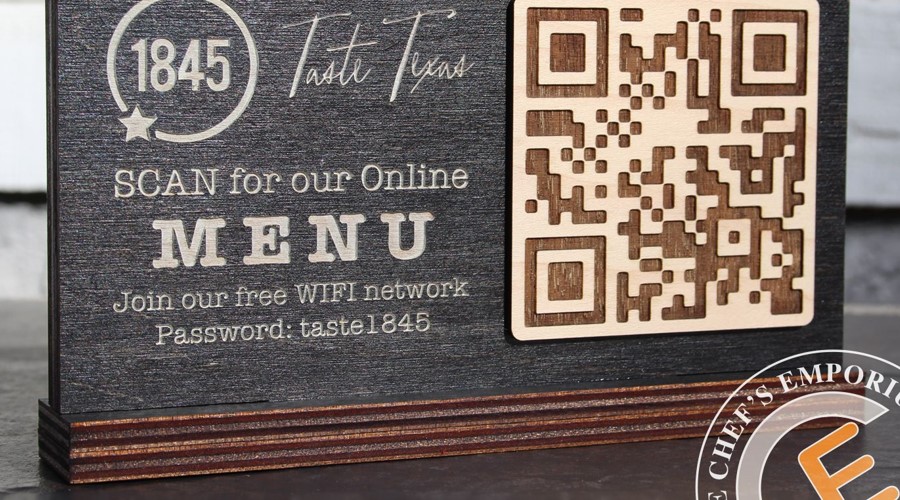 Restaurants often face the issue of low table turnover because their staff is held up by a customer trying to decide what to order. When customers use a QR code menu, they can take their own sweet time in deciding what they want to order without reducing your staff's efficiency. You can take things a notch up by allowing them to place their order through an app connected to the menu.
This speeds up the service and frees your staff to serve the customers in other ways. Also, this improves the overall customer experience as they don't have to wait for a waiter to bring them a menu card. Let's face it we've all experienced the annoyance of trying to get a waiter's attention for a menu card. Now you can make sure your customers don't face that.
Sometimes a customer may forget to mention a detail, the waiter may misunderstand the order, or it could be as simple as them forgetting to note something down. It happens with the best of us. Ordering directly from a QR code menu reduces the chances of all such human errors or confusion in placing an order.
Customers can choose whatever they want, customize it if the app allows, add their comments and the restaurant receives the order accurately. This also means there will be no mistakes in the bill generated, and guests can quickly pay their bill and leave.
To better their services, restaurants need to constantly analyze customer data and keep making the necessary changes. With a tech tool that offers digital menu and ordering capabilities to customers, restaurants can get their hands on some vital customer ordering habits.
The insights from this data can help you tweak your services for better conversions. The more you know about your customer, the more focused actions you can take to retain customers. You can also use this data to curate your restaurant loyalty program.
Most restaurants keep updating their menu from time to time in order to add new items or to update prices. Seasonal menu items also need to be added and removed from a menu from time to time. Printing a menu frequently to accommodate all these changes can turn out to be expensive.
Considering how razor-thin restaurant margins are, restaurants cannot afford to waste money on printing menus every few months. In comparison, you incur absolutely no additional expense for any kind of changes to a QR code menu. This is why QR code menus are wallet-friendly.

Now that we've looked at the numerous benefits of using QR code menus at a restaurant, let's look at the process of implementing them at your restaurant.
How to create a QR code menu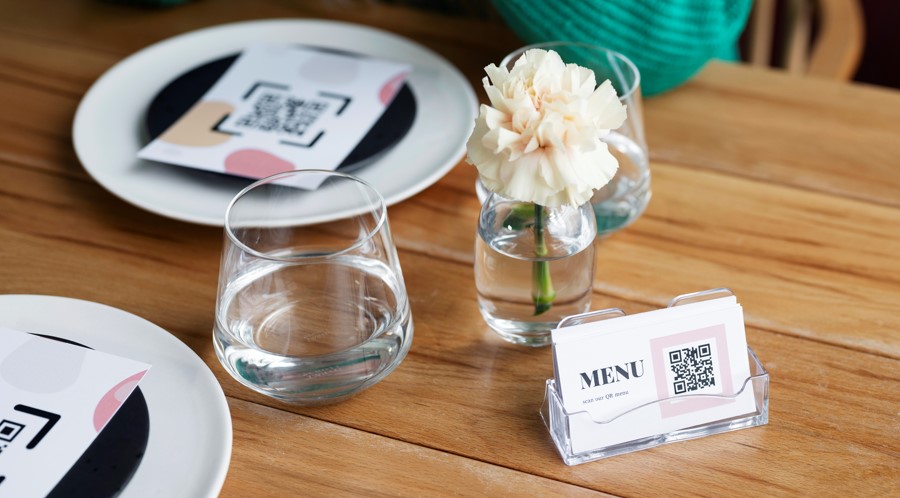 If you have no idea how to make a QR menu, you need to first look for QR code generators that convert your existing menu into digital format.
There are various online QR code generators as well as several companies/agencies in the industry that allow you to quickly create a QR menu. Opting for a company means they organize the whole set-up from A to Z. But you can do it online as well as it's a fairly easy process. For instance, uQR.me is a popular online QR code generator that helps you create a menu QR code online within a span of a few minutes.
Follow these steps to understand how to create a QR code menu for a restaurant menu:
1. Create a digital menu:
The first step in the process of creating a restaurant menu QR code is to make your menu available on your website. In case you offer online ordering, you would already have a digitized version of your menu that you can use. If you don't have a digital menu yet, fret not. It's very easy to create one with the help of free online design tools.
There are numerous design software that offer free digital menu board templates which can be downloaded and edited to create a digital menu that invokes hunger. One of the most popular options is Canva that has plenty of free design elements that allow you to create your restaurant menu right from scratch.
If you're looking for pre-designed templates, Visme is a great tool. It offers various restaurant specific templates along with the option to edit text size, font, and colors. Another great design tool is Pickcel which makes it effortless to whip up creative digital menu boards. It also comes with a digital restaurant menu app that allows you to update the menu boards from the app within seconds.
2. Upload your menu:
Once your digital menu is ready, you need to upload it to your website. Before uploading, make sure you have shared full information in the digital menu so you can help your customers make the decision without any help. List the prices and ingredients just like you would do in a physical menu card.
3. Use a QR code generator:
The next step is to find a QR code generator. Thankfully you can easily find one online that is free and efficient. Some good examples of free QR code generators are qReveal, QRTiger, QR Code Generator, QRCode Monkey, and BuonMenu. Generating a QR code through these online tools is quick and effortless.
Once you have your menu published on your website, all you need to do is copy-paste the menu link in the QR code generator. Some QR code generators also give an option to directly upload the menu in PDF/image format on their website. On uploading, you get a QR code that can be downloaded and printed for displaying.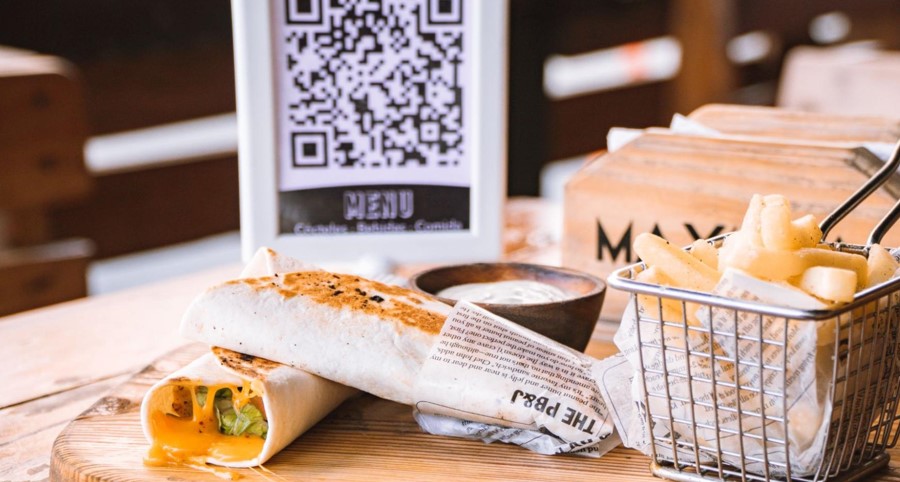 4. Choose the right type of touchless menu QR:
There are 2 types of QR code menus that can be created with a QR code generator – static QR code menu and dynamic QR code menu. While both are available digitally, the main difference between these two is that the former is non-interactive.
When you create a PDF menu QR, the menu items cannot be changed in real-time. You will have to make changes to the PDF every time and then re-upload it. On the contrary, a dynamic menu QR allows you to make changes on the go. It also allows viewers to interact with the menu content and filter it based on their eating preferences.
5. Make it mobile-friendly:
When creating a menu QR, there are certain tips that you need to keep in mind. Since customers scan it through a smartphone camera, you should optimize the menu design for a mobile devices. This means adjusting the contents for better visibility.
Create sections to split and group the dishes. Keep the text size readable and avoid cramming too much information in a single page. Some QR code menus have a page limit so you might want to divide the content smartly in order to stay within the page limit yet not list too many dishes on one page.
6. Create eye-catching signage:
Lastly, a QR code menu is useless unless it's displayed for the customers to notice it. But it's important that it is presented in an aesthetically designed way to the customers. You may also add your branding to it to give it a personal touch like your restaurant logo and its tagline.
So create signage and add some engaging elements to it like text & symbols to grab the customer's attention. For example, this cafe shared their QR menu on a huge sign mounted outside their restaurant so guests could check out the menu even before entering. They've added keywords like healthy, sweet, and tasty to generate interest.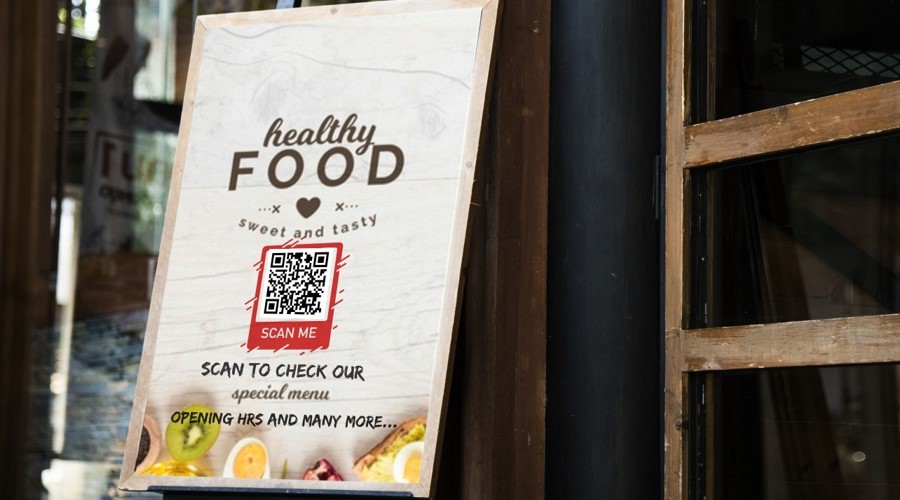 Where and how to display your QR code menu?
Wondering how to display your newly minted QR menu code? Once you print it, it's crucial to place it in easily accessible areas of the restaurant so people can quickly scan it. Some great options are table tents and tabletop inserts as they are very easily accessible. You can also apply the QR code to the surface of a table as a sticker.
Another great place to exhibit your QR code menu is your restaurant's windows. Make sure the design for the window QR stickers is top-notch so people walking by feel compelled to stop and scan the code. Like window displays, you can also have posters on the walls. Such indoor signs make it very easy for a customer to walk up, scan the menu and start ordering.
Digital signage is one of the best options to display QR codes in any kind of restaurant. In a cafe or a QSR, you can add QR code signage near the billing counter. If you have a fine dining setup, placing it on the host stand would be ideal. Have a restaurant on a busy street? Display the QR code on a well-designed sidewalk sign with quirky text!
No matter what spot you choose to display the QR code, be careful of its sizing. There's no point in displaying a small QR code on a large wall in the distance. Make sure it is big enough to be visible and scanned from a distance. At the same time, pay attention to the text you use around the QR. It should be synonymous with your brand's identity.
Final thoughts:
In conclusion, QR code menus are the future of restaurant in-premises ordering. QR code menus promote hygiene, save time & money, and increase your restaurant brand visibility. Use a QR code generator to convert your menu into a digital QR menu and display it in popular spots around your restaurant to give your guests maximum access.
Looking for more ways to save money and achieve better margins for your restaurant?