​​Obtaining customer feedback is an awesome strategy to know the situation of your restaurant at the customer level. Most of the time, there are certain issues in the restaurant that only the customer will be able to point out. Whether restaurant owners would want to admit this or not, there's a certain stubbornness that's present when it comes to criticism of operating their restaurant. The ability to rise up to the stubbornness and be open to constructive criticism will lead to your restaurant's success. In this article, we will show you how to get the proper customer feedback by using a restaurant review template.

→ With restaurant marketing and customer acquisition, it's imperative that you optimize your costs and maximize your profitability. Click here to get a demo now on how we can help you do that.
Your restaurant review template should be easy to answer and the customer should not feel that they're writing an essay. We recommend a mixture of multiple choice items, ratings, and open ended questions. Try to put yourself in the position of the customer and see how you'll answer the feedback form. If you feel like it's too much of a drag answering the survey, re-do the form again until you feel like it's something a customer will answer truthfully.
See the attached photo for a short sample of a fast food restaurant survey questionnaire.

We've prepared a list of questions that you can use in your restaurant review template forms. You can prepare separate forms with these questions and use it every quarter. The most important part is how you'll react when you see the answers from your customers. Always keep this in mind: happy customers will bring your restaurant success and it is important to know what keeps them happy.
Restaurant Customer Satisfaction Basics
Your restaurant review template can be used as a data gathering tool to be repurposed for marketing. Make sure these information are always available in the header portion of your form. You can put an optional tag on this information as we don't want to force the customer to put in something they're not comfortable with.
Name of customer
Address
Email address
Mobile numbers
Age
Aside from these, you can use some of these questions to gather more information about your customers and their habits when they go to your restaurant.
Branch you visited (If your restaurant has one or more locations)
Dine-in or Takeout (If your restaurant is a quick service restaurant)
Was it your first time to visit the restaurant?
o If yes, go to the next question.
o If no, put a follow-up question of How often do you visit? – Include multiple choice answers of once a month, twice a month, once a week, more than 4 times a month.
What are the chances of you returning? Use a ratings scale of 1-5 with 1 being the least likely and 5 being the most likely.
How did you hear about our restaurant?
Describe the best part of your visit today.
Describe the worst part of your visit today.
Restaurant Food Quality Questions
The primary reason why customers go to your restaurant is because of your product offerings. It is important to know how your customers feel about the taste, presentation and quality of your food and beverage offerings.
For these questions, use a ratings scale of 1-5, with 1 being poor and 5 being excellent.
Rate the taste of the food.
Rate the quality of the food.
Rate the presentation of the food.
Rate the value for money of our products.
For these questions, we'd like to know if there's something missing or that could be added value to the restaurant.
What menu item did you wish were in our menu?
Is our menu kid-friendly?
Which food or beverage item was your favorite on our menu?
Restaurant Customer Service Review Questions
Food is not the only parameter wherein you can get more or retain customers. Customers want to feel good whenever they visit a restaurant and the customer service of a restaurant will have a huge impact on whether that certain customer will return.
These customer service questions guides can also serve as a performance metric for your front of house staff. Seeing the answers of your customers will let you know if that certain employee is doing good or bad.
Name of server.
Were you greeted and seated on time?
Was your server polite and helpful?
Was the server knowledgeable with the restaurant menu?
Was your food served on time?
Did you encounter any issues with your server? Explain in detail if YES.
Restaurant Quality Control Review Questions
Restaurant experts say, the state of your front of house usually reflects the state of your back of house. Whenever a customer sees a bug on the dining table, it will automatically register to them that the kitchen is also as dirty. These questions will help guide you if there's a bottleneck and a cleanliness issue in your front of house.
Rate the overall cleanliness of the store.
Rate the quality of our printed menu & collaterals.
Was there enough parking space?
Were the dining tables and chairs clean as you were seated?
Was the restroom clean?
Was the AC temperature cold enough?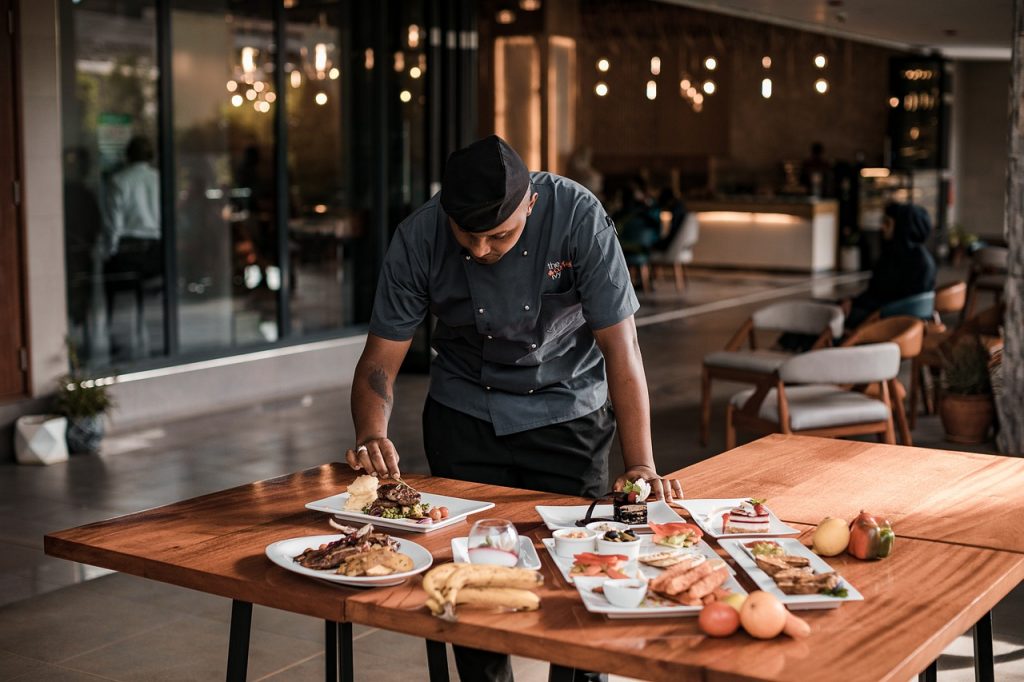 Other Relevant Questions
With the pandemic situation that's happening globally, technological advancements are becoming a part of the restaurant culture. Make sure to ask your customers how their user experience is with your point of sales system, waiter app, and delivery platforms.
Rate your experience from start to finish using our Cloud-based POS system.
Rate your experience with our online ordering platform.
Did you have any issues with checking out and paying?
Did you have any issues with our online delivery platform?
How long did it take for your food to arrive from the time you ordered?
Was the food still fresh when it arrived?
How was the quality of food delivered versus the food served dining in?
Why is your Restaurant Customer Feedback Important?
Customer feedback is considered valuable intel in the restaurant industry. These are details that restaurant owners or operators don't usually see since it's so minute. Acting on your customer's feedback will help build a positive review for your restaurant. A restaurant that listens to their customers is sure to elicit positive reviews from the community. Word of mouth spreads like wild-fire and when customers speak highly of your restaurant, it's most likely that their networks will listen.
I Have the Feedback, What Now?
It's now time to act on the feedback of your customers. These customers actually go check if their feedback has been corrected and if they see that the feedback they mentioned wasn't heard, it's more likely that if you've lost a customer.
Here's a simple step by step guide on how to manage the customer feedback form you've gathered.
Collate all customer feedback forms for a certain period of time.
Categorize each form to positive, neutral and negative feedback.
Take the time to read each and every one and take note of the comments.
Sub-categorize those with similar comments and decide its priority level.
Act on the changes.
Bonus: Read the positive feedback first to feel good and to know that you're doing something right before moving on to those feedback with certain comments.
Your priority should be feedback that has something to do with health. In addition to that, any angry customer's feedback should also be taken as top priority. Here are some examples of some top priority customer feedback.
A customer mentions that there's a bug in her drink.
A customer feedback saying that a member of the front of house was rude and disrespectful.
Common comments like the hallway to the restroom is unpassable with the current restaurant layout.
A customer mentions that the meals brought to them were wrong.
Customers mention that utensils aren't properly cleaned or sanitized.
Just as there is priority customer feedback, there's also those that you might have to wait and see if it becomes an issue. These are usually those feedback that are subjective to one's personal taste and opinion. Here are some of those examples.
Customer comments that food served was not delivered the way they prefer.
Customer complaining about the noise of the other table.
Customer commenting that no nutritional information is available.
Customers complain that the prices on the menu are high.
Conclusion
When creating your customer feedback form, it is important to take note of what's important to your restaurant. Fill up your restaurant review template with questions that are important to both the restaurant and the customer.
When the time comes that you've completed your form and your customers have answered them, make sure to give them your undivided attention. Put yourself in their situation and understand where they're coming from. Tell the customers you're sorry and you'll rectify the situation. Sometimes, all the customers want is to be acknowledged and to be heard.
Keep your customer survey form short and sweet. Cycle through the questions quarterly using your restaurant review template and you'll have a good idea on the standing of your restaurant.
---
In addition to having a proper restaurant customer feedback management system, you need to ensure that you have a solid restaurant management system first. EagleOwl's restaurant management system can help increase your restaurant's net profit by at least 25%. Contact us now and find out how to make your restaurant business more profitable