One of the most common mistakes aspiring restaurateurs make is not seeking professional help. They feel they have a winning business idea and the passion to make it in the industry. Unfortunately, that's not going to take you very far. To prevent a downfall as rapid as your rise, it's best to work with a restaurant consultant.
Multiple academic research studies show that as many as 30% of new restaurants fail during the very first year of operations. This means to achieve success, a restaurant owner must turn to experts with proven experience in helping restaurants not just sustain themselves but also gain success.
With this blog, we aim to educate you about the importance of restaurant consulting, how a restaurant consultant can help grow your business, and in what areas they can provide expert advice. Let's first look at what exactly is restaurant consulting and what are the different types of restaurant consultants out there.
What is restaurant consulting?
Restaurant consulting is a service provided by a subject matter expert who offers professional advice on various aspects of running a restaurant. Restaurant consultants are equipped with in-depth knowledge about the restaurant industry. This knowledge and experience allow them to help restaurant owners take more financially viable decisions.
Many restaurant consultants have been a part of the F&B industry for years working as a chef, restaurant managers, procurement managers, etc. This means they have closely seen issues that restaurant owners face on a day-to-day basis. This makes their contribution very valuable in helping restaurants become more efficient.
Now, not all restaurant consultants come with expertise in all areas. Typically, there are 4 types of restaurant consultants:
Food & beverage consultant
Restaurant management consultant
Restaurant business consultant
Marketing consultant
The food consultant and beverage consultant terms are quite self-explanatory. But the terms management consultant and business consultant are often used interchangeably. A restaurant business consultant is mostly required during the early phases of a restaurant start-up and helps ensure your business processes are in place.
On the other hand, a management consultant provides insights into optimizing staff performance in order to maximize business efficiency. Lastly, marketing consultants help with everything to ensure a restaurant achieves its financial goals. This means offering the best promotional strategies to attract and retain customers.
Importance of restaurant consulting
In the restaurant industry, the competition is so cut-throat that it can seem daunting to create a space for your new brand. Even existing restaurants need to bring their A-game consistently to stay in business. Running a restaurant is no longer limited to increasing sales and reducing costs.
There are so many elements that need to come together perfectly in order to deliver a great dining experience to a customer. Today, restaurants need to be innovative in terms of food concepts and restaurant interiors to be able to attract customers. Without proper guidance, it can get challenging to do so, especially for bigger restaurant set-ups and large chains.
This is where restaurant consulting comes into play. Whether you own a bar, restaurant, or microbrewery, restaurant consulting can help in improving your food, services, and operations. Whether you need to find the perfect location for your new restaurant or need menu engineering services for an already established restaurant – consultants can do it all.
What experts say about the importance of restaurant consultant
We spoke to Abraham Jacob, founder of Far South Consulting and Consultant Chef at RCB Bar & Cafe regarding the role a consultant plays in a restaurant's success. He says,
"It's common knowledge that a consultant is there to design & set up a kitchen and SOPs and ensure recipes and training of the staff. On one side, I see some chefs and executive chefs skeptical about consultants when they are on board, which to me is them missing a trick."
"While a chef or executive chef is responsible for the daily running of a space, a consultant's job goes beyond the obvious. His/her role is to think and plan and strategize ahead for the owners of the spaces he consults for. It's a time to think of the future not only for the client's business but also for teams to understand the trends that are in vogue."
He further adds, "A consultant is generally well traveled and in touch with chefs from across the fraternity and across formats and cuisine. Someone who is on call to be in able to share trends and world views".
When asked about the future of the restaurant industry, Abraham Jacob shares
"We will need to refocus and think out of the box now, that's for certain."
"In the post-Covid era, we are all going to face certain uncertainties and many questions are bound to arise, from salary cuts to retrenching of staff, to more than just food costing and menu adjustments. Knowing one's farmer and vendors will be more in vogue at the moment. Knowing where the produce comes from will be the norm. Less rail, air, and road miles for ingredients."
How can a restaurant consultant help your restaurant business?
If you thought only rookie restaurateurs need a consultant's assistance, you are far off the mark. Restaurant consultants don't just help you set up your business, they help you gain that extra advantage over your competitors.
This is particularly beneficial in drawing more crowds to your restaurant when customers have multiple choices out there to dine in. And regardless of how long you have been in the industry, a restaurant consultant's advice can help you avoid the common mistakes that lead to a restaurant's failure.
Let's look at some of the important ways a restaurant consultant can help your restaurant.
1) Site selection:
A lot of restaurants fail at the very beginning because they don't identify the right location for their type of service. A restaurant consultant offers valuable insights on where your restaurant should be based on your restaurant concept and cuisine.
For instance, if you're opening a cafe, it needs to be in an area frequented by people in the age group of 16-35. Restaurant consultants come with a high level of experience in identifying such demographic trends and locating the ideal site for attracting people from the right demographic.
They also perform a competitor analysis for a property to help you understand how tough/easy it will be for your restaurant to sustain in that particular location. This also helps in deciding the menu prices to beat the competition.
2) Restaurant interiors:
The internal restaurant design plays a significant role in increasing a restaurant's efficiency by making the most of the space. It also plays a prominent role in setting the right vibe that stands true to your restaurant's concept.
Whether it's the restaurant structure, the floor plan, the color scheme, or the furniture – a consultant offers valuable advice on every small aspect. They help you finalize the right concept and the design that is essential to create the right ambiance.
Design consultation is very crucial to ensure you're making the most of the restaurant space. A restaurant consultant collaborates with the architect to develop an internal structure that is not just safe for the staff but also functional.
3) External factors:
Restaurant consulting also proves beneficial in understanding if the right property has all the amenities to make a customer's visit comfortable. For instance, the property should have ample parking space, clean surroundings, and a regular electric supply.
At the same time, customers shouldn't have difficulty finding the restaurant location. While these factors sound insignificant in the bigger picture, they heavily impact a customer's experience of dining at your restaurant. It can also influence their decision of choosing your restaurant over others.
Menu designing is a science that has the power to maximize restaurant sales. A skilled restaurant consultant knows how to design the menu to encourage your guests to order your most profitable recipes. They also help you determine how many items should be on the menu.
Menu designing involves taking into consideration highly detailed aspects like font, color, format, template, menu size, item descriptions, and image placements. Whether you are creating a printed or digital QR menu, a consultant will help you make the right decisions.
5) Menu pricing:
A lot of amateur restaurant owners make the mistake of pricing their menus based on their competitor's pricing. While it is an important point of consideration, competitive pricing can prove to be an expensive mistake.
An experienced restaurant consultant knows the best menu pricing strategies to ensure good profit margins. They know that menu prices should be decided based on your food costs and requires an understanding of portion control. With this knowledge, they can help you determine menu prices that justify the food you're serving AND keep your business profitable.
6) Staff hiring and training:
A restaurant is nothing without its staff, both the BOH and FOH. Working with a restaurant consultant ensures that they help you set up a team of talented professionals. In addition to this, they also help in training them. On the topic of how the COVID19 pandemic has changed restaurant staffing, Abraham shares:
"A more educated workforce will be in demand. The trained workforce will also have to be able to multi-task and know more and do more than their specialized area of work."
He shares some very interesting questions that restaurant consultants bear in mind while hiring restaurant staff:
"Are we training staff to adapt to the changes coming along? Is our staff trained in multi-tasking and handling both the kitchen and the restaurant? Are we training our staff to work with leaner teams in the near future?"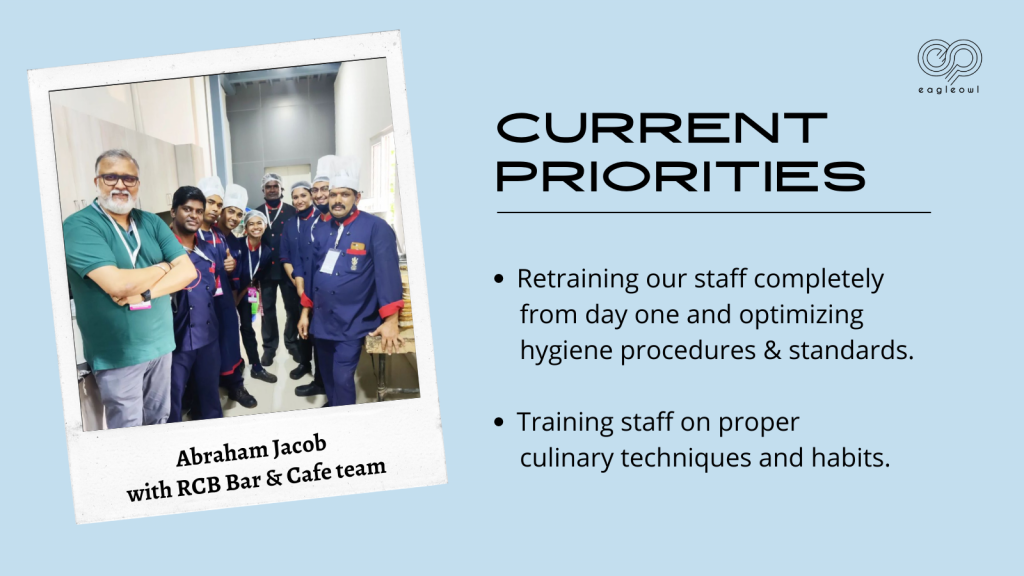 7) Business planning:
This is one of the key aspects that require expert opinions. To successfully run a restaurant, you will need a strong business plan. Since restaurant consultants come with a deep understanding of how things work in the F&B industry, they can help you define your business goals.
Once you have your business goals defined, the next step is creating a realistic plan to achieve those goals. They create a roadmap for first-time restaurateurs to follow in order to avoid common pitfalls. They take into consideration your vision for your restaurant's future so that your actions align with your end goal.
8) Financial planning:
Anyone who's been in the restaurant industry long enough knows that the average restaurant profit margin is very low. This clearly indicates that it is crucial to do ample financial planning before you open a restaurant. This is where a restaurant consultant plays a major role.
Whether you are a newbie or a well-established restaurant, a consultant assists in creating a financial plan. This plan forecasts your annual sales, expenses, and COGS for the next few years. Based on this, they'll also calculate your monthly and annual profit as well as cash flow. This is imperative to understand if your working capital is enough to sustain you until you start making good profits.
9) Operational efficiency:
There's a lot that goes into creating a restaurant set up which performs competently, cost-effectively, and complies with safety regulations. An experienced restaurant consultant can guide you in understanding how to design the space to ensure optimum functionality.
Let's say an entrepreneur with a significant amount of money decides to open a Chinese restaurant. Now if they come with zero knowledge of how a Chinese restaurant works, they'll have no idea that it requires an open kitchen set up to avoid smoke from getting accumulated.
Chinese restaurants need a high level of ventilation because most of the cooking is done at very high temperatures. A consultant comes with the expertise on how the kitchen should be designed to capture & exhaust grease vapors and smoke generated in the cooking process.
If the kitchen is not designed in the right way, these vapors tend to deposit on the surfaces. This will require an extensive amount of cleaning at all times. Moreover, greasy surfaces invite flies and bacteria which can reduce your restaurant's hygiene quotient.
10) Marketing:
Restaurant marketing consulting is a niche area that not all restaurant consultants may cater to. A restaurant consultant can help define the marketing strategies to help establish your brand in the segment your restaurant belongs to. But running a restaurant requires consistent marketing efforts.
This is where digital marketing experts come into the picture. While most restaurant consultants can help with brand building, working with marketing experts is more beneficial for maintaining the credibility of your brand in the long run.
Does your restaurant need restaurant consulting services?
Building a restaurant is a grueling task, to say the least. But does every type of restaurant require a restaurant consultant's help? Not really. If you are looking to establish a small setup, a consultant's fees may end up being too heavy on the pocket.
But for fine dining establishments, multi-cuisine restaurants, or anyone looking to start a chain of restaurants, a restaurant consultant's help is vital. These types of restaurants should most definitely hire a consultant.
At the same time, anyone with a specific concern or challenge can benefit from hiring a consultant. These challenges could range from location to staff to operational efficiency issues. Let's say you're starting a bar on the 5th floor and are worried about getting people to visit.
Here's what a consultant takes into consideration in such a situation. What kind of establishments are on the lower floors? How to market your restaurant through visual signs so it stands out even from a distance? What should be the operational timings based on how busy the area is?
Only an expert like a restaurant consultant can think of such "fine print" issues. Although these issues may not sound very grave, they affect the psychology of diners. Also, they play a major role in decreasing your restaurant foot traffic.
How much do restaurant consultants charge?
The fees a restaurant consultant charges will vary based on the size and the complexity of the project they undertake. Also, a lot depends on the level of experience a consultant comes with.
Some restaurant consultants work only on certain aspects of building a restaurant while others work only on turnkey projects. Some offer only food & beverage consultancy while others may offer 360-degree consultations that cover A to Z of building and running a restaurant.
Most restaurant consultants work on a project basis. They are onboarded as early as during the location scouting phase to benefit from their expert advice. There are 2 formats in which most restaurant consultants work :
Design+build
Design+build+operate
Post project completion, most restaurants keep consultants on a retainer. This is essential to keep getting their input on the problems that they encounter once the restaurant starts operating. Restaurant consultants are also kept on a retainer when a restaurant wants their help in opening new outlets of the same restaurant chain.
Final thoughts:
Restaurants Consultants gain a lot of exposure to the culinary world and the hospitality industry while working with different types of restaurants. This makes them the perfect mentor for aspiring restaurant owners for gaining restaurant success and growth.
In addition to working with a restaurant consultant, having a really good restaurant management system in place is as important. EagleOwl can help increase your restaurant's net profit by at least 25%. Contact us to schedule a FREE DEMO.