If not earlier, restaurants are now finally adopting technology to manage their restaurant operations. This has happened majorly due to the sudden jolt delivered by the global pandemic. But better late than never, because it was long due for restaurants to hop onto restaurant technology trends to survive the tough competition.
→ Get your hands on one of the top restaurant tech solutions for a seamless restaurant management experience! Click here for a FREE demo.
It can get challenging for smaller independent restaurants to invest in tech tools if they are expensive, but if a tech tool is making your operations smoother it can turn out to be a huge benefit in the long run. Let's look at the top restaurant technology trends that restaurant owners must acquaint themselves with in 2022:
1) Restaurant sales management:
This is the most common technology trend that every restaurant owner must be aware of. Restaurant sales management through POS systems becomes a breeze as it allows you to digitally record the restaurant sales and the payments made by the customers.
In the past, restaurants relied on manual notes of customer orders and payments for running their operations. Not only was it prone to errors, but also made it difficult to keep records of customer data. With the help of the right POS system, restaurants can record customer data accurately and ensure smoother transactions.
A POS system includes 2 parts – the software and the hardware. While the software stores and processes transactions, the hardware part is used to input the transaction into the system. By making the right use of data provided by your restaurant POS system, you can improve your restaurant's efficiency significantly.
2) Inventory management:
While POS systems are trending to improve the Front Of House(FOH) experience, restaurants are now looking at solutions for managing their Back Of House(BOH) too. One such restaurant technology trend is an inventory management system.
An inventory management system is a very powerful tool that helps you keep track of everything that comes and goes out of your kitchen. Be it vegetables, meat, spices, condiments, or alcohol – you can record everything to understand your daily consumption.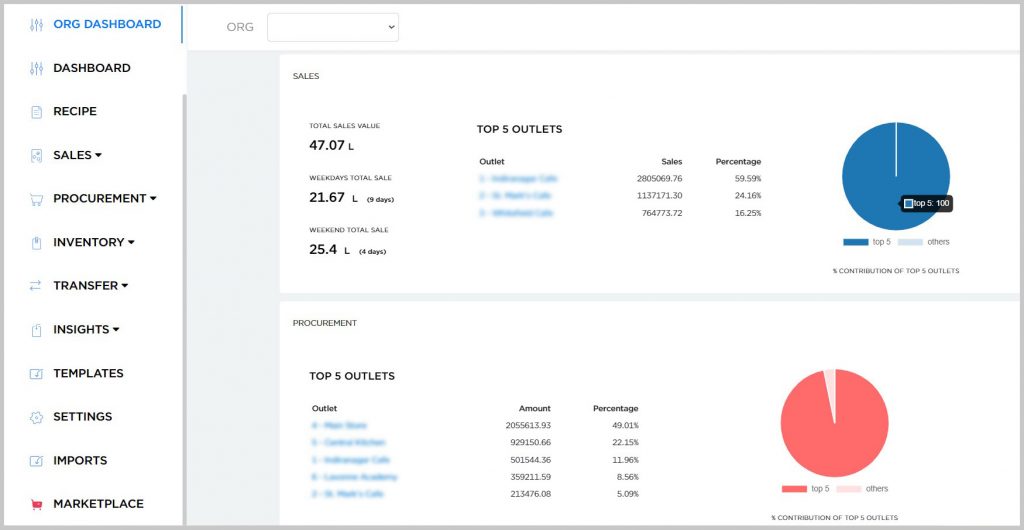 Using an inventory management system has a plethora of benefits. Firstly, it helps you be aware of what ingredients you have at any given point. This in turn makes your ordering process more accurate and prevents wastage. Secondly, it helps in preventing theft or pilferage in the kitchen.
Thirdly, with effective inventory management, you can ensure you never run out of food items and don't have to make an expensive last-minute purchase. Lastly, it helps you store recipes which are invaluable in food costing.
3) Digital ordering alternatives:
Third-party food delivery companies for online ordering have been around for a long time. But now restaurants are turning towards building their own online ordering platforms to reduce the hefty intermediate fees. Now with the advancement in technology, restaurants can have an online menu on their website and promote it through their social media handles.
Take the following image of Windmills Craftworks Instagram page as an example. When a customer clicks on the 'Order Food' button they are redirected to the menu on the restaurant's website. By adding this button, the restaurant is ensuring that if a customer comes across their page and feels like trying out their food, they don't have to go to any other platform to place an order.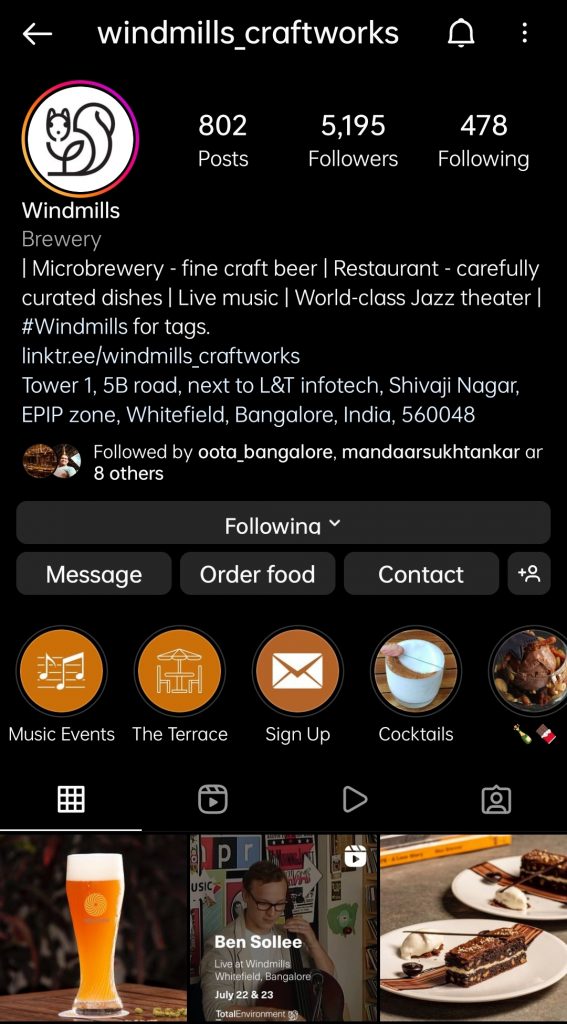 But that's not the only way you can use digital media to your benefit. Did you know you can now allow customers to make table reservations through social media platforms? Yes, it is one of the coolest restaurant technology trends. If the restaurant has a table reservation link on their business page, Facebook and Instagram both give users the option to book a table.
4) Restaurant chatbots:
More often than not, customers have a very common set of questions when they visit a restaurant's website. It's not always possible to dedicate a resource to answer these questions via call, text, or email. Enter restaurant chatbots.
Restaurant chatbots help a customer by answering frequently asked questions like 'How to book a table?' or 'Where is my order?' Chatbots can also be used to help customers with recommendations, special offers, or just to share information about upcoming events.
The biggest benefit of chatbots is that they aid your restaurant's customer support. They take care of the generic queries and ensure customer engagement. Another major benefit of a restaurant chatbot is that they help collect customer feedback after a customer's query has been answered.
This helps you in understanding the kind of questions your customers are coming up with and whether or not your chatbot is equipped to answer all of their queries. Let's say a customer requested information about the status of their order through the chatbot. Then, the chatbot checks the progress of their order and shows them that there is a delay. After this, the chatbot asks for their feedback.
If a lot of customers' response is negative, it makes you aware that there is some need for improvement in the delivery process. If it's just a one-off thing and it is a mistake from the restaurant's end, you can make it up to them by offering them a discount.
5) Contactless ordering:
QR codes have existed for quite some time but restaurants didn't take to them until the pandemic enforced the need for contactless ordering solutions. Printed menus become a medium for the transfer of germs. This is where contactless QR code menus became the ideal solution and highly-followed restaurant technology trends.
With QR codes placed on every table in the restaurant, users can easily scan and view the restaurant's menu on their smartphone. Not only do they prevent the transfer of germs but also eradicate all chances of human error in taking an order. This means customers always receive their orders accurately.
Moreover, it also helps in gathering valuable customer data. For instance, you can ask a customer to sign in through their email account before accessing the menu. This allows you to build a long list for your restaurant's email marketing. Curious about creating a QR code menu for your restaurant? Click here to read our blog.
6) Self-ordering kiosks:
This restaurant technology trend is also a gift of the global pandemic. Earlier, self-ordering kiosks were only set up by QSRs to reduce the queues from building in their restaurant. But now they have become a way of preventing human interaction for limiting the spread of the COVID-19 virus.
This is why it's not surprising that the self-service kiosk market value in 2027 is projected to be double of what it was in 2020. Restaurants are keen on adopting this new technology trend because of a variety of reasons.
The first and foremost reason is that it gives a customer full control over their speed of ordering. They can choose from a variety of customization options to ensure they get what they want. Secondly, since customers are not giving details to a staff member and rather using a touch screen to build an order, it means lesser staff behind the counter.
This way, self-ordering kiosks prove to be cost-effective for the restaurant. Thirdly, the interaction with a kiosk always remains consistent. Regardless of the outlet location or the number of times a customer uses it, the technology and UI remain consistent across all outlets.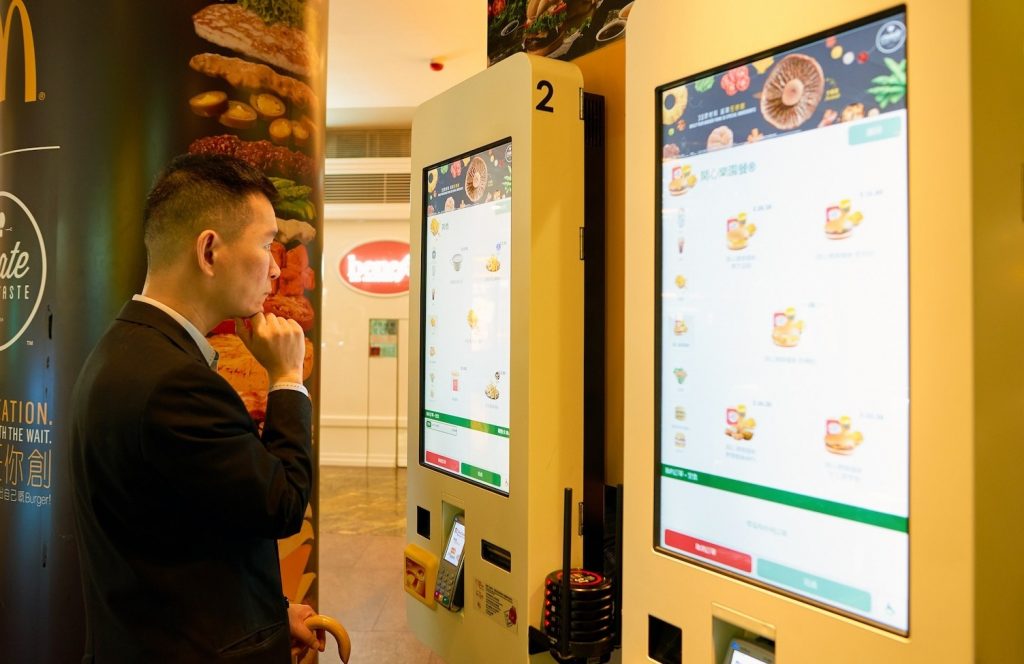 7) KDS and KOT:
Kitchen Display System or KDS is not one of the emerging technologies in restaurants but one that you must know about in 2022. It is a streamlined substitute for tickets generated on paper. It uses a digitized system for the process of taking and executing orders in a restaurant.
Once the restaurant staff takes an order and punches into the system, a Kitchen order ticket (KOT) is generated for it. The KDS becomes the medium of communicating the KOT to the kitchen staff so they start executing the orders. This is done through a digital screen.
Over the years, KDS has become more efficient and easy to implement. Moreover, since everything is automated the customers get their orders quicker. This enhances customer satisfaction and also improves the restaurant table turnover rate. The higher your restaurant table turnover, the higher your sales.
8) AR menus:
Menu engineering and menu designing trends have been around for almost a decade now. Restaurants want to give customers a more visually appealing presentation of the food through their menus. This means including descriptions that appeal to the reader's senses.
Augmented Reality(AR) menus are a new and emerging technology in restaurants that provide a menu item's information in greater detail. AR menus are far superior to the static menus we are used to seeing – be it in the printed format or digitally. They can breathe life into food photographs and compel the customer to order them.
While AR menus are still going through a phase of experimentation and perfection, it cannot be denied that the AR experience can be very powerful in getting customers to try your food. Since it is exciting to check out the food in 3D, it can be exciting for them to explore items on your menu while waiting for their food. This way they won't get bored and learn about new items from your menu.
9) Virtual restaurants:
A virtual restaurant is an extension of a ghost kitchen. Just like a ghost kitchen they don't have a dine-in space and only offer food delivery & pick-up. It may seem like virtual restaurants are in-fact ghost kitchens because both don't offer a brick-and-mortar dining service.
But virtual restaurants are run out of the kitchen of an existing restaurant by sharing their space. Contrary to this, ghost kitchens don't share a space. They operate in a rented space dedicated entirely to their operations.
Why are virtual kitchens emerging restaurant technology trends? Because they require lower overheads and promise more revenue. The money spent on running a brick-and-mortar dining space can then be used to build a strong online presence. Additionally, once you identify your most busy hours, you can run your kitchen only for those specific hours and not the entire day. More savings!
What the future holds:
As we can see, emerging restaurant technology trends are helping restaurants manage their operations more efficiently. This not only improves the guest experience but also makes it easy to run a restaurant. As technology keeps evolving, it will become necessary for restaurant owners to keep up with the times and embrace these tech advancements.
Looking for ways to grow your restaurant business? Let EagleOwl take care of that. Our restaurant management system can help optimize your finances and increase your restaurant's net profit by at least 25%. Contact us now to schedule a free demo!