We're going to straight up admit – social media is hard. It's not hard to learn; it's just hard to keep up with. With the ever-changing trends and updates in algorithms, it can get pretty challenging to effectively market your restaurant. At the same time, you want to avoid making social media mistakes because sometimes, one mistake can cost you everything.
→ Don't make the mistake of relying on memory for running your restaurant backend operations. Automate your BOH operations with EagleOwl and maximize your restaurant's profitability. Click here to schedule a FREE DEMO.
In this blog, we'll look at some of the most common social media mistakes that restaurant owners should avoid. We'll also look into why restaurants should care about social media and the drawbacks of a poor social media presence. So let's start with the basics first – why do restaurants need social media in the first place?
Importance of social media for restaurants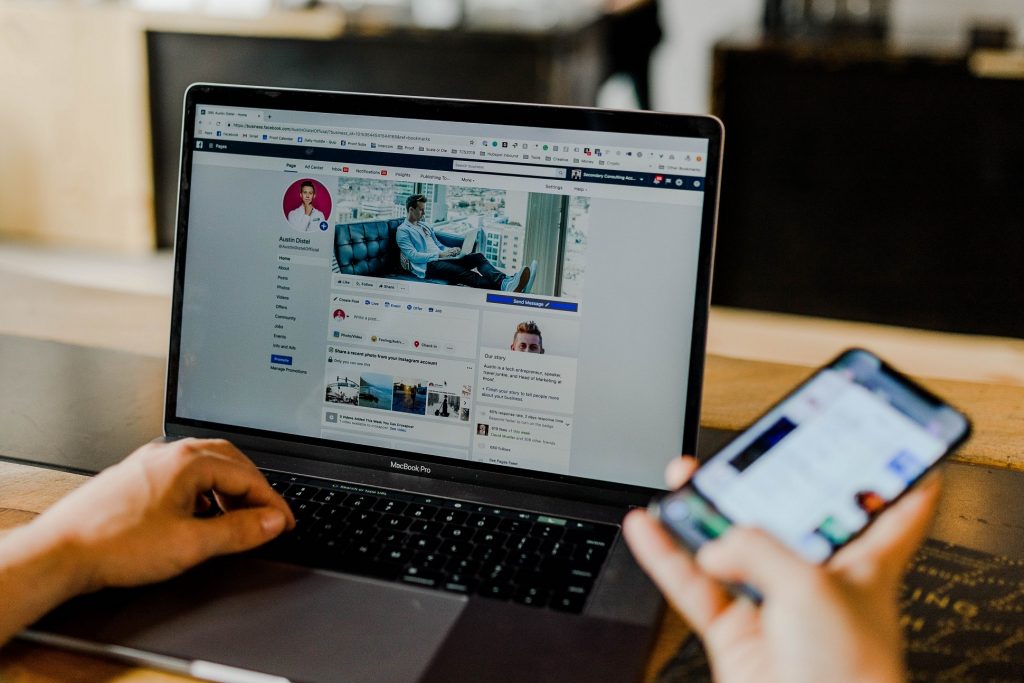 Datareportal's January 2022 Global Overview Report states that currently, 4.62 billion people use social media. That's more than half the human population! It also states that post-pandemic, the number of new social media users is increasing at the rate of 13½ users per second.
The pandemic also led to a massive increase in the amount of time people spent on social media in an attempt to feel connected with their friends and family. In 2021 alone, internet users aged between 16-64 spent an average of 2 hours and 27 minutes per day on social media. And this number hasn't gone down. On the contrary, it keeps rising.
If these aren't enough reasons to utilize the power of social media for your restaurant, here are a few more:
Good things do come free! All social media channels are free to use, and allow you to share content without entering your credit card details. All it takes is your time and effort which you would anyway invest in marketing your restaurant through any other medium as well.
It increases brand awareness
If you want customers to remember and recall your restaurant when they are looking for places to dine in, you need to create brand awareness. Social media makes it very easy to familiarize the audience with your offerings. It also helps set your restaurant apart from the competition.
It keeps customers updated
The quickest way to share any exciting news with your customers is through social media. Be it a restaurant event, a new menu launch, or Happy Hours. It allows you to reach a large audience within seconds and share authentic information.
It helps attract more qualified leads
Social media is not about staying connected with just some random people on the internet. It allows you to find your target audience based on your niche so you can actively create content to encourage them to visit your restaurant.
It enhances customer experience
This is one of the biggest reasons why your restaurant should have a business page on social media. Since people turn to social media for almost everything, you can use it to highlight positive reviews by customers. Reposting stories by customers sharing their dining at your restaurant makes them feel valued and enhances their overall experience.
If you research online what type of content gets the most engagement on Instagram, food will always be in the top 3 answers! And if the food pictures/videos are aesthetically shot, they can invoke hunger. Add an 'Order food' button on your social media handle and this can quickly translate into a sale.
It promises high engagement
Food never goes out of fashion. Nor does eating out (okay we agree it briefly went out of fashion during the pandemic but it only increased the number of at-home deliveries). So having a social media presence can only lead to higher engagement with your existing audience.
Common social media mistakes restaurant owners make
Now that we've seen the benefits of social media marketing for restaurants, let's look at the common social media mistakes restaurant owners must avoid:
1) Too much promotional content:
This is one of the most common mistakes restaurants make on social media. They get too sales-y. Their entire feed is filled with static posters that look like a billboard ad and fails to convey much. If your followers are not going to derive any value from a post, it shouldn't even be on your feed!
2) Inconsistency:
Another common trend is not committing to the process of social media marketing. You upload a well-crafted, relevant reel and wow your audience. And then you disappear for days. You come back and post about a restaurant event, promote it for a few days and then disappear again.
This kind of ON and OFF presence harms your engagement more than it benefits. Firstly, the social media algorithms will make it difficult for your content to have a wider reach. Secondly, you will slowly start slipping away from the minds of your followers. Not staying consistent can quickly make your brand irrelevant in a world full of restaurants offering similar services.
3) Failing to establish your style:
There are so many restaurants on social media trying to grab eyeballs. Why would a social media user follow your page? Your aim should be to set yourself from the competition. This is possible when you define your own style and create content that is consistent with your style.
To explain the importance of this, we'll look into the social media page of a very popular F&B brand – Amul. We know it's not an example of a restaurant. But its social media strategy is one that restaurants can take inspiration from.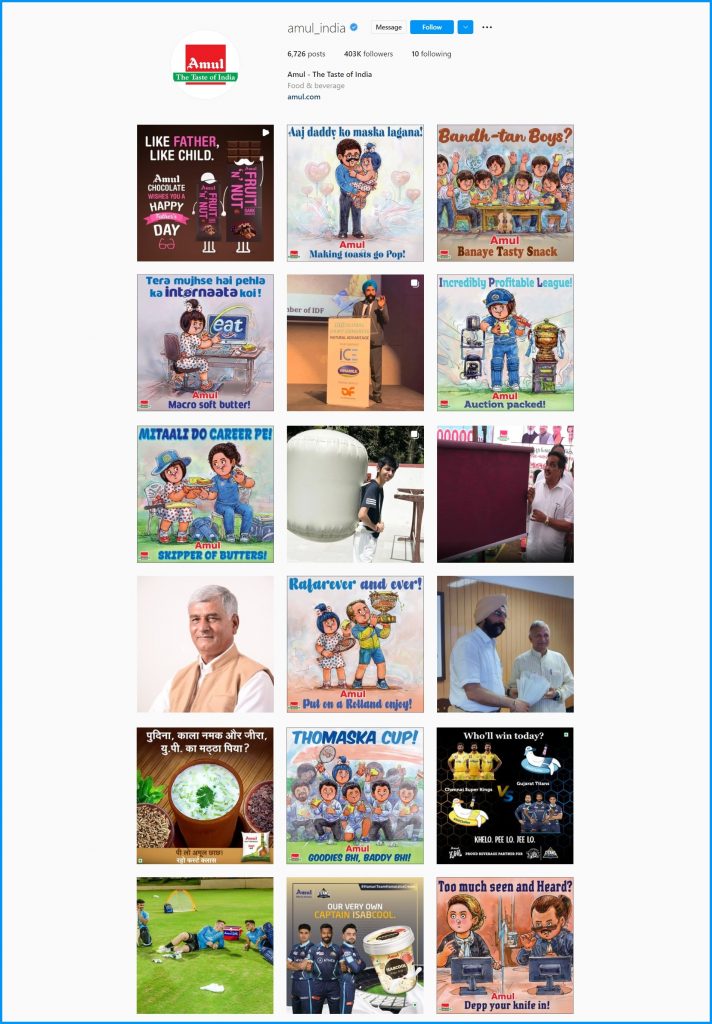 If you look at their Instagram feed, they use their mascot, the Amul girl in a static poster. This poster is inspired by a latest event – it could be a movie, a political incident, or even a tribute to someone who passed away. They use word puns to incorporate their offerings – Amul butter in the poster copy.
Since they have created a unique style through these static posters, users now look forward to what Amul will create for a particular trending topic. Such is the power of staying true to your style!
4) Not engaging with your followers:
Another silly mistake that has major repercussions – ignoring your audience. Think of this as a speech where one person just keeps talking endlessly and the audience starts yawning after a point because they don't feel involved.
When restaurants don't reply to comments, tags, stories, etc they miss out on the opportunity of building a relationship with their followers. This always keeps them in the earlier steps of the sales funnel, never really converting into a paying customer.
5) Arguing in comments:
This is one social media mistake we wish you never make because it can turn into bad press and ruin a restaurant's entire online reputation. When restaurants receive negative feedback in their social media inbox or comments, it is important they handle it the right way.
Replying with inappropriate words, a rude tone of writing, or insulting someone can only create controversy. This taints your brand's reputation. In the worst-case scenario, your words could end up being put out of context which can never lead to anything good.
6) Not investing in food photography:
Uploading badly shot images is a very common mistake a lot of restaurants make on social media. No matter how delicious a menu item may look in person if it's not well-shot it will not invoke the same emotion as it does when someone sees it in person.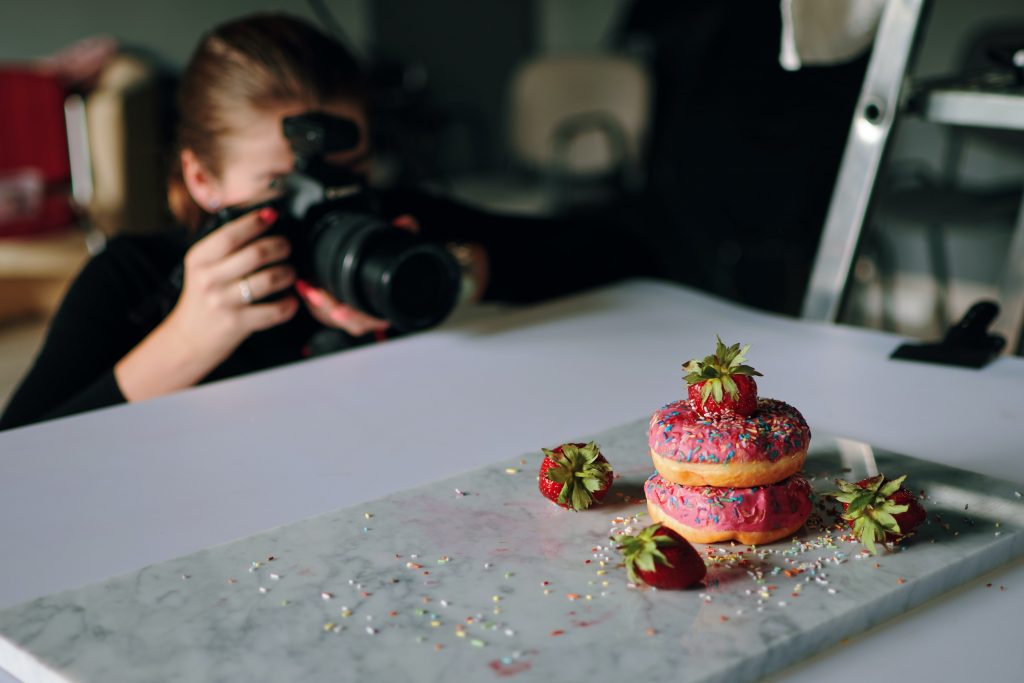 This is why investing in food photography is a must for restaurants. Don't get into the trap that it's an unnecessary expense. Find a good photographer and get professional images shot. Food photographers come with knowledge and experience and can make a viewer hungry with just an image or a video.
Here are some tips & tricks to create visually appealing food images: Click here
7) Not identifying your core audience:
Posting on social media without knowing your target audience is like throwing darts towards a dart board with your eyes closed. You'll never get good results. A lot of restaurants bypass the step of not pinning down their target audience.
So their content doesn't align with their followers' needs. Their content fails to solve their follower's problems. This leads to them not relating to your posts and unfollowing the page eventually.
For instance, a restaurant serving vegan food needs to define its key demographics to be able to engage with its audience. Only then will it successfully encourage more sales/restaurant visits. Failing to direct content toward the right audience brings low engagement on social media.
8) Working with the wrong influencers:
In the past few years, we've noticed a powerful trend of collaborating with social media content creators to increase reach. These creators are also called influencers and the marketing strategy is called influencer marketing.
It's a very common mistake to collaborate with an influencer that doesn't even cater to your target audience. While it's a very successful social media marketing strategy, you can end up wasting a lot of money if you tie up with the wrong influencer.
9) Not tracking social media metrics:
How do you decide what's working for your restaurant on social media? Social media is not a one-track race and there is no one-size-fits-all solution to creating a stellar online presence. The only way to build a good social media presence is to do trial and error and measure the metrics.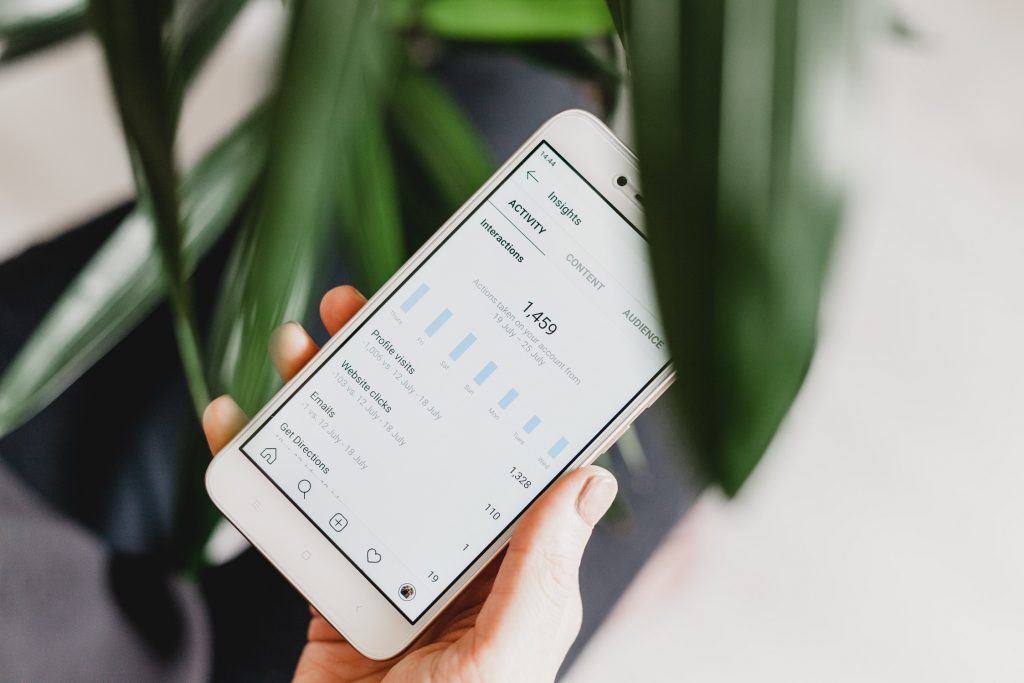 When restaurants don't track and measure social media metrics, they don't have the right information to make better decisions. They don't know what to do to get better results. It can turn out to be an expensive mistake to not make the most of the analytics a social media platform offers.
Drawbacks of a bad social media presence
We all know what happens when a restaurant owner doesn't utilize social media for their restaurant. But what happens when they do and ignore it? What happens when they have a poorly managed social media presence? It's not enough to just exist on a social media platform. You need to ensure you are bringing some value to your followers. If you don't, here's what happens:
Irrelevant:
Whether we agree with it or not, social media is the solution to everything now. Want to find a new place to eat – enter social media. You want to find restaurant deals & discounts – social media can tell you. You want to know a particular restaurant's special dish – check their social media account.
In 2022, people are accustomed to checking everything on social media. So if your restaurant is almost non-existent on social media, it can quickly become irrelevant. People will end up forgetting about your restaurant. Because, as cliche as it gets, out of sight is out of mind.
No communication:
One of the best ways to foster a connection with your customers is to seek feedback and work on it. Social media gives customers an open communication channel. Customers can let restaurant owners know their thoughts which becomes very helpful for the restaurant in terms of improving services.
If a restaurant is not available on social media or is not responsive, it can lose out on some very valuable feedback. In addition to this, it may lose out on a lot of customers who cannot make up their minds about visiting the restaurant because of inadequate information.
Loss of audience:
The competition in the restaurant industry is so tough that even a small absence can help your competitors to grab your audience's attention. Sadly, in today's constantly changing world, good food alone cannot retain a customer for long.
You need to regularly keep connecting with your audience with good food photography, appetizing reels, discount deals, and more to ensure they keep coming back. Otherwise, you risk losing your audience to other restaurants with a better social media presence.
Stagnancy:
When you stay connected with your audience on social media, you ensure they know about the events you host or the new menu you introduce. With a bad social media presence, your audience would never be aware of any of these. This makes your growth stagnant.
Moreover, without posting good content consistently on social media, you will not be able to reach more people. This prevents you from increasing your restaurant footfall and affects your restaurant sales.
Loss of money:
If you invest in paid social media marketing but don't post good content, your audience will lose interest and unfollow. Paid social media marketing increases your visibility. But whether or not an ad viewer will stay engaged with your profile totally depends on the kind of content you put out.
If you post irrelevant, boring, or sub-standard content, your paid marketing efforts go to waste. Followers will unfollow quicker than you realize. This can lead to a significant loss of investment.
In conclusion:
Social media is a bandwagon that your restaurant must hop on and use to the greatest advantage. But at the same time, make sure to steer clear of all the social media mistakes mentioned above. It's okay to take your time and make your own space in the social media world, but avoiding these mistakes will ensure you get there quicker.