Cleanliness is of utmost importance to restaurants to prevent cross-contamination and the spread of germs. The last thing a restaurant wants is a customer complaining that they have to deal with uncleanness while they eat your store. However, the grind of a restaurant's daily operations makes it hard for employees to remember their cleaning tasks. To help with this, we will discuss in this article the importance of having a restaurant cleaning checklist guide you through how to keep a restaurant clean.
Restaurant Cleaning Checklist FAQS
Since the spread of the coronavirus last year, cleanliness has become a forefront for all restaurants. Customers would like to feel safe when they visit your store. Therefore, a restaurant that exudes cleanliness is more likely to retain customers.
We conducted an interview with a well-renowned restaurant operations manager regarding restaurant cleanliness. Feel free to use these tips when managing your own restaurant.
Q1: How often should you clean your restaurant?
First and foremost, it is important to note that there are two sections to your restaurant – the kitchen and the dining area. Both areas have sections or items that need cleaning daily. However, other items on the checklist can be cleaned either weekly or monthly.
For example, disinfecting and sanitizing your working table is a daily task. Deep cleaning your large equipment, on the other hand, can be a weekly chore. Large equipment include your convection oven, braising pans, blast chillers, etc.
Q2: Speaking of the kitchen, what's the first thing you should look for in terms of cleanliness?
The cleanliness of your kitchen says a lot about the success in your restaurant. A clean and sanitized kitchen should be debris and bacteria free.
General cleanliness should be the first thing you should prioritize in your kitchen. Here's a quick restaurant cleaning checklist for your kitchen space.
Firstly, check if things are organized, labelled properly and if they are in the right place.
Secondly, you have to look at how you store your food. Rule of thumb is your raw meat shouldn't be on top of your cooked meat or vegetables.
Lastly, there should always be a sanitation bucket ready. It is important to keep all equipment and accessories sanitized all throughout. Remember, a kitchen can be clean but not sanitized.
Q3: What is the difference between cleaning and sanitizing? Isn't it the same?
Restaurant deep cleaning checklist includes both activities. Cleaning is the removal of food or waste on any surface. On the other hand, sanitizing is the removal of bacteria on equipment, utensils or work stations.
Cleaning simply needs three main components: water, detergent/soap, and pressure. Water helps remove food and other items that are stuck to dishes, tables, utensils, etc. In addition, it also serves as the combo for the soap to remove these particles. Always remember that the water used for cleaning should be clean also. Apply pressure on the items that you'll clean by scrubbing them down until they're clean.
Sanitizing is done after washing and rinsing your items. When your food is about to be served, it is important that surfaces that have food contact should be sanitized to prevent airborne illnesses. Use approved solutions to sanitize your work area and use a dishwasher to sanitize your wares.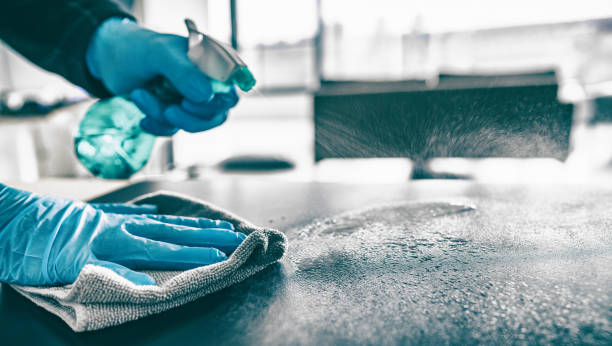 After cleaning and sanitizing your equipment and accessories, make sure they're dry before they return to storage. Do not use towels to dry items, instead air dry them.
Q4: How about the dining area? What areas should be prioritized?
The cleanliness in your FOH says a lot about the state of your kitchen. Customers don't see your kitchen so they judge by looking at your FOH. Above all, a dirty FOH can turn off a lot of customers. They'll start to think, "If the dining area is dirty, how dirty is the restaurant's kitchen then?"

Here's a quick restaurant cleaning checklist for your dining area.
A good place to start with your FOH are your tables and chairs. Make sure these are well-cleaned and sanitized after every customer. The most common mistake from servers is that they clean the tables using wet towels. This will leave a stench on the tables and will surely turn off the next customer. Simply use a damp towel to clean and sanitize tables.
Secondly, make sure that the floor is mopped and dried every so often. Dirt and dust can accumulate based on the number of customers that day. It is important to keep the floor clean to prevent tripping hazards.
Lastly, the restroom must be checked for cleaning and sanitation at least once every hour. According to an article by ResearchGate, customers are very concerned with the cleanliness of restrooms. A functioning restroom will have a positive influence on customers' perception of the restaurant. In addition, the research says that it actually impacts the customers' decision to return or not.
Q5: Do you have a summarized restaurant cleaning checklist available?
We have prepared restaurant cleaning instructions for both the kitchen and the dining area. The checklist will indicate whether the task should be done daily, weekly or monthly.
Restaurant Kitchen Cleaning Checklist
Daily Tasks:
All dishes, pots, and utensils are cleaned each time it's used.
All sinks are cleaned and sanitized after every use.
Check if all labels are accurate and updated.
Work tables are cleaned and sanitized after every use.
Chiller and freezer exteriors are wiped clean and sanitized.
All small equipment such as microwaves and juicers are food spoilage free.
Sweep kitchen floors every hour to avoid tripping and slipping accidents. This is especially important after meals are cooked and the oil has splattered.
Wash all kitchen towels and air dry for next day use.
Throw away the garbage and clean the garbage receptacle.
Store away all cleaning chemicals used.
Cleaning of walls and ceiling.
Weekly Tasks:
Clean the interior of the chiller and freezer.
Thorough cleaning of grease trap.
Pour decloggers on your sink and floor drains.
Vacuum and clean anti-slip mats.
Deep-clean your large equipment items (convection ovens, braising pans, etc.)
Monthly Tasks:
Throw away expired inventory items.
Clean tile grout.
Clean the interiors of your dishwashers.
Restaurant Dining Area Cleaning Checklist
Daily Tasks:
Clean all surfaces with glass. Make sure that there are no hand prints visible.
Check if menus are clean, stocked and complete.
Sweep and mop floors.
If you're a restaurant selling desserts, clean the display chiller and don't let it show fog.
Thoroughly clean the restroom. Specifically mirrors, basins, toilet, urinals, fixtures, door, wall and floor.
Hand soap, toilet paper, and hand towels are properly stocked in the restroom.
All dining tables and chairs are cleaned & sanitized.
Check for busted lights and replace them, accordingly. Dust your lighting fixtures.
Dust your restaurant decors and furniture.
Clean your condiment trays.
Stock up on all condiments such as ketchup, mustard, salt and pepper.
Weekly Tasks:
Clean the filter of air condition units in the front of house.
Vacuum upholstered couches (if available).
Steam and laundry curtains.
Monthly Tasks:
Clean ceiling and wall fans.
Wipe posters and art on the wall.
Final Thoughts
The cleanliness in a restaurant is of utmost priority. Customers see it as a reflection of how well you manage your restaurant. Most importantly, a dirty restaurant will not be able to attract customers at all.
The restaurant cleaning checklist provided above will serve as a guide to having a clean restaurant. However, hiring a professional cleaning staff can also serve as an option for extremely busy restaurants. What's important is the restaurant will have top notch cleanliness.
EagleOwl
EagleOwl is a back of the office solution that's meant to increase a restaurant's profitability. With our software many restaurants are able to increase their profitability by up to 25%.