Reading restaurant blogs is a good way for a restaurateur to learn more about the industry. This can be in the form of recent news, current trends, expert advice, or simply learning what others have experienced. It is important that restaurateurs keep themselves informed so they can practice the things they learned and apply them to their restaurant.
→EagleOwl not only helps you manage your backend, but also has a great library for information for restaurateurs. Click here and get a FREE demo and see how we can help boost your business!
Here in this article, we will be discussing in detail why it is important for restaurateurs to read restaurant marketing blogs and some of the best resources to follow right now.
Why restaurateurs need to read blogs about restaurants
The restaurant industry changes a lot. Trends come and go and it is important that your restaurant keeps up. In short, blogs about restaurants are one of the best tools that a restaurateur can have at its disposal. Here are some good reasons why restaurateurs should be reading them.
It is a good measure of where the restaurant industry is heading.
Restaurant blogs not only provide valuable tips in the business, but they also offer other relevant information such as market insights, news, stats, experiences from experts, stories from chefs, managers, and owners.
Reading reliable restaurant marketing blogs is a good way to learn new marketing strategies, get acquainted with new tools and technologies.
Following trends and staying ahead of other restaurant competitors. A common problem for restaurants is complacency. By informing yourselves with the necessary knowledge from restaurant management blogs, you create opportunities for your restaurants to succeed. For example, if you've been reading your fair share of blogs, you'd know that plant based foods are one of the best trends in 2022. Because you know this, you can make informed decisions to add plant based items to your menu.
Get up to date with industry analysis and market. The market for restaurants is in a constant state of change. Reading restaurant industry blogs can help inform restaurateurs of possible supply chain issues (mainly due to the pandemic), best restaurant management softwares to use, operational efficiency ideas, to name a few.
Restaurant blogs every restaurateur should follow
Whether you're new in the industry, or a seasoned veteran, here are some of the best restaurant industry blogs that you should be following.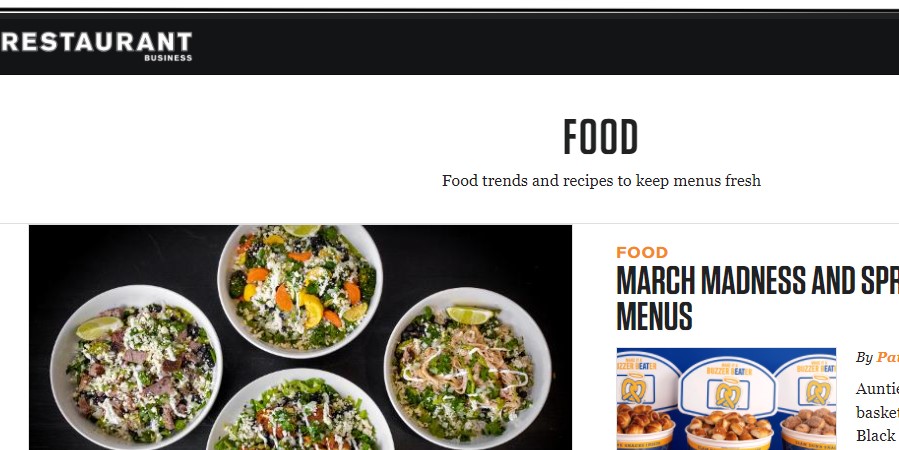 Restaurant Business is the leading media brand in the commercial foodservice industry, with a focus on entrepreneurship, innovation and growth.
Restaurant Business has its own page on food that talks about current food trends and recipes to keep your menu fresh. In addition, they also provide their readers with market benchmarks, innovative ideas, new concepts and trends, and other important insights.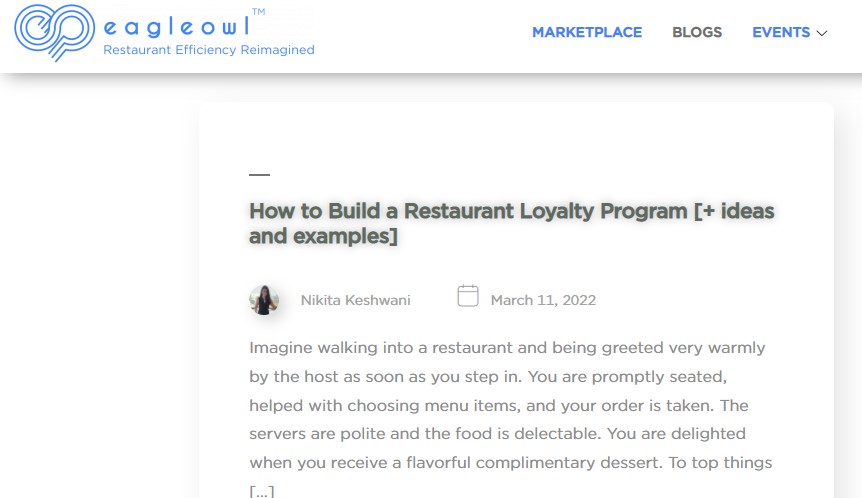 EagleOwl is a simple and insightful restaurant back office solution. They seek to optimize your restaurant's costs and stabilize it so you can add more to your net profits.
EagleOwl maintains and constantly updates a restaurant blog. The topics on their blogs range from restaurant operations to how to properly manage restaurant finances, industry standard percentages, and more. If you need help with your restaurant operations, this blog is one of the best to follow.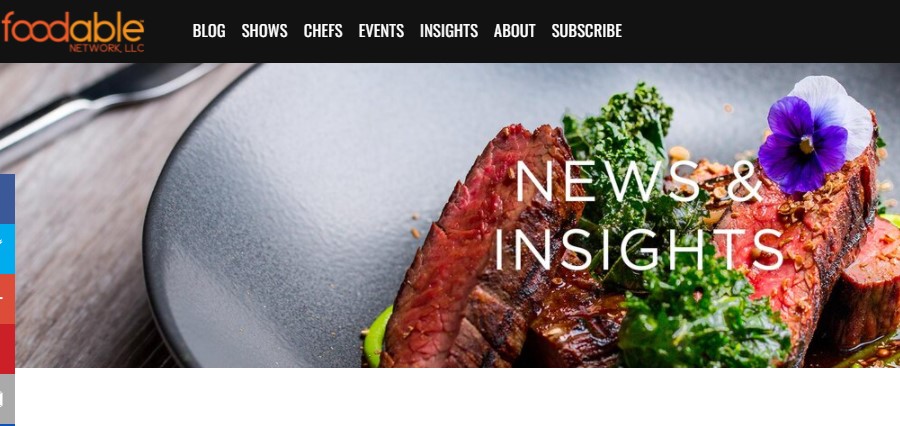 Foodable is a next-generation media company that focuses on delivering premium video, podcast, and virtual event content in a B2B educational format. Foodable Network has one of the best blogs for the restaurant and hospitality industry.
The restaurant blog of Foodable is a treat to read (and watch/listen to). They have podcasts that offer exclusive interviews with chefs, owners, and executives of the restaurant industry. In addition, their blog also shares recipes that you can possibly include in your restaurant menu. Just check out this awesome Salmon with Buttermilk Broth & Gailan recipe.
Foodable also shares updates on the tech side of the restaurant industry. They give opinion pieces on whether third party delivery apps are here to stay or has it become too much of a financial burden for restaurants. All in all, this blog is a good place to spend your afternoon reading on.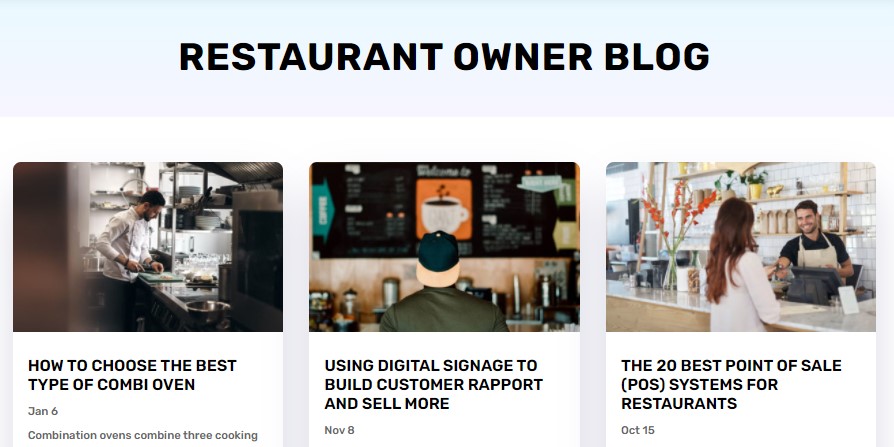 Restaurant Den is an all-in-one website design and online ordering solution for full service restaurants, quick service restaurants, tea shops, food trucks, and much more.
Their restaurant blog mainly focuses on several topics: restaurant designs, digital marketing strategies, restaurant technology, and restaurant operations. The only downside to this blog is that it's updated only once a month. Despite the good content, it can do better with more posts.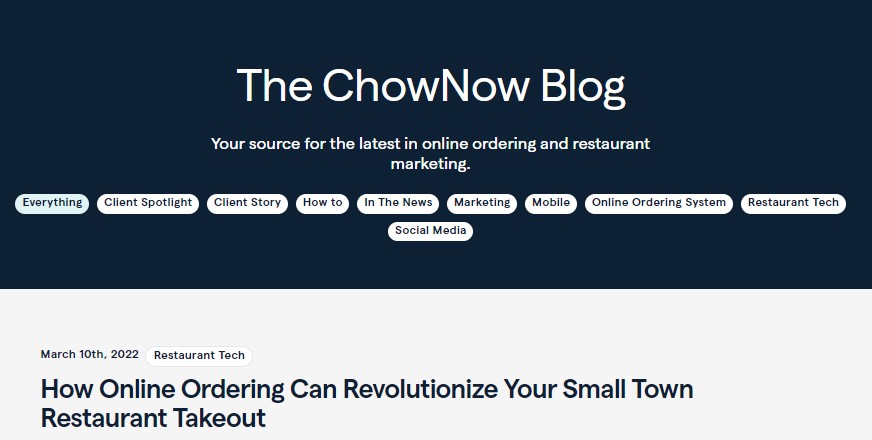 ChowNow was created to help restaurants get online quickly and easily so they can maintain direct relationships with their customers. As the world evolves and new technology platforms emerge, ChowNow will be there to help restaurants stay up to speed online.
The ChowNow restaurant blog offers the latest news in online ordering and restaurant marketing. They share tips on the proper way to promote your restaurant. In addition, they also teach you how to properly optimize your online ordering feature to get more sales.
If your restaurant is looking for ideas on how to properly do your restaurant marketing, then this blog should be an automatic follow.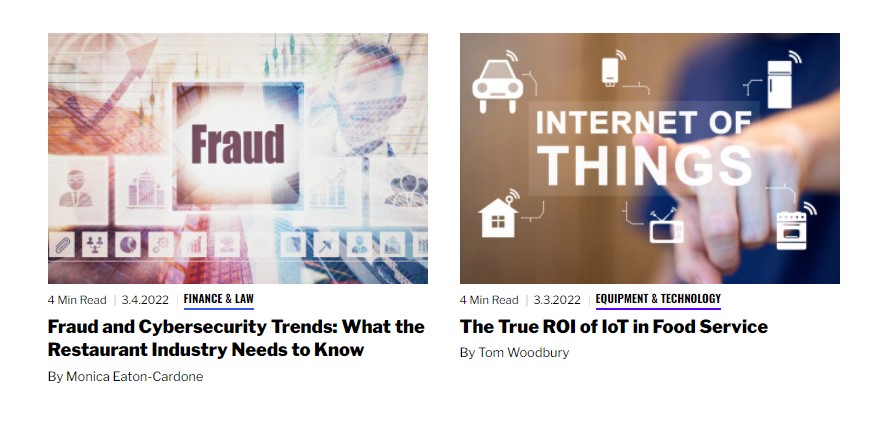 Modern Restaurant Management (MRM) magazine is a go-to resource for on-the-go restaurant-industry professionals.
Their blog emcompasses everything restaurant related. This includes current news and trends, marketing, operations, design, and equipment and technology. To go further, MRM even included restaurant finance & law and media in their restaurant blog.
If you're looking for an all-around source of information in the restaurant industry, then this restaurant blog should be one to follow.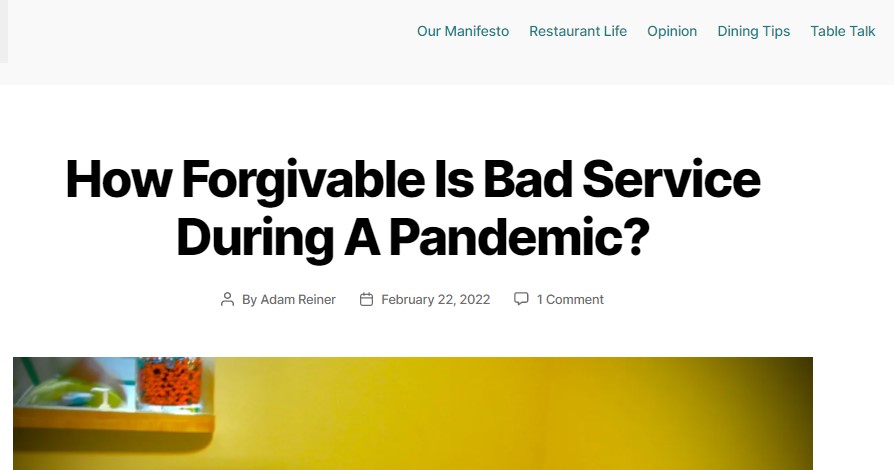 Like what their page says, The Restaurant Manifesto is not your typical restaurant blog. It is different because the blog is catered to customers instead of restaurateurs. In short, the blog tells customers how to improve their dining experience. It can be considered a good read for restaurateurs because you can see issues through the eyes of the customer.
The content being released is from industry professionals with categories in restaurant life, opinions, dining tips, table talk, and service bar.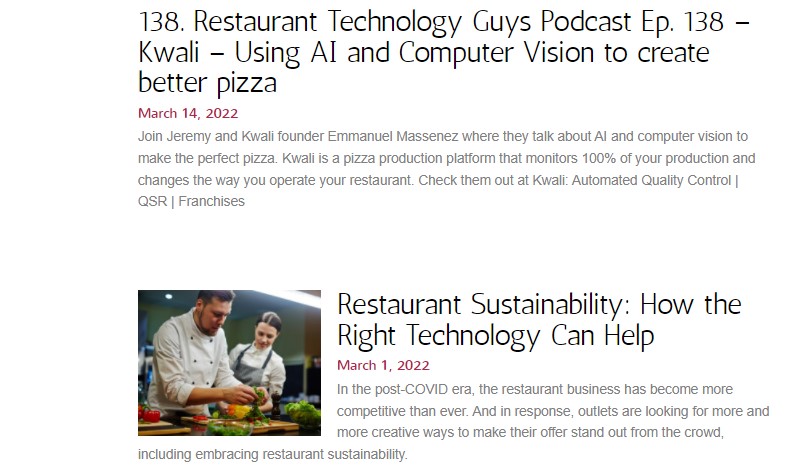 The Restaurant Technology Guys are considered the leader in disseminating restaurant technology news. Their content is mainly based on restaurant technology and how it helps restaurants be successful. However, there is also content in their podcast that talks about restaurant operation improvement and interviews with the top names in the restaurant industry.
All in all, it is a good restaurant industry blog to follow since it is comprehensive and industry leaders are always to listen to with all their advice and experience.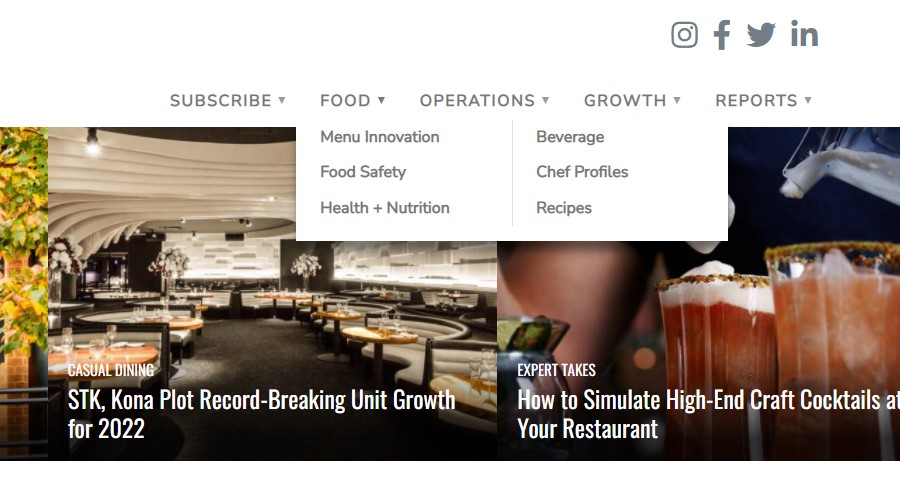 FSR is the digital magazine for tablesetters. They bring insights from full-service restaurant chefs, owners, and executives about setting America's table.
This magazine has everything covered when it comes to full service restaurants. They have three primary content categories – Food, Operations, and Growth. In addition, they also have sub-categories for each main category so it can also serve as a one-stop shop for restaurant knowledge.
FSR offers subscriptions and free reports that you can download so you can keep up with restaurant trends. Knowing these as they happen can have a positive impact on your business.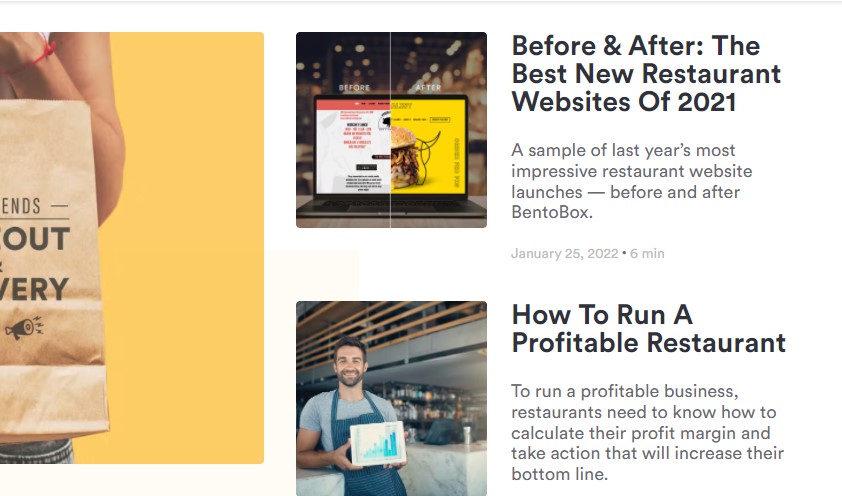 BentoBox empowers restaurants to own their presence, profits and relationships, via their website. Their restaurant blog is composed of stories dedicated to extending hospitality online, empowering restaurants everywhere.
The content that they produce are mainly focused on the restaurants with the best websites. Aside from these, they also write about how to best maximize online ordering as a restaurateur. If you have a website and want to learn how to grow your sales through that channel, do not miss out on this blog.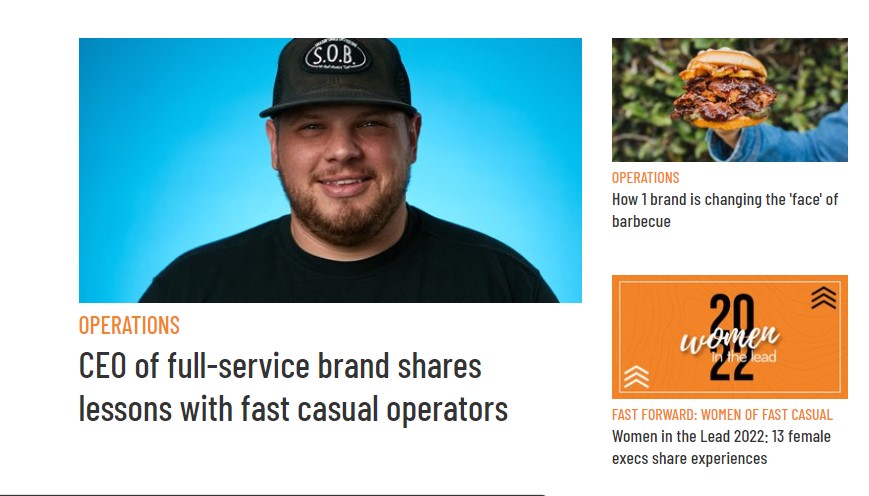 Fast Casual has been reporting important news and events on the quick service restaurant scene since 1997. They attract a global audience looking for the latest trends in F&B, top markets to expand to, and new concept ideas.
Their blog has multiple categories that they write about, from operations and marketing all the way to franchising, staffing, and technology. They send out multiple updates in a day and it's a good source for your daily digest of QSR industry news. They even have updates from the operations of Starbucks in Russia.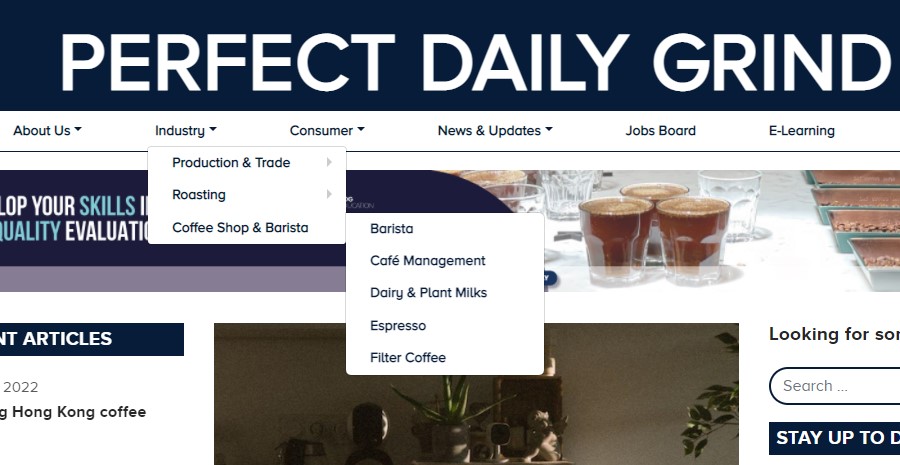 Perfect Daily Grind is the world's leading voice for coffee. The coffee blog provides real-life editorial content which educates people along the coffee supply chain, from producers and roasters to baristas and consumers. It is a must-read daily resource for anyone who's interested in the coffee industry.
They provide industry updates in coffee production and trade, coffee roasting, cafés, and barista news. In addition, they also provide content for consumers. They share coffee essential tips for those who embody the "be your own barista" personality.
In short, this coffee blog is a must-follow for the coffee shops and cafés out there.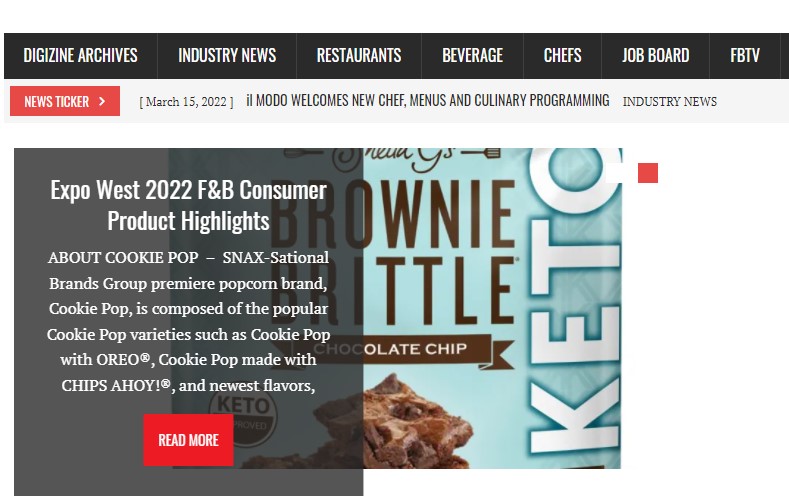 Food & Beverage Magazine is a digital magazine that offers content that covers every aspect of the restaurant industry.
They offer a bevy of industry news, food news and content, restaurant news, and beverage news – subcategorized into wine, beer, and cocktails. Their content comes from all over the world. For example, they wrote about this culinary delight from India. In relation to food news, they pump out content on the market size of food items too. They have articles on Oat milk and Vegan nuggets.
Food & Beverage offers five different podcasts on their restaurant blog. Podcasts have been trending up recently and they certainly made sure to go into the space. So, if you'd like to listen to daily digests of food and beverage content, make sure you're following this page.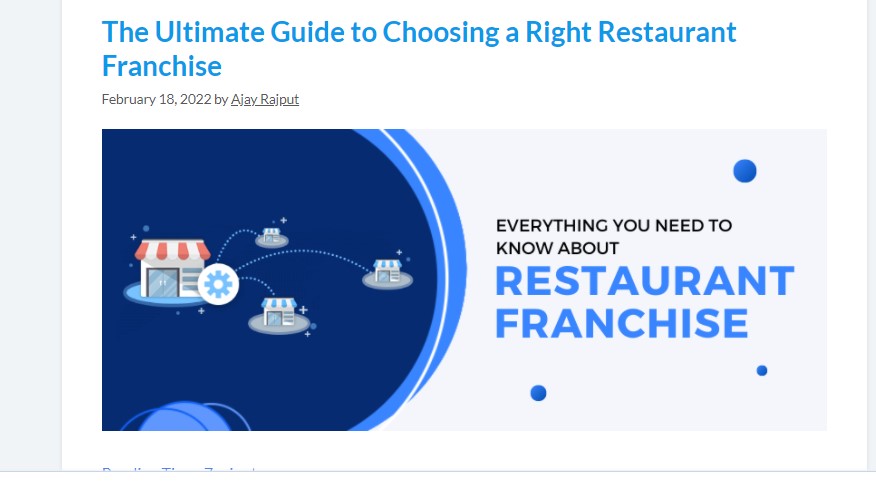 eZee is one of the best providers of end-to-end hotel and restaurant solutions. Their main mission is to empower small to medium-sized restaurants to be profitable.
In contrast to some of the magazines shared above, eZee's restaurant blog does not push out content all the time. They only write a few articles at a time to make sure it's a quality piece. Some categories they write about are Customer Experience, Industry News & Trends, Restaurant Management, Restaurant Marketing, and Restaurant Technology.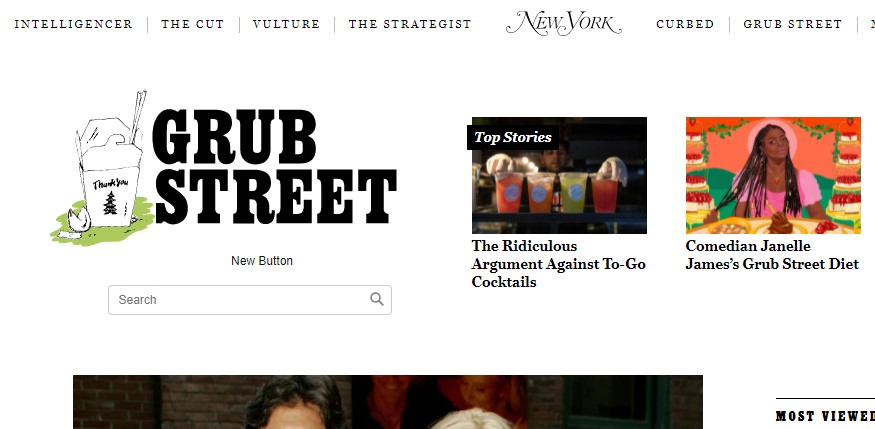 GrubStreet is a restaurant industry blog by NY Magazine composed of restaurant reviews, chef interviews, restaurant-openings news, and food-trend insights.
With the amount of food trends that pop up in the industry, GrubStreet is updated with them all. They push out content on openings, reopenings, and everything food-related in New York. It is a great place for restaurateurs to get ideas from since New York has one of the biggest food scenery in the world today.
Final Thoughts
Following a restaurant blog is the best way for restaurateurs to learn about new things in the industry. There are different types of blogs so make sure you follow the ones that are applicable to you. To start off, make sure you follow the 15 restaurant marketing blogs that we shared and start writing down notes from each and every one of them.
Learn how to grow with EagleOwl. Our restaurant management system can help optimize your finances and increase your restaurant's net profit by at least 25%. Contact us now to schedule a free demo!