The restaurant industry is a very difficult wall to penetrate. The sheer number of competition in the space will have you second guessing your decision to enter. Big corporations together with small & medium enterprises are into the food business. You'll start to think to yourself, how can I compete with them? However, with great risks can come great rewards. The restaurant business is a highly profitable industry with a potential 20-25% EBITDA yearly.
Starting your own restaurant isn't as simple as just finding a space and starting to build your design. It takes careful planning from the conceptualization stage up until the operations stage. To be able to successfully build your restaurant, you'll need to create a business plan.
Step-by-Step Guide on Writing a Restaurant Business Plan
Starting a restaurant business plan from scratch takes a lot of time and effort to write. To help you save time, we've created a restaurant business plan template for you to fill-up. We will be discussing each section in detail below on how to write your restaurant business plan template successfully.
Restaurant Business Plan Content
I. Executive Summary
Before anything else, you'll have to write the executive summary of your planned restaurant. A general tip on writing your executive summary is to put into words what restaurant you wanted to put up and why you're opening it. These two will be the main ideas where your executive summary will revolve around.
As a guide, your executive summary should include your business overview, products served, demographic focus, board of directors, startup costs and success factors. Writing all of these down will help you focus on your concept and will serve as a guide whenever the company goes astray.
II. Company Overview
Your company overview is a detailed description of your company and your restaurant in mind. You can start by writing who you are as a company and why you're starting the company in detail. Explain the company history and the background of its founders. Include also any achievement they might have in their previous careers.
In addition to the company background, you should also include your proposed restaurant menu and restaurant design to the company overview. Make sure to break down the menu by category and to include each item by category.
Include a floor plan for your store design so the readers can imagine the store while reading through the business plan.
III. Industry Analysis
When you ask experts in the industry on how to become a successful restaurant, a majority of them will give you their simplest answer without any explanation at all: location, location, location!
The location at which you'll open your restaurant is one of the key factors for success. With your location in mind, you should know how the market is within your area. Will entering that market have enough demand for your products? This is the most important question to answer when penetrating a certain location.
The first thing to include in your industry analysis is your target market. You have to know the statistics of the city you'll open in. The important metrics to target are the city's population categorized into: gender, age group and income. By knowing your target market, it will be easier to cater your products and promotions to them. After identifying your target market, you can now segment the customers into their work groups: people who work from home, people who work at the office, and students.
IV. Competitor's Analysis
The two factors that you'll want to look at when looking at competitors are if they're in the same line of business and if their pricing is comparable to yours. A strategy that we suggest to do before opening your restaurant is to go to a competitor, sit through at least 3/4's of their operating hours and manually count their transactions and orders. You can do this on at least three different days to get a feel on how the market is on that location.
As for the writing the restaurant business plan, make sure you list down all your direct and indirect competitors and write down your competitive advantages over these restaurants. Write down a table wherein you can compare your menu prices for the products you both sell.
V. Marketing Plan
Your marketing plan will help you describe the type of brand your restaurant wants to have. The brand guide is there to guide you with what type of voice your restaurant wants to have in the local and online community. The goal is whenever a customer thinks of a certain trait or voice, they'll think of your restaurant first – to have brand recall.
When writing your marketing plan, make sure to outline your strategies that you'll be using pre-operations and while the restaurant is operating. Some strategies that you can use are Social Media Marketing, Influencer Marketing, Buy 1 Take 1 Promos, Loyalty Programs, to name a few. Always be aware of the current situation as these can be leveraged for promos. A good example is a promotion for vaccinated individuals. A good mixture of online and local store marketing can help you with successful campaigns.
VI. Operations Plan
Some might say it's too early to write down an operations plan when there isn't a location yet. But, it's better to have it early than cram for it when you already get a spot. There's a lot of things that happen in a restaurant's daily operations and it's better to be prepared for it.
Operating Hours
This is as straightforward as it gets. Decide how many hours you want to operate – one shift, two shifts or a 24 hour shift. The operating hours of a restaurant is dependent on the type of restaurant. QSRs typically operate for twelve hours, some fast food chains operate for 24 hours while fine dining restaurants are open for lunch (11am -2pm) then close in between and open for dinner again (6pm – 10pm).
Employee Hiring and Scheduling
You will have to list down what positions you'll be needing in your restaurant and how many you'll need. You'll also have to decide how much their starting salary will be and when their contract will be regularized. As a standard, it takes six months up to one year for a probationary employee to be a regular employee.
Standard Operating Procedures
For a restaurant to achieve its desired consistency, a standard operating procedure must be followed at all times by the management and its employees. There are two sets of procedures to be followed – the standard procedures for your menu products and the standard procedures for customer service.
Supplier Master File
You need to list down all relevant suppliers who will be sourcing the furniture, raw materials, cleaning materials, and equipment for your restaurant. This list needs to be updated regularly.
VII. Restaurant Management Software
A POS is now a necessity for every restaurant out there. You have to decide which one you'll be using to track your sales and inventory and which ones to use to improve profitability.
Check out our article on the best restaurant management software in 2021.
VIII. Organizational Chart
Creating an organizational chart in the business plan gives the readers an idea who the decision makers are in the company.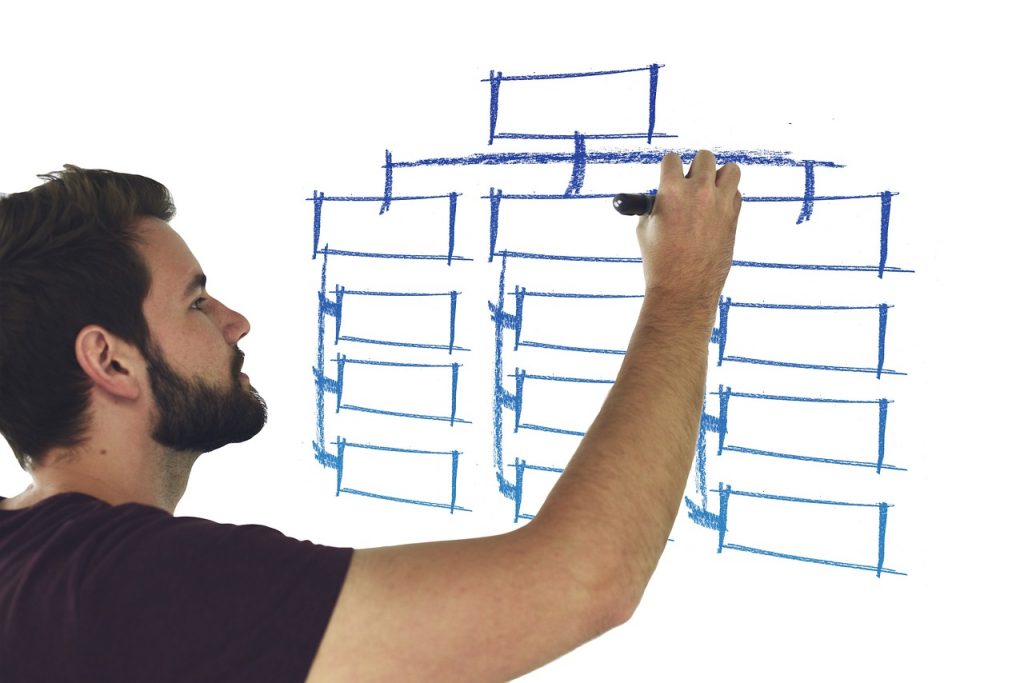 IX. Finances
Under the finances section, you'll have to list down all the avenues in which you'll get your sales. In contrast, you'll also input where the major costs of your restaurant are from. For a restaurant, their revenue will be usually coming from walk-in sales, delivery sales, online sales and takeout sales. The major costs of a restaurant are their prime costs – food production (COGS) & labor (COL).
Aside from the revenue and cost drivers, you'll have to input your startup costs. This amount will be used for all capital expenditures and working capital.
You'll also have to create a pro forma P&L for the first year to see if the business is feasible. There are some costs that should be estimated since there are no actual numbers yet from the restaurant.
Aside from your pro forma income statement, you'll have to compute your break-even point. The formula for break-even point in sales is as shown.
So for example, your fixed costs per month is $5,000 (rent expenses & retainers) divided by .40 (average profit margin = selling price minus cost of goods and cost of labor), your break-even point per month is $11,111.
Why Is A Restaurant Business Plan Important?
With a business plan available, you will have the structure you need to make your restaurant a reality. Opening a restaurant without a plan can bring forth lots of stress as you won't have an outline to guide your next steps. If you have a business plan, you can go back to it every time you feel that you're stuck somewhere.
One of the goals set by companies are to grow its valuation and sell to a potential investor. Having a business plan readily available can help attract potential partners and show them how and why your restaurant will be successful.
Restaurant Business Plan Template (Free)
Download our free restaurant business plan template to help you with your new restaurant dream.