Especially after the past year, we are all looking for a way to hit the refresh button. As a restaurant owner, one way you might be looking to revamp your restaurant is by changing the interior design and giving your restaurant a new look. However, it's difficult to justify spending a lot of money on this in case it doesn't pay off. It's a difficult balance to strike, but here we have a list of ten low budget restaurant interior design ideas for 2021.
→ EagleOwl is the ultimate solution to increase your restaurant profitability. Request Your Demo Today. No CC required
Not all of them will work for every venue out there – just as not every venue will appeal to every customer, the design of your restaurant is as unique as you are and it's important to get it right. This useful list of low budget interior design ideas contains some more general suggestions and some more specific, but all of which can be used as a starting point to design your dream restaurant without breaking the bank.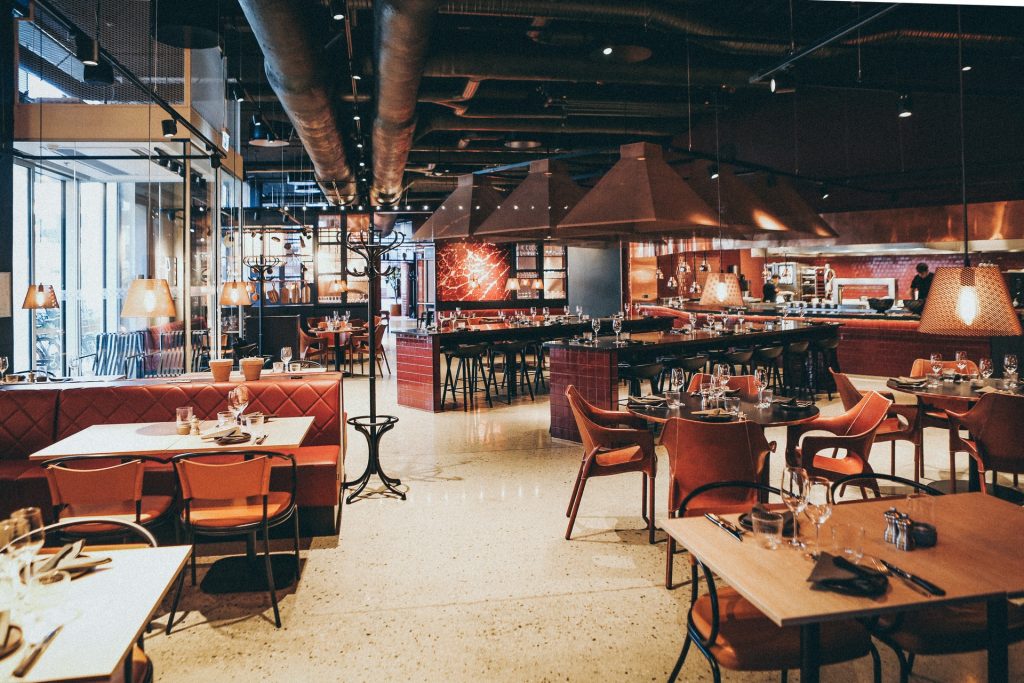 10 Low Budget Restaurant Design Ideas
1. Change your overhead for fairy lights
This idea certainly won't work for every venue, but if it does work for you it's a highly effective low budget option for decoration. Instead of powerful overhead lighting which uses up electricity and doesn't necessarily create the nicest atmosphere, consider placing fairy lights throughout your venue to create a warm glow which perfectly balances lighting and atmosphere. Their warmth and whimsy creates a romantic, low key atmosphere which customers love and it's an affordable way to create a really unusual interior design concept.
2. Create a Minimalist aesthetic
Creating a minimalist aesthetic isn't affordable by nature, as it's possible to spend the same amount of money on a few quality pieces rather than on many decorations. However, you can make it into a budget restaurant interior design idea if you're smart with your choices. Opting for a minimalist design means buying fewer pieces, which means spending less money, and often results in a space which is not only aesthetically open and spacious but easy to clean and maintain due to its smooth lines and services, saving you money in terms of tima as well as money.
3. Opt for industrial chic
Instead of wasting money covering up wires, exposed pipes or concrete floors – why not lean into it? Industrial chic is a well worn yet ever appealing aesthetic that never fails to feel cool and open, ideal for every type of venue from a burger bar to an Italian restaurant. Industrial chic often pairs well with the use of minimalist or second hand furniture, meaning it helps you to save money in more ways than one. The only problem with this budget interior design concept is that buildings with an industrial aesthetic often feature high ceilings, creating a bit of a heating problem in winter.
4. Make use of chalkboards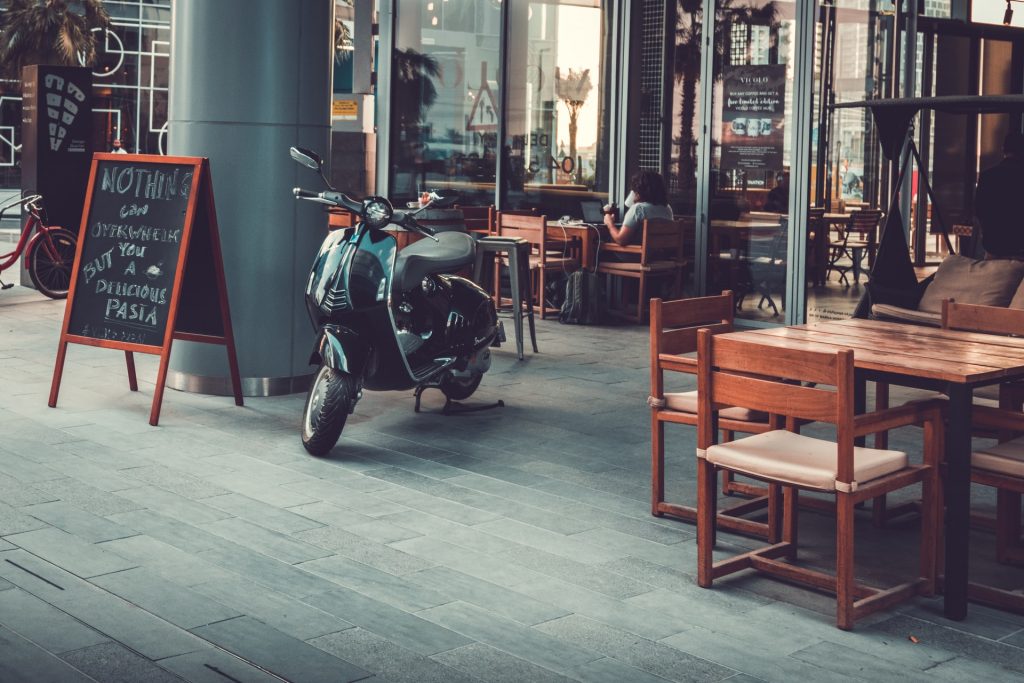 Although these aren't a new idea, they certainly have stood the test of time. Although much of the appeal of the humble chalkboard is practical rather than aesthetic (they are fantastic for menus that change daily), they are a great and affordable way to how off your restaurant's personality. With a few humble chalk-boards, you can add artwork and borders, use whatever calligraphy suits you, and use them as features as well as functional. This kind of decoration might be more suited to a younger, city restaurant which appreciates artistic leanings and a purposefully shabby or homely aesthetic.
5. Fill your space with greenery
It's common knowledge that the humble indoor houseplant has made quite the comeback – if you haven't got a ficus growing in your living room, are you really anybody? Well, the same can be said of interior design. A very simple and low cost way to spruce up your interior design is to fill the place with lots of pot plants. This will give you a fresh, open atmosphere – ideal with a light colored color scheme – as well as appealing to the environmentally friendly zeitgeist.
6. Add some mirrors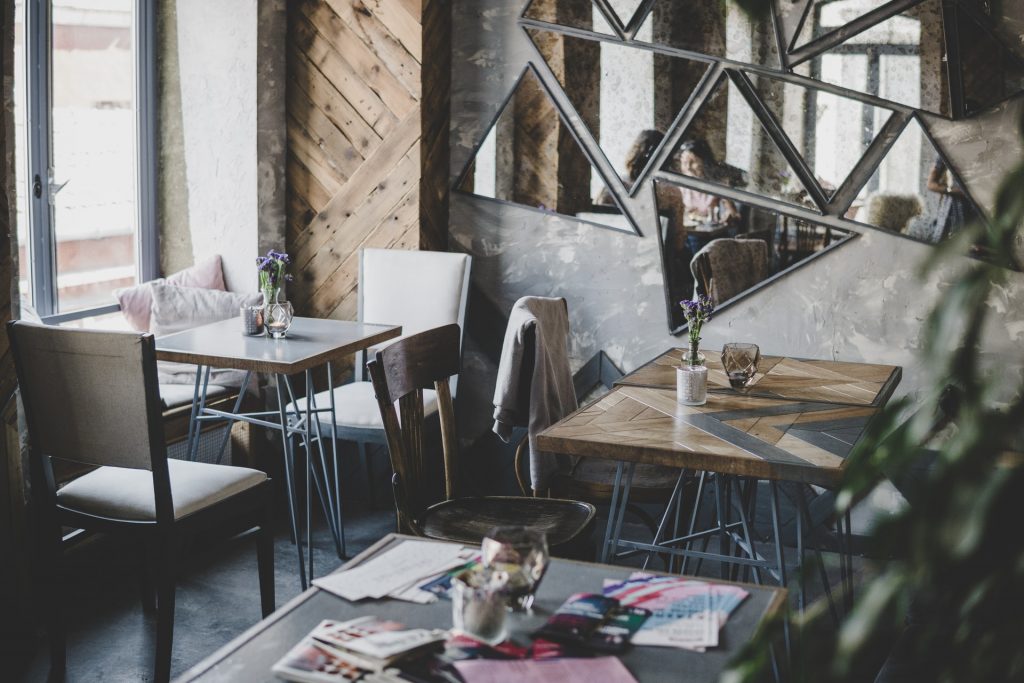 Although they're not for everyone, putting up some mirrors can be a great way to add some interest to your restaurant's interior design without having to spend thousands. There are so many ways you can do this too: putting up a couple of ornate vintage mirrors adds an air of mystique and quirky charm, while a feature wall of floor to ceiling mirrors adds a modern, polished feel at the same time as increasing the sense of space – this may be the ideal plan for a smaller restaurant wanting to avoid a cramped sensation. Mirrors don't have to be plain either – using decals or chalk paint you can easily decorate them, creating a really interesting and truly unique aesthetic.
7. Keep things simple
Although it can be tempting to throw caution to the wind and create a really exciting restaurant interior design concept with lots of colours and textures, this is a good way to eat up a budget very quickly without gaining very much. Making this kind of mistake just creates an overcrowded and overwhelming space with no focus, which is not pleasant for customers and doesn't create a pleasant atmosphere. Instead, you should spend some time going over your ideas, narrowing down your colour palette and materials until you have picked a select few – this will make your spending more targeted and effective, and therefore less lavish. This kind of focused simplicity will also most likely leave you with a long lasting and timeless interior design concept, meaning you won't need to spend the money to refresh it in a long time.
8. Try junk-shop chic
Although this may sound a bit too budget, using your local junk and antique shops as a resource for inventive interior design is a resourceful and affordable way to create a really interesting aesthetic and atmosphere. Instead of everything matching, pick all the most mismatched things you can find; an enormous pink lampshade over one fixture,, an elegant stained glass one over another. One drinks table featuring comfortable old armchairs, another with tall stools. Creating this mismatched aesthetic fosters an artistic, forward-thinking yet comfortable atmosphere while keeping to your budget by sourcing furniture and decorations at low prices.
9. Go for a statement wall
Going for a statement wall is always effective, and can be an especially interesting addition if your space is otherwise a little uninspiring – for example, if your restaurant is small and adheres to the 'four walls and a ceiling' structure, this doesn't hold much that's visually interesting or characterful for the customer. If you add a statement wall in to the mix, this instantly brightens up the room and gives it that pop of individuality that every restaurant needs – and it won't break the bank. Statement walls can be anything from a mural to a block pop of colour – the only rules are they have to be eye-catching, and they have to be nice to look at. If your restaurant is designed with a lot of dark wood, for instance a light lime green wall might look fantastic, while in a minimalistic restaurant a more complex mural would add some great contrast.
10. Add some unusual shelving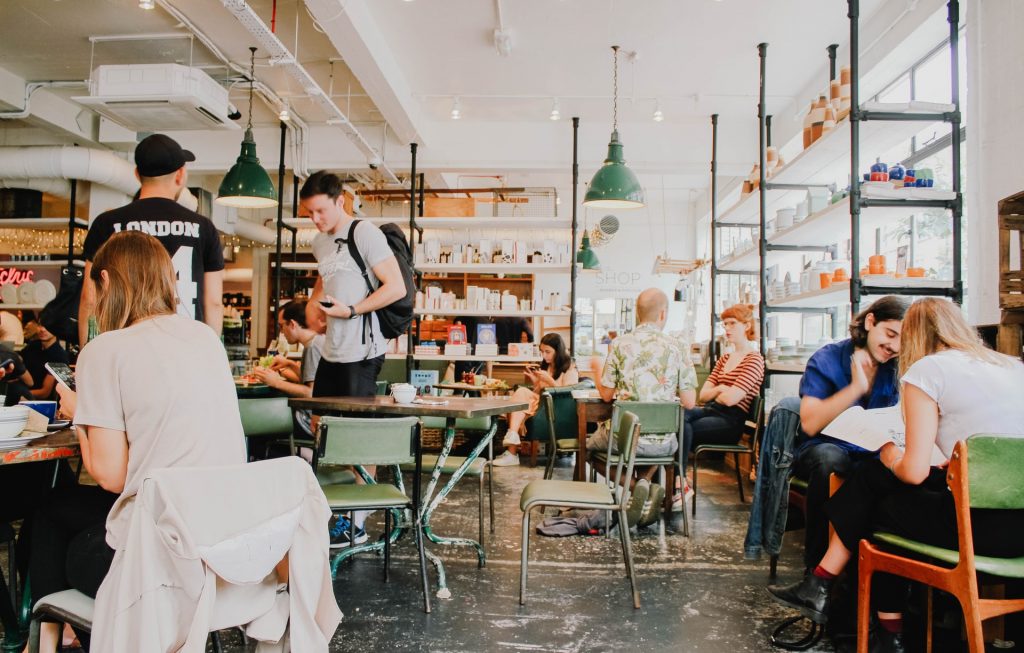 Adding some minimalist shelving to your restaurant could be just the pick me up your interior design needs. Shelving adds interest to any room as it breaks up blank walls and is another opportunity to add colour with shelves painted different shades or contrasting with the walls. Shelving is also a very versatile way to spruce up your decorations; you can fill the shelves with old books for a vintage aesthetic, pot plants for a spacious and eco-friendly atmosphere, use them to showcase any products you might sell – such as coffee beans or sauces – and countless other ideas. As well as being visually attractive in themselves, adding shelves is a great way to use interior design to show your restaurant's personality on a budget.
So there you have it. Whether you feel like trying out something as simple as a new lighting concept in the form of fairy lights or you want to redesign your whole aesthetic with a new minimalist attitude, there should be something on this list to get you started with creating the restaurant of your dreams without spending all the money you've worked so hard to make. Although restaurant interior design is difficult and really vital to the way your business runs, it doesn't have to be expensive as long as you are willing to think carefully about the choices you make before diving in.
It can be very easy to get carried away when picturing your space the way you want it; just be sure to take the time to think through and plan your design before committing to anything financially. This way, you can make strong design decisions that perfectly fit your aesthetic and your budget, which means you won't have to redo your interior design again for many years – other than a few inevitable touch ups – and you will save money in the long term as well as the short term.

Looking for more ways to save money and achieve better margins for your restaurant?