If your restaurant is looking to reinforce its marketing efforts, Instagram is probably on top of your to-do list. With the addition of business profiles, analytics, and ads, Instagram for restaurants has become a powerful tool.
→ EagleOwl helps all type of restaurants maximize their profitability by as much as 25%. Follow this link for a FREE demo on how EagleOwl works.
Instagram is arguably one of the best social networks for restaurants. First, it allows the restaurant to showcase its food and aesthetic through carousels, reels, stories, and regular posts. Second, it serves as a landing page for potential customers to see your wall. Lastly, you can use it as a medium to communicate with new and existing customers.
Continue on below to learn proven strategies on how to grow restaurant business with Instagram.
1. Decide your brand voice
When starting a business page for your food business, it is crucial to be sure about the image you want to portray through your content. Your content can be witty, informative, guidance-based, etc. This sets the tone for the audience and helps them understand your business better.
For instance, if you run a modern cafe that mainly sells fast food, pictures of youngsters having a good time at the cafe, fast food images in a bright background, funny Instagram captions for restaurants with GenZ lingo are more likely to help you connect with your audience.
The images you share should capture the brand's essence in the best possible way and stay true to your brand voice. If you are consistent with these, it becomes easy to attract the right audience to your Instagram page.
Pro tip: Use a consistent color theme that compliments your logo colors as it creates a cohesive look and reflects your brand voice/niche in an aesthetically appealing way.
2. Research, research, research
Hashtags have emerged to be an excellent way of filtering information on Instagram. People follow various hashtags on Instagram based on their likings. It helps users discover content on a specific topic based on the keyword they use to search for a word. For instance, if I were to look for a caterer in Mumbai for an event I was hosting, I would search for #cateringinMumbai or #catererinMumbai to get targeted results.
Using the right hashtags will help increase your page's engagement and make your business visible to a larger audience. But you can't just add any hashtags to your posts; it requires thorough research to find the right ones. Ideally, these hashtags should be in line with your brand's voice and allow you to rank high when someone searches for that word. Head to the Instagram search bar and check the usage of a hashtag before using it in your post captions.
Location-based hashtags are helpful for food businesses as users often look for results in a particular area. So instead of using a generic hashtag like #cafe, having #bangalorecafe helps in narrowing down the right audience when you own a cafe in Bangalore.
Although you can add up to 30 Instagram hashtags for restaurants, overstuffing your post can create the wrong impression. Since there is no difference in their functionality, you can even add hashtags to the comments to hide them.
Pro tip: Use a hashtag research tool to find the most relevant hashtags and ensure your posts reach your target audience.
3. Profile Page Must Have Correct and Complete Information
The competition on Instagram for restaurants is massive. As a result, restaurants must work hard for their brand to stand out from the crowd. Make sure you're doing these steps on your profile to get a headstart against the competition.
Once you have your account, switch to a business account right away. After doing this, you'll be asked to fill out your profile. First, you need to fill out your profile picture. Use a high quality image of your logo as your profile picture. The logo is a graphic representation of your brand and you want the audience to identify it when it's out there.
The next step is to input your username and account name. The username you choose will be your unique handle on Instagram. Keep it short and sweet so people can recall faster. The account name is what users will see – usually the restaurant's full name.
Lastly, fill out your bio and include a call-to-action. While filling out your bio, make sure to include a reason to follow you. In addition, what's written in your bio should help identify your restaurant. One good strategy is to include a hashtag on your bio that clearly identifies your restaurant.
An Instagram profile's call-to-action is the link that's part of your profile. Include CTA words like "View menu here", "Avail of our promo", or "Order online now" then use finger emojis to point to the link on your profile.
As a business account, there is additional important information that must be filled out. First, the category – in our case, a Restaurant. Second, the location of the business. Lastly, input your contact options such as email address and phone number. This is extremely useful for users who land on your profile on their mobile.
See an example of a complete profile below.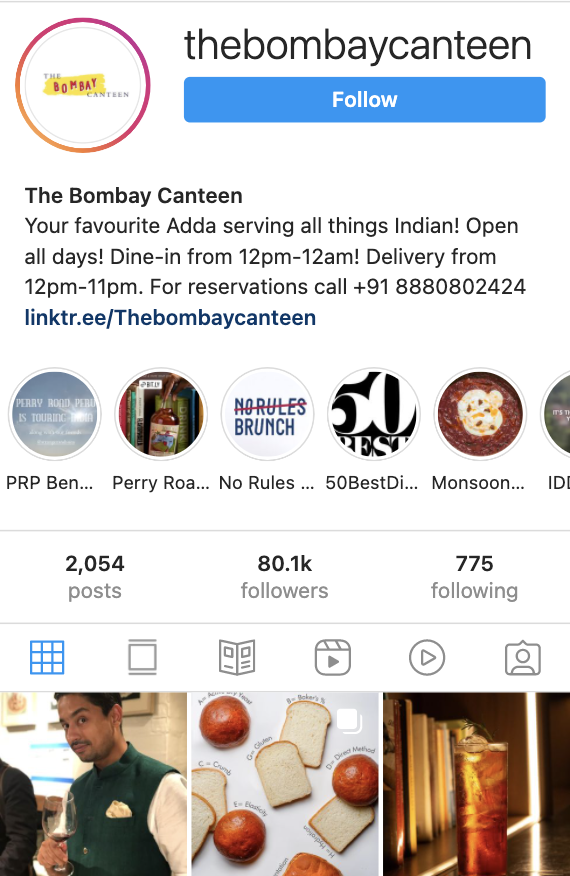 4. Plan your aesthetics
Everything that is well planned out and visually interesting gets rewarded on Instagram. It is important that your restaurant commits to long-term styling standards as this generally yields good results.
The first step to doing this is to decide on a posting pattern for your account. For example, what might usually work for a restaurant account is 2 posts of food images then 1 video. Think of a pattern that'll be consistent throughout all your posts. Next is to decide on a style guide. This generally consists of the color palette, fonts, and composition of your posts. Consistency helps when you're trying to convert your audience into customers.
Story Highlights
Highlights are your collections of stories you made in the past. The story highlights feature can be found below the edit profile button on the Instagram app. Simply click on the "New" button to add a story highlight to your profile.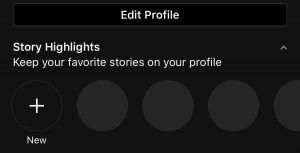 For restaurants, it is important that you share the information that your customers need to know.
First, put a FAQs story highlight on your profile. This should include your operating hours, modes of payment, contact number/email, and address with a google map pin.
Second, the restaurant's menu should be on your story highlight.
Third, include customer reviews unto your story highlights. Repost their stories whenever you're tagged and highlight them in your story.
Lastly, input delivery options for your restaurant. These can be the contact number for in-house delivery or delivery app platforms that the restaurant is a part of. This is the must-have list of Instagram story ideas for restaurants.
Posts on your Feed
First impressions last. It is important that you make an impression on users who visit your profile. By doing so, you increase your chances of gaining a follower.
Here are some Instagram feed ideas that you can try on your profile.
Grid
Use grids to create a puzzle look on your feed. It's usually done by getting one image and splitting it into six or nine posts. See an example below: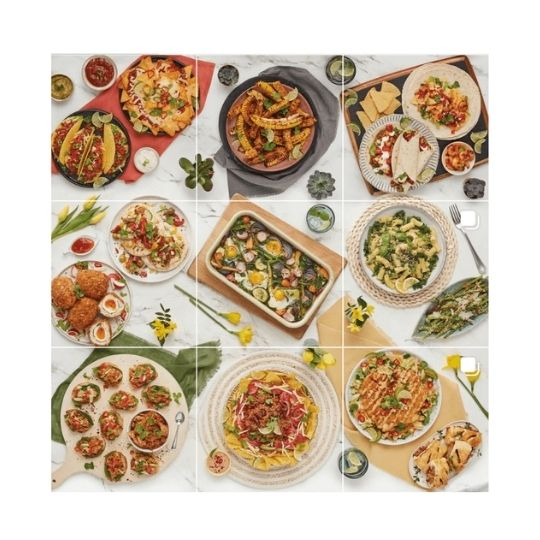 Rows
Another option for your profile is to create three restaurant Instagram posts with 1 similar theme. For example, a Thai restaurant can post three types of curry dishes in one row.

Chessboard

Like the chessboard consists of black and white squares, your Instagram posts can be in two main colors.
Take a cue from the Instagram page of the popular Mumbai restaurant, Ministry Of Crab, known for its seafood. The page has regular posts about their food presented through visually appealing images, videos of customers having a good time while dining in, offers being run at the restaurant, new additions to the menu, announcements of festive menu items, and more. The only thing I find missing is some reels of food & drinks getting prepared behind the scenes.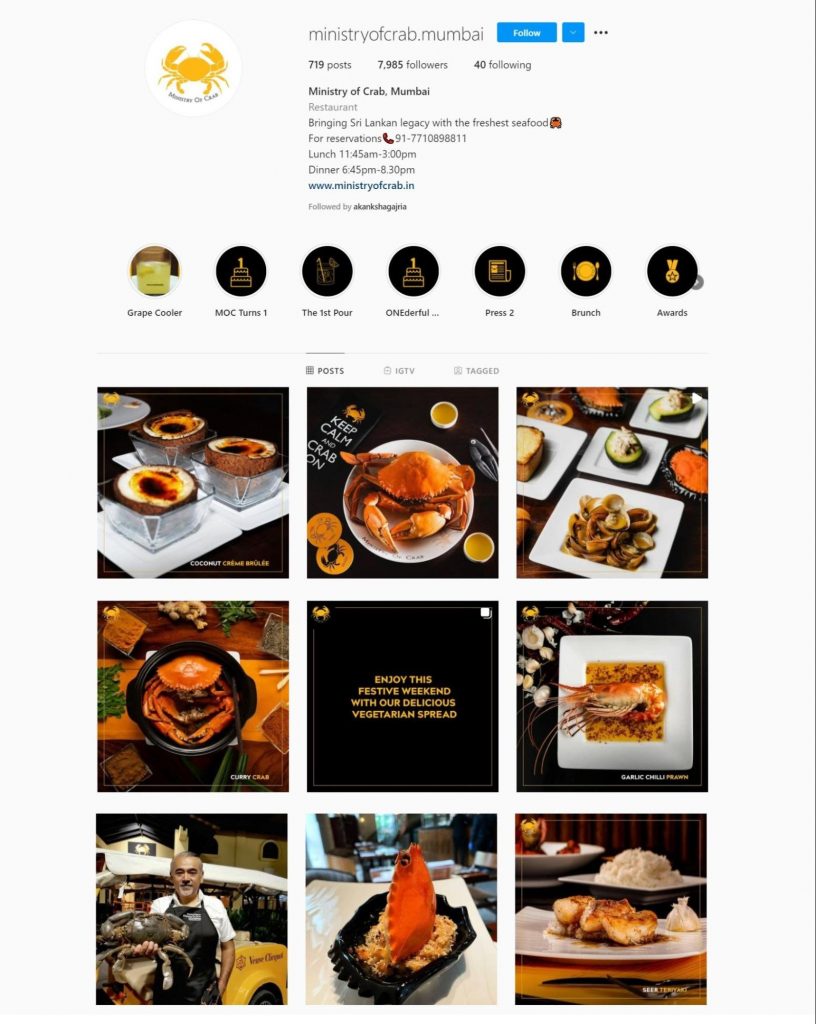 Pro tip: Your post timings should be based on your audience availability. As per Hubspot, the best time to post on Instagram for restaurants is from 10 AM – 3 PM CDT. Use this cheat sheet to find the best time to post food on Instagram based on the type of your organization and the day of the week. You can also use Instagram analytics tools like Sprout Social that measure follower growth and identify high engagement posts during specific timeframes.
5. Engage with your audience
Apart from posting regularly, you need to develop connections with your Instagram followers. Instagram stories for restaurants are a godsend and are viewed much more than a post. A user may miss out on your post but there is a higher chance of them seeing your story. Since they disappear in 24 hours, people are more likely to view them than a post that will stay on your Instagram page forever.
They last 15 seconds and are much more fun. Before you post something on your Instagram food business page, engage with your audience through polls or by asking a question. This makes the post more relevant and helps the audience connect with it more effortlessly.
For instance, if you're adding a new pizza on the menu, before announcing it on Instagram, create buzz around it by asking your audience to guess its name. Or you can create a poll to ask your Instagram followers to guess what the new pizza is named. Here is an Instagram poll idea for restaurants to gather information about their follower's favorite pizza toppings.
Polls are not only easy to participate in when viewed from the follower's point of view, but also give you insight into their likes & dislikes. This allows you to include popular items that may be missing from your food menu.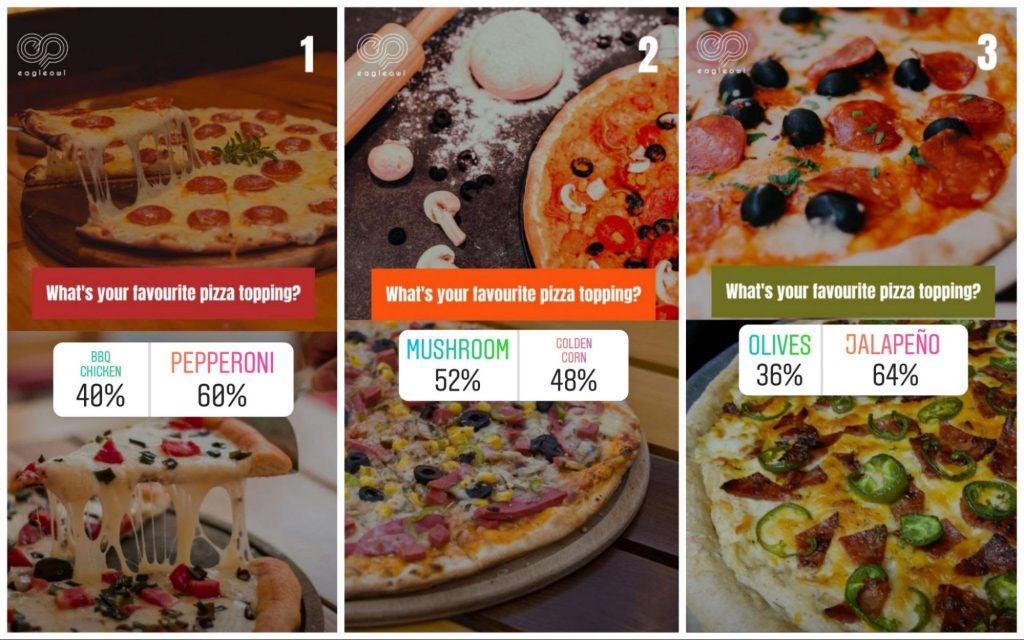 Pro tip: Save your top stories as Highlights on your profile to ensure they stay on your Instagram page permanently.
6. Research Competitors and Influencers
When getting started with Instagram for restaurants, it is important for you to know other restaurants who're on the platform and are connected to the same target market. A general strategy would be to monitor their popularity, learn from the success and failures, and be prepared to reach out to them if necessary.
On the other hand, it is also important to mark accounts to reach out to. These accounts should not be directly competing with you. A few examples of this are food bloggers, food review pages, and restaurant review pages. Partnering with these accounts is maybe the best way to market a restaurant on Instagram as third party reviews and recommendations are more powerful than ads.
Influencers usually ask for a fee to post your restaurant while some ask for freebies. Study your budget and decide which influencer will be the most effective for your account.
To start off, you need to create a spreadsheet of influencers you've researched. Include name, Instagram handle, followers, category, and contact number/email in the columns of your spreadsheet. Next, compose a personalized message and send it to the influencers. Check out who replied and note in your spreadsheet. Lastly, start talking and ask what it would take to partner with your restaurant.
7. Post High Quality Content
After coming up with the posting pattern and style guide, it's now time to focus on posting. A good post consists of five important aspects. First, a well thought out food captions for Instagram. Longer captions generally work better than shorter captions. Real audiences take their time to read your posts and if it's a good post, it will definitely increase your engagement.
The next thing a post needs is a call to action. Your posts should have a point and the CTA is what gets people to do whatever you want them to do. "Sign up for our newsletter by clicking the link in our bio" and "Click the link in our bio to see our menu" are some examples of actions that you want your audiences to do.
Next up are your tags, hashtags, and location tags. Make sure to always tag the location of your restaurant as it serves as another way for users to find your account. In the similar vein, hashtags work the same way as it adds you to a public list of photos sorted by that certain word.
What to post on Instagram for restaurants? Here are a few restaurant Instagram post ideas:
quotes, 
behind-the-scenes videos from your kitchen,
team activities,
recipes, 
restaurant design, 
interviews with your chef,
how a menu item is created,
breakfast, lunch, dinner, snack ideas,
this or that ingredient benefits for health,
info on discounts and loyalty programs,
event/party/concert announcements, etc.

For instance, look at this reel by Puppy's Gastronomy, Bangalore that shows snippets of how their famous Golden Lava Cake is created and plated. So many customers order this Cake at their restaurant, but showing them a little BTS helps them relate to it and increases the page engagement rate. Since reels are created keeping in mind the short human attention span, they are proven to drive more engagement than any other form of Instagram content.
Pro tip: You can also include positive customer interactions in your reels to give your content a personal touch. Tag them so they can reshare it to their profile with their followers.
8. Share your Instagram handle with customers
So you place the perfectly presented dish in front of the customer. The food looks great, the lighting is just right, and the picture they click to post on social media turns out to be delightful. Would you not want them to tag your food business Instagram page while uploading the picture? But it's not always possible to be present in front of a customer and tell them to do so.
A good solution for this is to include your Instagram handle on the QR menu scanner tabletop you place on each table. Since the pandemic, most restaurants have opted for these touchless menus to minimize contact. When seating a guest and informing them about the menu scanner, make sure to point out your Instagram handle printed on it so your guests remember to tag your business page when they upload the picture.
Pro tip: You can add a banner outside the restaurant with your Instagram page name and logo so people waiting outside the restaurant can go through it while waiting for a table.
9. Comment away
With customers knowing your food business's Instagram handle name, you open up your channel to lots of pictures featuring your food business. When customers tag your business on their stories, make sure to repost the ones that are in line with your business's aesthetics. Resharing customer stories is a great way to liven up your Instagram page content and show appreciation towards the customer.
Similarly, your Instagram handle has a Tagged section where all the posts where your food business has been tagged are displayed. Always comment on those images thanking the customer for visiting. Even a comment as basic as "That's a great picture! Thank you for visiting. We hope to see you again soon" is a great way of showing some love!
10. Use Instagram Ads
Growing your Instagram account organically will be slow and steady. However, there's a way to fast track its growth and that's by using Instagram Ads. By promoting your posts, your reach will simply grow exponentially. Select the perfect target audience and your promotion will be off flying in no time.
Ads can be used on both posts and stories. It is best that you perform A/B testing on both types to see which promotion will do better. Keep track of those promotions that's doing well and re-run them from time to time.
Posts that are usually promoted are new product posts, promo offers, vaccination promos, and new opening hours, to name a few.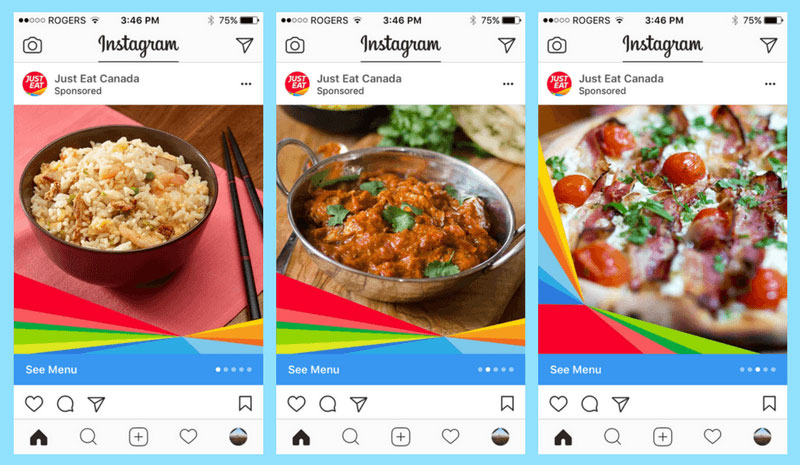 The good thing is, you can select the audience that will view your ads. For example, a Bangalore-based cafe running an ad to increase their follower count can target 28-40 year olds located within a 20 km radius of their cafe. They can shortlist their audience based on their interests such as food, photography, coffee, etc. This way they can target your local audience that has the maximum chances of actually visiting the cafe.
Pro tip: Evaluate your existing posts and stories to understand what your core audience likes & appreciates the most. Run paid ads by reusing those posts or creating organic content similar to that for best results.
11. Curate Posts with User-Generated Content
A valuable strategy restaurants can do is to use content from your followers. There's only a handful of professional photos you might have of your food and it's time to think out of the box on how to generate content.
UGC offers a number of advantages for you as a restaurant account. First, someone else will create the content for you. For this reason, it saves you a lot of time. Second, a good UGC can save your time and effort to come up with a creative idea. Third, posting your followers' content will be greatly appreciated. It can lead to them sharing and engaging the post. Lastly, posting UGC's can expand the relationship between you and your followers.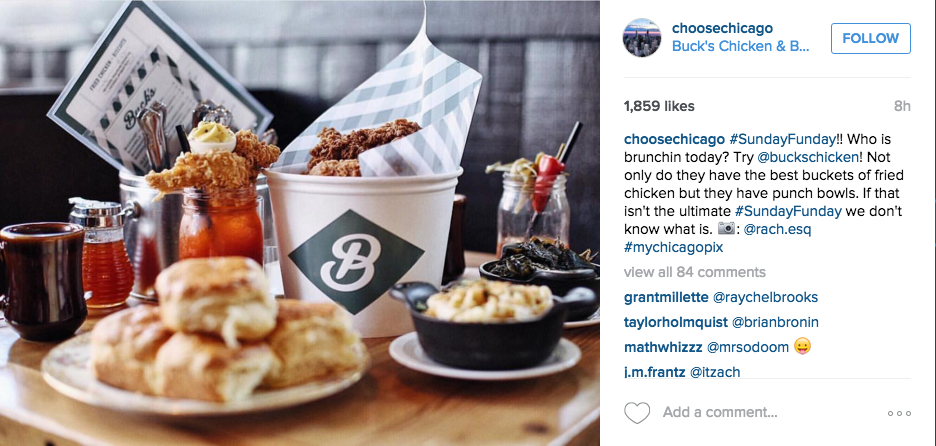 12. Create an Engagement Group on Instagram
Look for four (if you can find more, better) other accounts with a decent number of followers. Make sure that you're not directly competing with each other's business. Now imagine if you posted on Instagram, and each of those accounts liked, commented, or shared the post with their followers. By amplifying a single post to 5 different groups of followers, you're increasing your chances of getting engagement, followers, and business.
13. Run Giveaways
Running giveaways is one way to boost Instagram marketing for restaurants. Users tend to engage more with giveaways because who doesn't like freebies, right? Restaurants usually offer a free meal worth XX amount, a discount card, or merchandise as their giveaways. It is important to note that if you're using giveaways to grow your account, make sure that your strategy is sustainable financially.
The giveaways you run should also make sense for the restaurant. One of your goals is to avoid contestants who'll only be interested in free prizes. Come up with unique rules that will attract customers that will pay for your food in the future. For example, a restaurant can hold an Instagram promo that'll get users to engage. A restaurant can put in the caption the clear rules to the promo and an additional "Comment with your favorite dish in our restaurant" for people to enter.
Pro tip: Leverage occasions like Valentine's Day, Mother's day, and more to host giveaways. This way you can offer a free meal to the winner and their +1. For instance, you can offer a free romantic dinner for two to the winner of the Valentine's Day giveaway.
Final Thoughts
Using Instagram offers an awesome opportunity for restaurants to promote their business. By following our steps on how to use Instagram for restaurants, your account will definitely show an increase in engagement, followers, and customers.
Trying to copy someone else's hit idea may not guarantee the success they are enjoying. Of course, you can always take inspiration, but make sure they align with your business's core ideas. We hope these tips give you a fair idea of growing your business on Instagram. Let us know in the comments if you would like to add any ideas to this list.
---
Learn how to grow your food business with EagleOwl. Our restaurant management system can help optimize your finances and increase your restaurant's net profit by at least 25%. Contact us now to schedule a free demo!