The pandemic made it challenging for restaurants and bars to stay afloat with the government placing strict restrictions on large-scale events. So many restaurants decided to serve customers through food trucks. Since food trucks require very little setup cost, it became a very popular option. But such a business model cannot succeed without the right food truck marketing strategy. That's because people will never even know that your food truck exists!
Food trucks have evolved from just being street food stalls to a popular type of restaurant. While the history of food trucks dates back to the 1950s, they have been associated with tacos & ice cream across the years. But the decline in the economy in 2008 brought food trucks back to the forefront. To add to that, the increase in popularity of social media during that phase helped in pulling crowds.
But a food truck owner's major concern is getting customers to come back. Without a marketing plan and food truck advertising, it can get quite challenging to get the attention of old and new customers alike. An effective marketing strategy can not only help you reach out to a larger audience, but also ensure a steady cash flow.
Before we go ahead on how to market a food truck, let's look at the reasons why they are considered profitable.
→ Overwhelmed with running a food truck? Click here to get in touch with the experts at EagleOwl and find better ways to make your business profitable.
Why are food trucks profitable?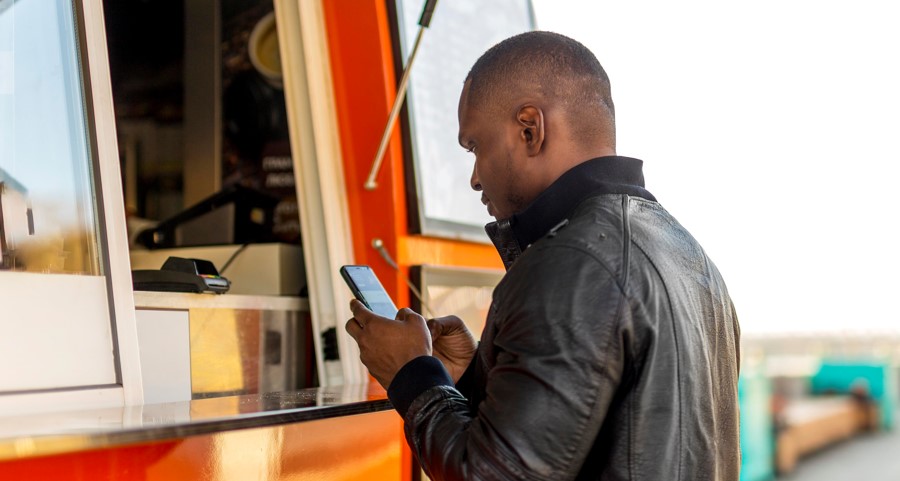 Testing waters: If you're planning to open a restaurant but are concerned with high investment involved, a food truck can be very helpful. You can experiment and get to know whether customers like the food before investing your hard-earned money.
Convenient: People prefer eating at a food truck because they're cheap and offer quick service. There's no reservation needed, nor do you have to wait for a seat. This makes the virtual table turnover rate very high.
Unique: Because they are very different from the usual restaurant seating concept, people find eating at food trucks cool. They enjoy eating in the outdoors where people from different age groups & walks of the society come together.
Try new items: Food trucks are known to feature a limited menu with a high focus on taste. This allows restaurant owners to test new menu options before introducing them on their restaurant menu.
8 marketing strategies for food trucks
Below are the most promising food truck marketing tactics for 2022.
1. Find your niche

Before anything else, you need to find a good reason for customers to be compelled to visit your food truck. What are you offering that no one else does? Is your food concept unique? Or are you serving the same rolls everyone else is? Do your rolls have a different element or ingredient that sets them apart?
Offering something new & exclusive makes it easy to gain popularity and make more sales. So before you even open a food truck, do thorough market research by visiting as many food trucks as possible. This helps you understand the gaps in their offerings that you can fill and establish yourself in an unexplored territory. With consistency, it will be possible to dominate your niche which will lead to word-of-mouth marketing.
2. Create a brand identity

Your brand is your business's soul & personality. Without branding, your food truck will quickly get lost amongst the sea of emerging new trucks. To create a lasting impression on your customers, create a brand identity that captures the right emotions. This not just makes you stand out from the crowd but also imprints your identity in your customers' minds.
Branding involves 3 things: an apt name that defines your offerings, a smart logo & slogan, and a distinctive menu that stands true to your concept. All of these are determined based on your target audience. The more relatable your branding is to your target audience, the more they talk about it in their circles which is the best form of organic marketing.
For instance, take a look at this food truck branding by a popular Indian street food truck in San Francisco. The design is eye-catching and the color palette is bold, making it recognizable even from a distance. The brand name reflects the food truck's personality by including the word Curry – a word people mostly associate with Indian food. Can you recognize the Indian superstar that's featured in their food truck design?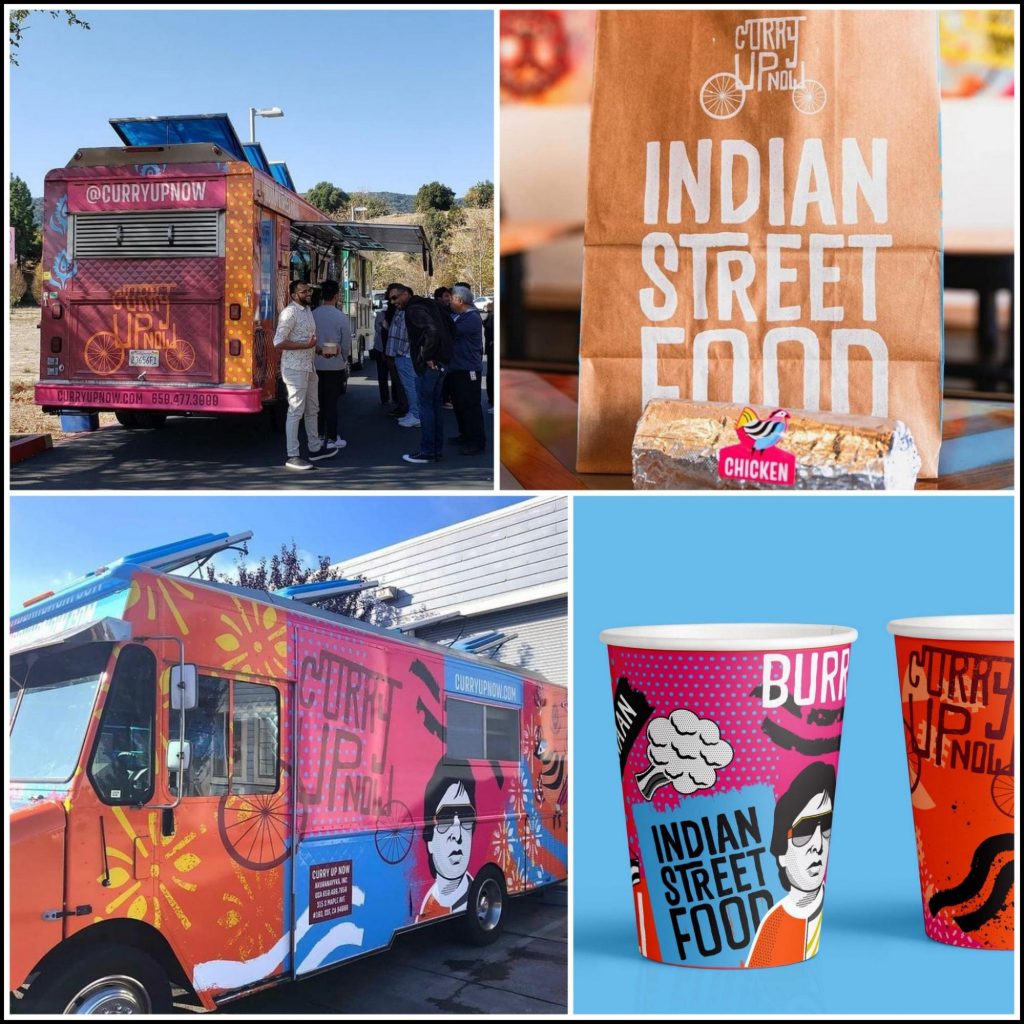 3. Leverage the power of social media

If there were ever any doubts about the need for digital transformation for restaurants, the pandemic seems to have silenced them. Businesses across various industries are now leveraging its power through digital platforms to stay ahead of the curve. You can start by creating a lively presence on social media channels like Instagram, Facebook, and Twitter. Consistently post good content so that you are always on your customers' minds.
You can use photography tips to create cool pictures that show your best-selling menu items, seasonal offers, or customers enjoying your food. You can take things a notch higher by asking customers to click pictures when they visit your food truck and tag your handle when they post it. Make sure to repost it to build customer loyalty. When customers post about your food truck, it exposes your business to new customers.
4. Keep popping

One of the best food truck marketing strategies is to take your food truck for a spin. Attend local festivals, participate in public events, or occasionally park your truck outside a college. This is one of the most promising ways to network and increase your reach. Keep researching about all the popular events happening in the neighborhood and take your business there to target new customers.
People are more open to trying new things at a festival which makes it a great option to market yourself. But a lot of festivals require you to pay to participate or park your food truck. So get in touch with food truck owners that have participated in the festival in the past, and based on their experience take a call whether or not it is financially viable for you to sell at that festival.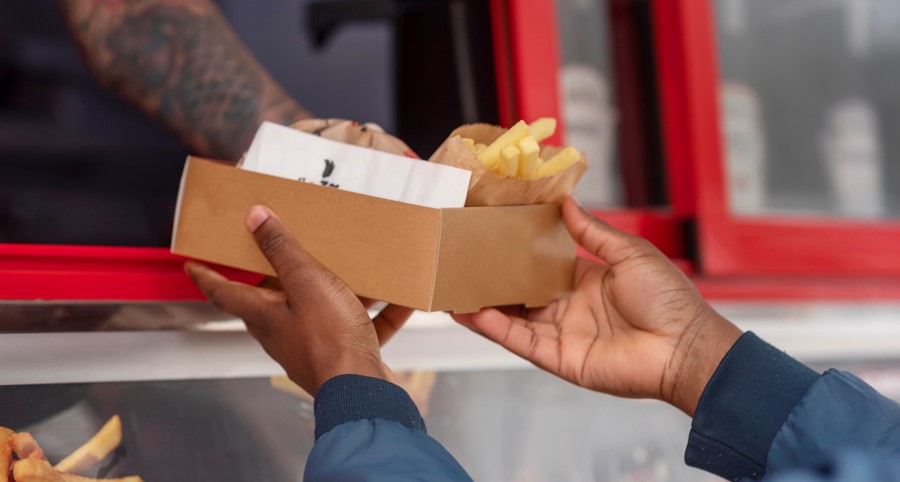 5. Host events

It may seem futile to host events when you don't have a proper seating arrangement, but that shouldn't stop you from creating your own fun events. Not only do food truck events bring in more money, but also help in spreading the word in the community about your food. For instance, you can collaborate with other food trucks to create an open mic event where budding singing artists get a chance to perform for the visitors.
You can also host a tasting session to get your audience's reaction to a new menu item you plan to launch. Keep the portion size small and keep the price affordable so more and more people opt for it. Seeking their opinion makes them feel valued and helps in building a connection. This helps in building a loyal fan following for your food truck.

Are you happy with our food truck marketing ideas so far? We have a few more!
6. Create partnerships with other businesses

Finding a spot for your food truck near a commercial area is a great way to grow your food truck business. It allows you to partner with local businesses for offering snacks and lunch packages to their employees. This ensures a steady stream of customers during the day and leaves you the space to park at a different location during the evening.
This also opens up the gates for catering at corporate and private events. Since food trucks offer adventurous dining options at a very reasonable price, they are highly considered for catering at office parties. You can make the deal sweeter by offering free delivery for nearby events and earning yourself a regular customer base.
7. Keep adding new items

Regardless of how popular your food truck is, never stop innovating. Give your customers something more apart from your most-loved items. It allows your business to stay relevant to the latest trends in the food industry and helps in increasing your clientele. Don't forget to create excitement about these new additions by posting about them on your social media page.
For instance, you can add seasonal produce to your menu items and give them a new twist. This gives your usual items a fresh spin and keeps your customers interested in coming back. During spring, you can create a live barbecue station and use locally sourced organic supplies to create a few new additions to your menu. There is no better marketing than the smoky smell of barbecue coming from your truck.
8. Partner up with a delivery service

Food trucks traditionally don't offer delivery services but doing so can amp up your marketing efforts. Providing additional services like home delivery within a close radius is a great way for new food trucks to get popular in the area. For established food trucks, it makes sense to offer delivery on dull days to ensure a steady inflow of cash.
Invest in an online ordering platform and add a sign on your food truck so customers know where to order. Don't forget to add the link on your social media profiles as well. This way, you will always be in your customers' sight even if they don't visit your truck. Online ordering platforms also give the added convenience of customers placing an order online & picking it up by visiting the food truck.
Which is the Best Food Truck Management Software?
Getting the right software solution will help your food truck process orders and payments easily. In addition, it will also serve as a key tool for you to operate your business.
We recommend trying EagleOwl for your next food truck software. Let's have a detailed look at its features and see how it can help your food truck business.
Inventory Management
In order for your food truck to run smoothly, there must be an efficient inventory management system to take account of all your products. EagleOwl has the capability to show you your stock level and value in real-time.
In addition, it can also provide your food truck with daily variance reports if your usage and production do not match.
Lastly, EagleOwl also shows your food truck its consumption pattern of your items. This data can help the food truck manager see when there's a high or low demand for its products.
Recipe Management
The first step to having a successful food truck business is to know your costs and margins. EagleOwl helps businesses with their automated costing feature. It automatically computes for the cost of each recipe as you enter the ingredients necessary for a certain product.
In addition, EagleOwl has a cost threshold alarm feature which will inform you if it's exceeding the standard food cost. This means that some recipes or portions might have to be changed in order to get inside the ideal food cost percentage.
Menu Engineering
EagleOwl will perform an in-depth analysis on all your products and will perform menu engineering on them. They will be implementing the BCG Matrix on all your items and will show which ones are the high in profit and popularity as well as those who are low in profit and profitability.
Aside from performing the BCG Matrix on your items, EagleOwl will also perform a sales and margin analysis on all your items. Equipped with this data, you can now decide whether to increase or decrease the selling prices of your products.
Supply Chain Management
Have you been over-ordering for your food truck? Does this equate to high wastage or less inventory space? These are some of the problems that the EagleOwl software will fix. The software has an automated ordering feature that will be based on your minimum and ideal stock level.
Conclusion
Food trucks are a great option to test the waters before you start your restaurant. Even if you don't intend to grow your business and just stick to doing it as a part-time thing, having a food truck marketing plan helps in ensuring you make good profits.
Use the above tips to create a marketing plan based on your location, your target audience, and your food truck concept. Implementing these tactics may seem overwhelming, so start by mixing a few strategies that make the most sense for your setup. You can always incorporate more of these ideas in the coming future.
EagleOwl
EagleOwl is a back of the office solution that's meant to increase a restaurant's profitability. With our software many restaurants are able to increase their profitability by up to 25%.