Have you been researching "how to increase foot traffic in restaurant"? We get it. The pandemic and its associated restrictions have been very harsh for restaurant owners.
Now that vaccines are available and people are not scared of stepping out, restaurants can heave a sigh of relief. But what will draw crowds to your restaurant over countless other restaurants?
→Find out ways to draw crowds and increase your restaurant popularity with our help. Click here to request a free demo.
Why is foot traffic important for restaurants?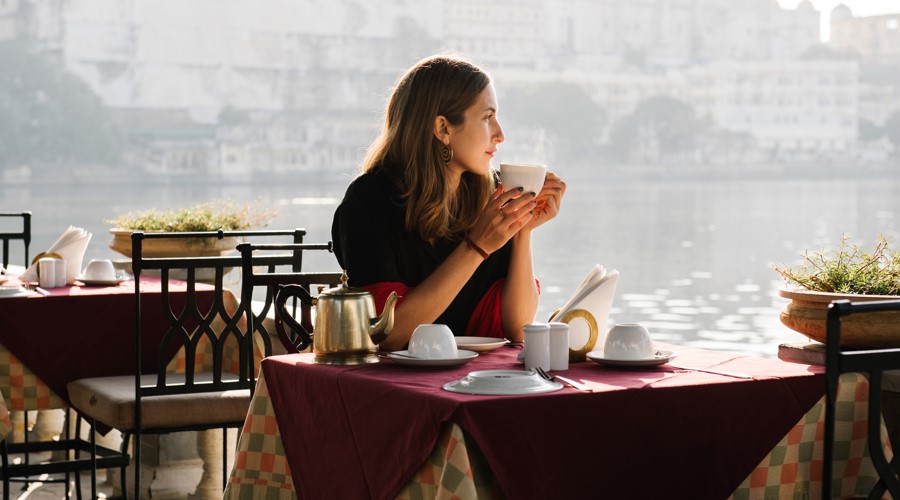 Before we delve into understanding how to increase foot traffic in restaurant, let's first look into why restaurant traffic is important. The simplest answer is higher foot traffic = increased revenue. It is a very important metric for restaurants looking to boost their sales and customer engagement.
But haven't customer ordering trends changed in the past few years due to the pandemic? While a lot of customers prefer home deliveries to ensure their safety, nothing can replace the dine-in experience. So even if deliveries and drive-thrus are taking up a majority of sales, foot traffic will always be in trend.
In this blog, we'll explore all the ways you can drive traffic to your restaurant. But before that let's first look at the customer point of view. What does a customer expect from a restaurant? Ideal dining experience for the average customer? What attracts them to a particular restaurant? Here's a curated list that contributes to a great restaurant experience:
The number one aspect that a customer expects a restaurant to excel at is obviously, high-quality food. The quality of food will definitely differ based on the type of restaurant, but it should be at par with the restaurant's standards. If your restaurant food quality is not up to the mark or doesn't justify the pricing, there's very little chance of a customer returning.
You can please a customer by serving high-quality food once, but what makes them a loyal patron is experiencing the same consistency in taste every time they visit. A lot of restaurants fail to deliver the same taste once they grow or expand to multiple outlets. Standardize your recipes so all outlets deliver the same taste, quality as well as quantity.
Beautifully presented food can entice a customer and elevate their dining experience even before they have tasted it. As Chef Raj Pundir beautifully puts it, "Cooking and food plating is like love, it should be entered into with abandon or not at all." Customers want to be impressed by your food plating as it makes them feel that they are getting good value for their money.
One of the things a customer always remembers apart from good food is a restaurant's staff. Customers pay for service at a restaurant, so it's obvious that they expect to be treated well and to be given focused attention. Make sure your FOH is knowledgeable & attentive so they are able to communicate effectively with the guests.
Quick & excellent service:
As a customer, you walk into a restaurant expecting to be treated to good food being presented in a reasonable amount of time. It can be off-putting if a restaurant takes too long to serve food. Customers place a restaurant high in their list of preference if they are known to offer service quickly and efficiently.

The average wait time for most restaurants is 12-20 mins and 5-6 mins for fast food restaurants. But this time may vary depending on the time when you're visiting, the type of food ordered, and the quantity.
Effective table management:
Nobody likes waiting outside a restaurant for their turn for long. Good table management can ensure a pleasant dining experience for a customer. Thankfully there are restaurant software available today that come with in-built table management options to ensure seamless allocation of tables, online table reservation, and a low wait time.
The restaurant atmosphere heavily contributes to the overall dining experience of a customer. A clean and pleasant restaurant space will ensure customers feel comfortable and keep coming back. A hygienic environment along with good decor, lighting, and furnishing is a must to make customers fall in love with your restaurant.
Probably one of the most underrated aspects on this list is good menu design. If a restaurant's menu content is crisp and easy to understand, customers can quickly order food. Any customer would prefer a clean well-worded menu over a complicated overcrowded menu. It saves time as there is very less chance of confusion.
Lastly, a customer expects a streamlined payment process at the end of their meal. There needs to be accuracy in billing and efficiency in the payment process so a customer can quickly pay for their meal. When your FOH staff is well versed with all the payment methods and how to execute them, customers can leave your restaurant with an overall positive experience.
Now that you are aware of what a great dining experience looks like from a customer's point of view, let's look at how to increase foot traffic in restaurant. Once you have aced the following restaurant foot traffic trends, you will see a significant increase in the number of guests, referrals, and sales.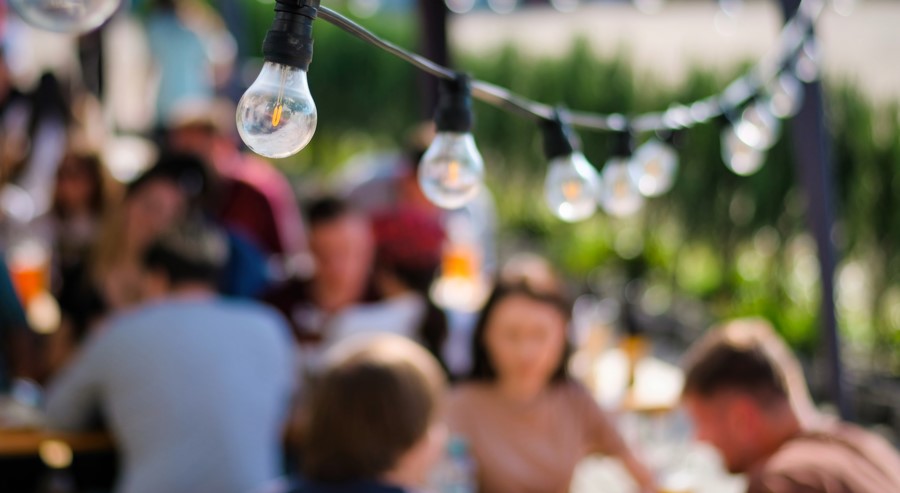 1. Invest in restaurant photography:
Food presentation matters. Enticing food photographs give customers a reason to visit your restaurant and try the food. This is why we highly recommend restaurants to opt for restaurant & food photography to increase user engagement. It allows you to stand out from the competition and attract new customers.
With the help of a professional photographer, you can get aesthetically appealing shots of your restaurant and mouth-watering food images cooked by your chef. A professional photographer's experience allows them to capture your restaurant and the food in the best possible way.
These high-quality images can be used extensively for promotions as well as advertising. They allow you to build your brand identity and tell your story the way you want.

Pro tip: Make sure you have a photographer during events to capture customers enjoying the event. Such images portray your restaurant as lively and popular on social media.
2. Get to know your audience:
Your audience here is your customers. Until you get to know them, it's a tad bit difficult to attract new customers. When you get into the depths of what an existing customer likes about your restaurant, you can create the right strategy to increase foot traffic in your restaurant.
A lot of restaurants create surveys that are shared with the customers at the end of their meal to get their feedback about their dining experience. What did they like most about the restaurant? Is it the food, the service, or the overall atmosphere? These results can help restaurants in understanding the loopholes that are preventing their audience from increasing.
Restaurants benefit greatly from positive word-of-mouth publicity. Understand what your customer likes and work on giving them a good experience every time they visit. A happy and satisfied customer will bring in more customers without costing you anything.
3. Don't let them forget you:
So a customer visits your restaurant, has a great time, enjoys their meal, pays their bill, and leaves. Then what? You would want them to remember you and come back in the near future. To do this, you need to always stay in contact with your customers.
When a customer visits, get their contact details so you can send them promotional emails, birthday/anniversary offers, and any upcoming restaurant event details. This will ensure you are on their mind when they think of stepping out for a meal. If they are unable to attend, they can send the details over to someone else and you can gain a new customer!
4. Catch their eye:
Imagine walking past a row of restaurants. Some dull looking, some bustling, some quiet, and some with extremely long waiting lines. What restaurant would you pick if the choice was supposed to be made based on visuals only? Most people would pick a busy-looking restaurant because that means it's popular and good.
So basically, your restaurant's first impression is already created even before a guest has stepped inside. This means your restaurant's exterior should catch their eye and encourage them to walk in. Having a small outdoor seating section is a great idea to attract customers. It can increase your revenue by up to 30%.
Next, optimize your seating arrangements to ensure your restaurant always looks sufficiently busy but not too crowded. For example, start by seating your guests on the patio and near the windows first. This will easily catch the attention of any customer walking by and help in increasing foot traffic.
5. Add your business online:
People search for everything online even if they intend to buy it offline. Similarly, your guests will search for your restaurant online before deciding to dine in. By adding or claiming your business profile, you can provide accurate details to your guests.
For instance, you can create a free business profile on Google that will allow guests to easily find your restaurant's address on Google Maps. You can add images too. When a restaurant doesn't claim its business profile, people may end up with inadequate or wrong information. This can impact your restaurant's foot traffic.
Your business listing should provide the best possible information about your restaurant that encourages the viewer to visit. This information should include clear directions to visit the restaurant, contact details, and a link to your restaurant's website. Check out the best 8 restaurant review sites here.
6. Create a Loyalty Program:
A winning idea is creating a restaurant loyalty program for your most valued customers. Once you get to know your customer base, create a set of factors to determine who your most loyal customers are. This can be determined based on how often they visit, the minimum billing amount, or other aspects.
Restaurant loyalty programs are known to draw customers back to your restaurant because of the perks they bestow. These perks give you an edge over your competitors and boost customer retention rates.

Pro tip: Keep the enrollment process easy to ensure prompt participation in the loyalty program.
Now we know this may sound like it will impact your profit margins, but when targeted correctly loyalty programs can be highly efficient. Combine them with a referral incentive and you have a winning formula. Not only does this allow you to stay connected to your most loyal customers but also ensures they introduce new customers to your restaurant in order to earn referral incentives.
7. Host creative events:
A great way of how to increase foot traffic in restaurant by creating buzz through events and contests. An empty boring place never attracts visitors. Hosting fun and creative events will get you featured in the local news as well as people's social media posts and help in increasing engagement.
And these events don't necessarily have to involve grand prizes! You can offer the winners free enrollment in your Restaurant Loyalty Program. The prize can be as simple as a free dinner for two. This way you get an assured returning customer without it burning a hole in your finances.
Do not forget to advertise these events on your website and social media handles. Looking for event ideas that will gain your restaurant more attention? Click here to read our blog and get some inspiration.
8. Introduce some humor:
Getting people to notice your restaurant doesn't always have to be serious business. If you are not a fine dine establishment, you can use a chalkboard and come up with funny puns to catch the attention of those walking by. It requires very little investment and some puns to get the people smiling.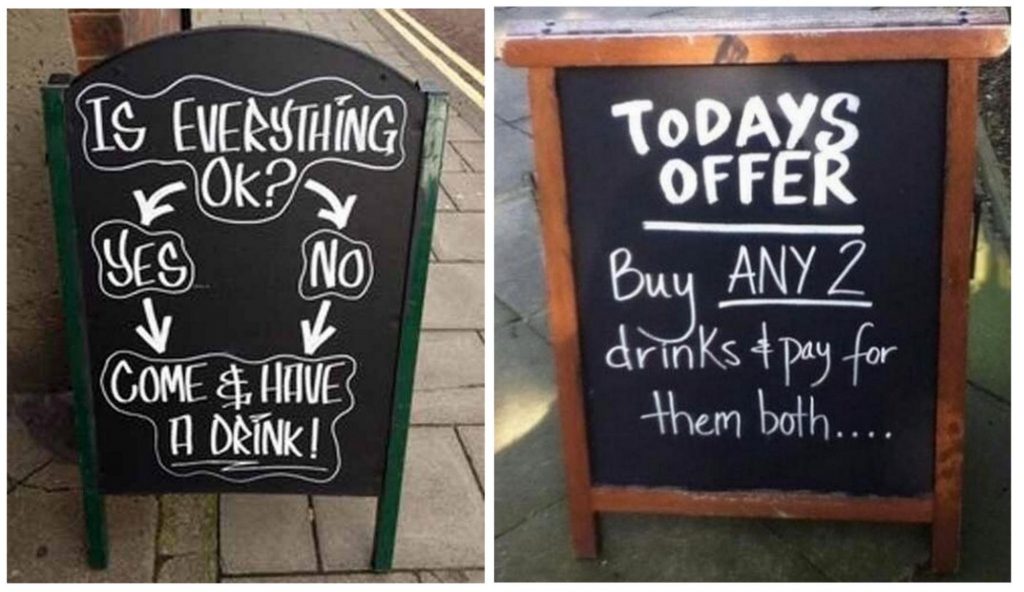 You can also use this idea to make people aware of ongoing restaurant offers or any special events. At the same time, you can declare your 'Special of the Day' through the chalkboard. Offering discounts on your daily specials is a great way to pull crowds on dull weekdays.
The best part about chalkboards is that they get easily featured in people's Instagram stories. So use the canvas to ensure people get Insta-worthy images and encourage them to tag your restaurant's social media handle.
9. Invest in your staff:
Always value your staff as you would value a customer. Your staff will be the ones handling the customers and ensuring they are happy will ensure happy customers. It can get very difficult to offer a pleasant dining experience with unprofessional servers.
So invest in your staff and make sure they feel like an important part of the team. This keeps their morale high and allows them to tend to customers with a positive attitude. Encouraging them with positive feedback is much more powerful in improving their work morale than making them feel judged all the time.
10. Create a stellar social media presence:
If it wasn't already, everything is online now. If your aim is to increase restaurant foot traffic, you must have an impressive digital presence. A strong digital presence allows restaurants to stay connected with their customers even if they are not able to visit the restaurant.
Not having an online presence can make it easy for customers to forget you. Platforms like Instagram are a great way to be present on and share content with your customers. Firstly because it's mainly image-based. And secondly, because it allows customers to directly connect with you.
Use this platform to share new additions to your menu or appealing images of your most-ordered menu items. Conducting entertaining online contests keeps your followers engaged and helps in drawing them to your restaurant. The more you engage with them online, the higher their chances of them visiting your restaurant.
Pro tip: If you have an interesting wall that serves as a background for photos, promote it on your Instagram as a photo point. Take a cue from this restaurant from Bhubaneshwar that has created some very appealing photo zones. Such interiors tempt guests to click pictures and upload them on their social media handles.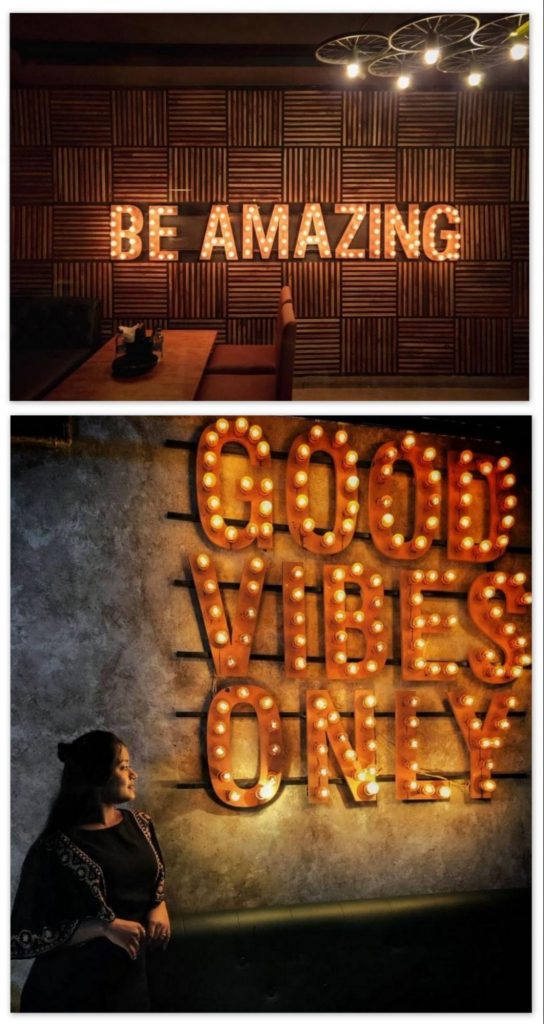 Credits: @bo_ind and @rohina_swain on Instagram
11. Amp up your marketing efforts:
If you haven't paid attention to marketing for how to increase foot traffic in restaurant, you're missing out on a sureshot way to improve your customer count. A lot of restaurateurs take the effort to analyze their existing customers but never use that data to retain those customers or to draw a crowd of similar customers.
There are a lot of ways to market your restaurant and increase restaurant traffic. You can opt for the traditional email marketing or the newer influencer marketing. You can run online giveaways to gather customer email addresses and keep sending them promotional emails and details of upcoming events to encourage them to visit.
Alternatively, you can collaborate with an influencer with a large following to visit your restaurant and create content that shows your restaurant in good light. This kind of content appeals to their followers to pay your restaurant a visit.
12. Use GEO targeting:
One of the most effective ways for those still wondering how to increase foot traffic in restaurant is targeting people based on their location. Referred to as geo targeting, this method of digital marketing helps restaurants by showing their ads to people based on their geographic locations.
With geo targeted advertising, you get location data that allows you to send personalized offers, discounts and specials, location-based messages, etc to someone who is nearby your restaurant. So when a visitor is within a fixed radius around the restaurant, the restaurant can send text messages to them inviting them to visit.
This localized advertising method allows restaurants to use their advertising budget smartly and choose the areas they want to show these kinds of ads to.

Pro tip: If your restaurant is located near a business center or trade center, you can show ads with lunch offers to people who visit or work in that location.
Conclusion:
Above everything else, your existing customers are your biggest promoters. Keep offering them a top-notch service to ensure they stay loyal and keep encouraging others to visit your restaurant.
In addition to this, create a smart online & offline marketing strategy that covers all possible channels to help you reach new customers. A wide-reaching strategy like that has the capability to draw in a lot of foot traffic.
We have listed above some of the best ideas on how to increase foot traffic in restaurant. Not all of them may make sense for your restaurant type. Pick the most relevant ones and create a strategy that helps you achieve your restaurant's financial goals. Did we miss out on any good ideas? Let us know in the comments below!
Learn how to grow with EagleOwl. Our restaurant management system can help optimize your finances and increase your restaurant's net profit by at least 25%. Contact us now to schedule a free demo!