A digital menu board is an attractive way to show your restaurant menu, best-sellers, and promotional offers. In addition, your restaurant can also show your customer reviews, real-time social media feeds, and a live-look at your restaurant operations. That's why so many restaurants are trying to answer one big question: how to make a digital menu board?
Answering this question isn't as simple as it seems. In this article, we will cover all the details related to the setup and maintenance process:
what benefits digital menu boards provide,
how they work,
digital menu board costs,
how to create a digital menu board,
what best practices to follow,
how to place your digital menu boards,
how to maintain them.
→Looking for ideas on how to maximize the profitability of your digital menu board? EagleOwl is a restaurant management software that helps raise your restaurant's profits by up to 25%. Click on the link for a free demo.
5 benefits of digital menu boards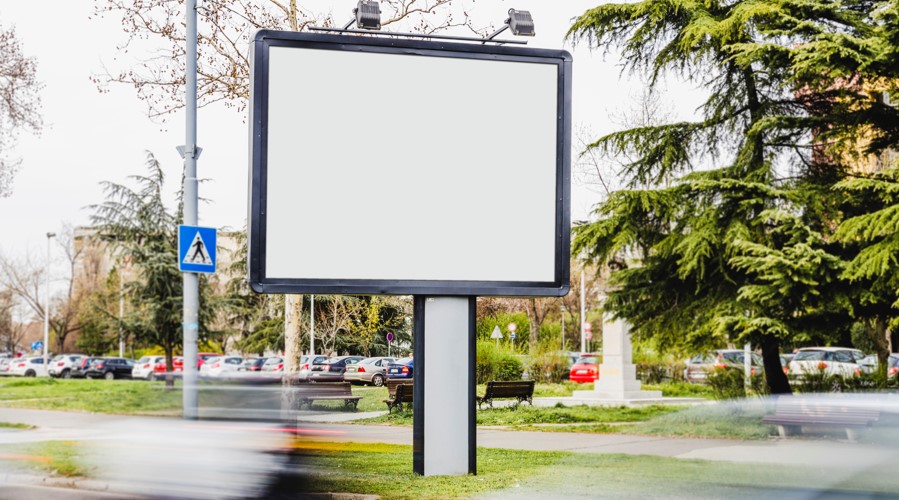 If you already want to know how to make a digital menu board, you have probably researched its benefits. Anyway, we will be discussing the benefits of digital menu boards below and why you should invest in one as soon as possible.
Say goodbye to printing menus. Restaurants usually have seasonal products that require printing a new menu every quarter. The costs of printing can pile up quickly. Using digital menu boards can help your restaurant save on printing costs because you don't have to reprint your menu every time it's updated.
Easy to add or remove items on the menu
A digital menu board makes it easier for the restaurant to update the menu when needed. Managers can easily add seasonal and promotional items, remove poor performing products, and test out different designs for the menu to see which ones drive more sales. In addition, if your restaurant decides to change menu prices, it can be done easily when you're using a digital menu board.
Easy to create different designs for different times of the day
Depending on the type of restaurant, menus may change during breakfast, lunch, and dinner. Using a digital menu board can help automate the transition between these times. You can preset at which times the content will change during the day. As a result, restaurants can focus on selling certain menu items during a certain time of the day and be able to optimize their inventory in a more effective way.
Helps in upselling products
You might have heard of the phrase, a photo is worth a thousand words. This holds true especially for the restaurant industry. A catchy and mouth-watering photo of any food can equate to an order or an additional order for customers. This highlights the upselling capability of a digital menu board.

In short, instead of your cashier doing all the talking just to upsell a product, the digital menu board will help you do that. For example, your digital menu board shows a steak meal coupled with recommended add-ons such as a salad and a glass of wine. Customers seeing it might feel inclined to try the exact combination they saw in the photo.
Highlights can be displayed with ease
A digital menu board can help show your promotions any time you have one. In addition to promotions, you can also show your new product items or an event you're hosting soon. There are limitless possibilities to show your marketing message when you have a digital menu board. The best part is you can conduct A/B testing on these messages and see which ones generate the most engagement or return on investment.
How do digital menu boards work?
A menu that's displayed on computer or television screens are known as digital menu boards. It is one of the most optimal ways to inform customers of your menu, specials and promos. Digital menu boards are simple to update. There are software solutions out there that allow you to update menu boards in minutes.
To understand how to make a digital menu board, you should start with understanding the main components it includes. Let's go through each of them one by one.
Digital Menu Board Software
The software solution you'll be using is a content management system. This software will allow you to design multiple templates and upload it to your digital menu boards.
Almost all software solutions are now cloud-based. This feature allows users to access it from any computer. As a result, restaurant managers can effectively utilize the software at any time from any place to operate the menu boards.
Digital Menu Board Hardware
There's only a handful of equipment that you can use for a digital menu board. The main piece of hardware that is in all digital menu boards is the advertising monitor. It allows your restaurant to display food photos and videos in order to attract customers. Other pieces of equipment used are accessories to help customers see the content better. Some examples include rotators for the television so it captures a wider angle.
Content
Perhaps the most important aspect of the digital menu board. Without the content, both the software and hardware will be useless. The content that you'll put in your digital menu board is the most important factor in determining if your digital menu campaign is successful.
A general tip is that your content should be simple and easy to understand. Customers don't have all day and it only takes them seconds to a couple of minutes to decide what to order. Cycle between photos, videos, and text for your content so customers will always have something to look out for every time they visit.
How much does a digital menu board cost?
If you've decided to shift from printed menus to digital menu boards, you need to know how much your investment will be. There are two types you can choose from – the DIY option or the commercial option. We do not recommend the DIY way – buy a local TV with a USB and put a picture file of your menu.
The better way is to use the commercial option where the restaurant will be using commercial level screens, a digital signage player and a CRM software.
Commercial display screens usually range from $299 all the way up to $1,599. For example, some might go for the LG 32" Nano IPS at $1,399 while some are okay with a Samsung 50" BE43T-H Pro TV at $500.
Digital signage players are devices that display your content on the screen. It is a requirement for the display menu board to display content. The usual range can go from $200 to as high as $1200.
The software typically goes for $20-$80 per screen. It is important that you go for a cloud-based CMS so you can edit and update anytime and anywhere.
5 tools to create restaurant digital menu boards
Now we are moving to a more practical aspect of how to make a digital menu board. So, where do you start creating an impeccable digital menu board? We've listed down the best and free tools with ready made templates to use to create your digital menu board.
Canva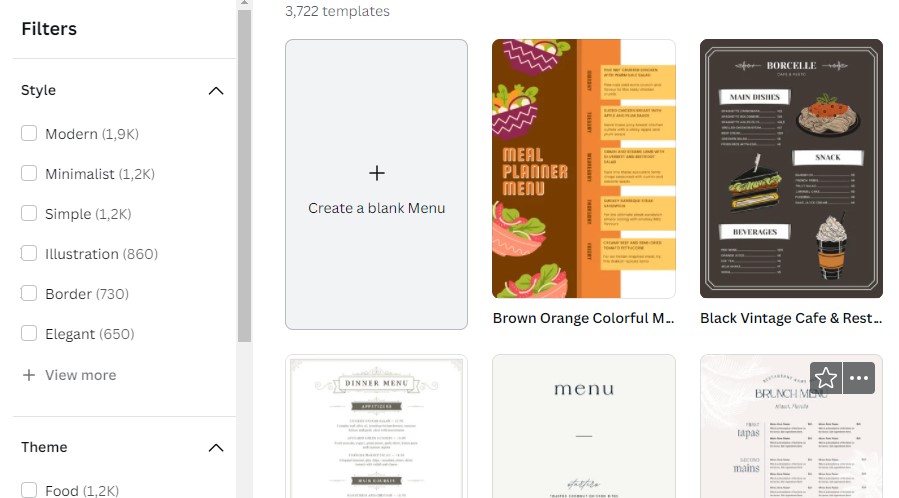 Canva will help restaurateurs create different menus for your digital menu boards. It is not a tool specially made to design menus but it does the trick. Canva's free version offers thousands of templates and allows users to filter them by style and theme.
In addition, it allows users to add their brand colors, logo, customize the sizes, change background image and illustrations, etc. It is a cost effective and very accessible tool for updating your menus yourself anytime.
MustHaveMenus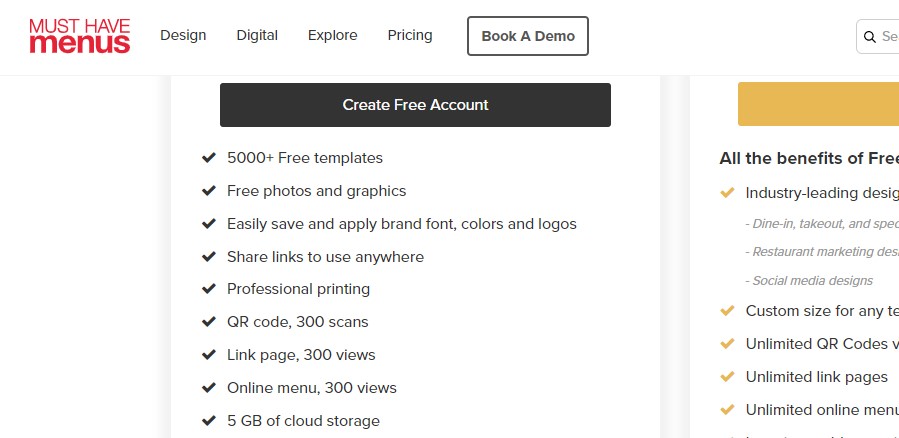 MustHaveMenu is a hub of templates and images specifically for restaurants. Their free version allows you to get access to 5000+ templates, free photos and graphics.
Here again you can customize any template according to your restaurant brand colors, upload images, add your logo, change text fonts and sizes, etc.
PosterMyWall
PosterMyWall offers templates for different industries, for different occasions and in different sizes.
The free plan can get you started with the basics in creating a digital menu. There are lots of restrictions though – no custom fonts, no high quality downloads, and a watermark for your downloads.
Apple KeyNote
If you have an Apple device, this option might be great for you. Apple KeyNote is a graphic design tool that you can use to design menu boards for your restaurant. Similar to the other tools mentioned, Apple KeyNote also has templates that you can use to start your design.
The Apple Keynote offers unique animations, slide transitions, and also many unique features like turning handwriting into text. In addition, you can export your digital menu board designs as video files (Mp4 or GIF).
Google Slides
One of the best free tools you can use to create menu designs is Google Slides. It also has templates that you can use but it's nowhere near what Canva or MustHaveMenus have.
If you're looking for help in creating your design, Google Slides can help you do that with its collaboration feature. All you have to do is share the slide to your colleague and you can both work on the project.
5 design tips for your restaurant digital menu boards
Knowing how to create a digital restaurant menu still isn't enough for success. In this section, let's go over the do's and don'ts when designing your digital menu board.
1. Use easy to read fonts
Something so simple as a font can make or break the design of your menu. Make sure you're using easy to read fonts like Arial and Helvetica to create your menu. The potential problem of using fonts that are difficult to read are customers getting turned off. It is important that the first time they see your menu, they can easily catch on to what's written there.
2. Use branding colors
Always choose the colors that's in line with the branding of your restaurant. Never use colors that's totally different from the style guide. The main purpose is for customers to recall your brand when they see your menu. They won't be able to do that if the colors on your menu are totally different from your brand colors.
3. Adjust the brightness of your menu
Depending on the feel of your restaurant, it is always best to turn up the brightness on your digital menu board. Exceptions include beer pubs or speakeasies where it's dark.
Some signage tips include putting bright text on black background. This can help save on electricity as you don't have to put the brightness at a very high setting.
4. Photos, videos or neither?
As we said above, photos are worth a thousand words. We recommend adding photos and/or videos to your digital menu board to entice customers. Just remember to not clutter your menu.
A good strategy is to test which designs work the best. Send out your content to your stores every 2 weeks and see the results. Do similar testing to see whether a photo on the menu or video does better.
5. Less is more
Menu design best practices call for less items to be placed on it. Even if you have more than 50 items on your menu, it is best to limit these to your best sellers when designing your digital menu board. Customers will tend to decide quicker and have faster turnover in your restaurant.
How to place your digital menu in your restaurant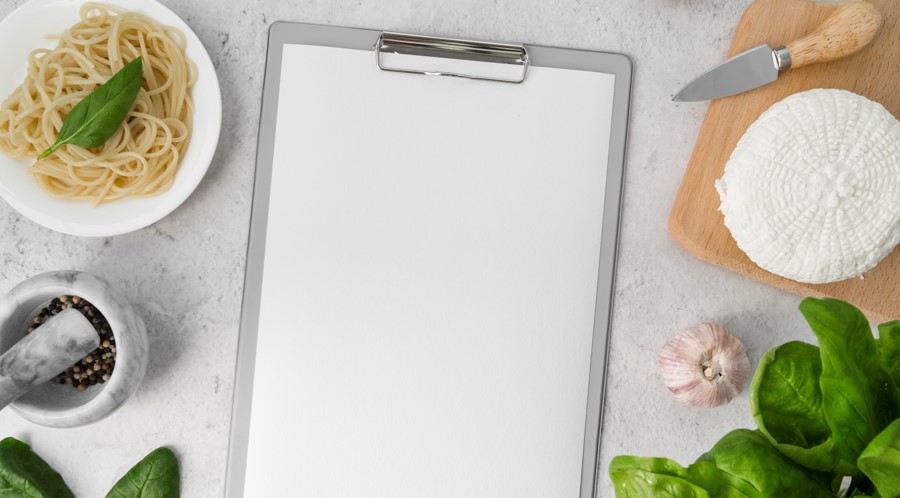 So you already know how to make digital restaurant menu and partnered up with a service to coordinate the whole process. Choosing the right placement of your digital menu boards is the next step and certainly has an impact on your sales. Good places to put digital menu boards are by your order counter, the waiting area, and the dispatch area. This will help your customers decide easily what to order.
If you have a big space, an additional digital menu board at the dining area is highly recommended. This makes sure that everyone can see it without moving too much.
It is also important that you choose the right size for your digital menu board. The right size depends on factors such as dining area space, ordering area space, and the items on your menu. To go along with the size of the digital menu board is the orientation. Restaurants use landscape to put their entire menu while portrait is being used for promotions and new offerings.
How to maintain digital menu boards
The duty of updating a restaurant's digital menu board lies on its restaurant manager. The manager is the one who's fully aware of the updated prices, new items, new offers, and more. It is the prerogative of the manager if more people are to be trained to update the digital menu.
In addition to the manager, a restaurant should also have either an in-house or third party graphic designer to create the content on the digital menu board.
Despite the numerous benefits of having a digital menu board, there are still potential issues that need to be taken care of. For example, your digital menu board can suffer from screen damage or failure. It is important that the restaurant manager is in contact with third party service providers who can fix these issues.
Final Thoughts
Setting up a digital menu board in your restaurant is a quick and cost effective solution for restaurateurs to improve their operations and sales. It has become a regular trend in the food industry and soon, most restaurants will look into how to create a digital menu board. Make sure you read all the steps and tips above on all things related to digital menu boards.
Learn how to grow with EagleOwl. Our restaurant management system can help optimize your finances and increase your restaurant's net profit by up to 25%. Contact us now to schedule a free demo!