One of the best ways for a restaurant to get visitors to keep coming back is to use data to their benefit. Data-driven insights help restaurants tailor their services and give customers exactly what they want. If you are looking to leverage a reliable data source, look no further than the popular social networking site Facebook. And when it comes to organic vs paid, look no further than targeted Facebook ads for restaurants.
→Tired of taking decisions based on assumptions? EagleOwl provides data-driven insights with a razor-sharp focus on improving your restaurant BOH efficiency. Schedule a free demo today to partner up with us and start making smarter decisions for your restaurant.
But should you use Facebook for restaurants? Absolutely! Facebook's Data Policy states,
"We collect information about the people, accounts, hashtags and Facebook groups, and Pages you are connected to and how you interact with them across our Products, such as people you communicate with the most or groups you are part of."
This provides you with ample information to find your ideal target audience and turn them into regular visitors.
Why you should opt for Facebook ads for restaurants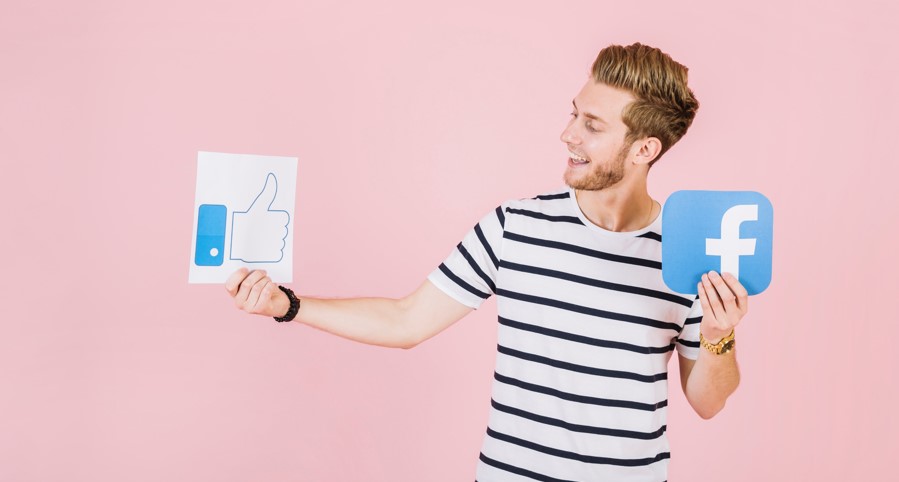 Do Facebook ads help a restaurant business? The simplest answer is Yes. Looking at the competition in the food & beverage industry, it is important to be constantly in your customer's mind and sight.
Considering there are currently 1.929 billion people who use Facebook each day, there is no better way than Facebook ads to stay connected with your customers and draw new ones.
Here are the top reasons why Facebook marketing for restaurants can turn out to be profitable:
Undoubtedly one of the best things about Facebook marketing is that it allows more and more users to discover your restaurant. By crafting a well-thought advertisement, you can grab a Facebook user's attention and compel them to walk into your restaurant or order online.
Target the right audience:

Facebook keeps a track of the advertisements users have clicked. This information can prove to be very helpful for restaurants in understanding what a particular customer is interested in. You can then use this information through Facebook to run ads for a specific audience. You also know your right audience based on the type of restaurant you run. After all, you wouldn't want to show ads to a 60-year-old who prefers a quiet place to eat if you run a busy coffee & hangout cafe.
Launching a new menu item? Want to inform your customers about seasonal dishes on the menu? Let them know through Facebook advertising! There's no benefit in having something unique to offer if no one knows about it. With Facebook ads for restaurants, you can promote your seasonal menu, chef's special, and much more to attract interested customers and increase sales.
Connect with local audience:
The closer someone is to your restaurant, the better their chances of walking into your restaurant for a meal. Wouldn't it be more profitable to get these people to notice your restaurant? Targeted Facebook ads can help you do exactly this. Your ads will be shown only to people in your chosen geographical location to increase footfall.
Restaurant events are a great way to drive new diners and get good word-of-mouth publicity. But people need to be aware of the events you host in order to participate in them. A well-planned Facebook advertising strategy will prove to be worthwhile in building user interest in registering for an event.
Show your brand identity:
When it comes to choosing between new options, diners often check a restaurant's online presence and reviews to make the decision. Through Facebook ads, you can create an impressive digital presence that piques a user's interest. If you are able to do this, the user comes one step closer to choosing your restaurant the next time they dine out.
Reduce dependency on food delivery aggregator platforms:
Restaurants lose a lot of their profit margins when they take orders through a food delivery aggregator platform. This can heavily impact their bottom line. Facebook ads can help drive traffic directly to your website, thus saving money being spent as "fees" towards aggregator platforms.
Stay connected to your existing customers:
Apart from increasing new customer footfall, Facebook ads also facilitate customer engagement. You do not want to risk losing a loyal regular to any other restaurant. Using attractive content to advertise your restaurant on Facebook ensures your current customers stay engaged and excited to keep visiting.
How to run Facebook ads for restaurants: Step-by-step process
While Facebook can easily be termed as one of the most robust advertising platforms out there today, you can easily lose a lot of money in it without getting any returns. In order to get the best outcome, you need a clear understanding of the entire process.
Here's a step by step breakdown of the process of running Facebook ads for restaurants:
Step1: Update your information
The most vital prerequisite for running a Facebook ad is a restaurant Facebook page, aka business page, not personal. If you haven't yet created one, go ahead and fill out all the necessary details. Describe your restaurant type as creatively as possible on the 'About' page. Make sure to use the right keywords so when someone runs a search, your restaurant's Facebook page appears in the top search results.
Step2: Create a campaign
To run Facebook ads, you need to create an ad campaign. Please note that only the Facebook page admin can start a campaign. Before creating a campaign, get clear about what exactly you want to achieve from it. When you click on the "Promote" option on your Facebook business page, you'll be prompted to select your goal for the campaign.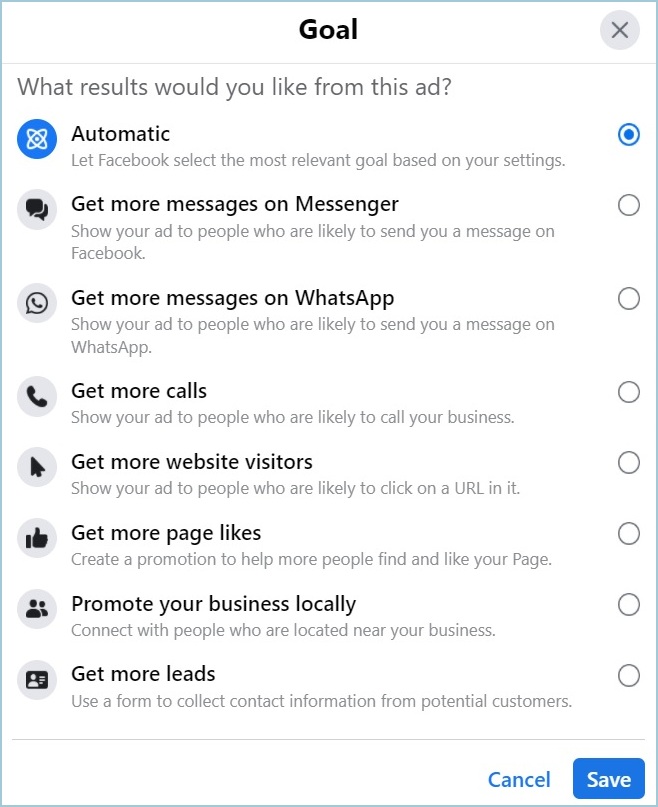 These options are designed to help you get the best bang for your buck. For instance, if you have launched a new menu item and want to prompt users to visit your website, then "Get more website visitors" is the right choice. When the campaign goes live, Facebook will drive users to your website by giving them an option to click on your website URL.
Step3: Create ad
Once you're clear about your objective, it's time to build your Facebook ad. There are 4 parts of a Facebook ad, starting with the Description. Clearly describe the image or the event you are promoting. The 2nd part is the media you want to show the users. The 3rd and most important part is the Headline which should be creative to grab the user's attention. And the last part is the Call to action(CTA). You can choose from a wide range of CTA options.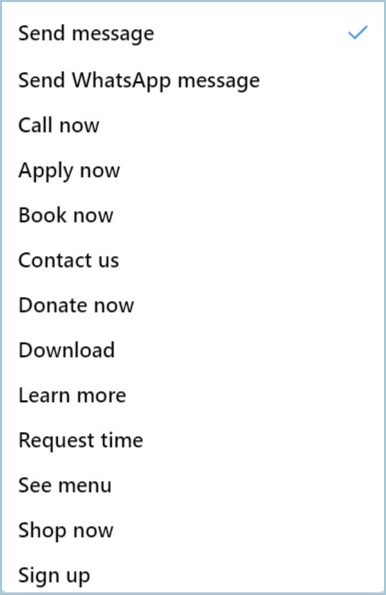 If you choose a CTA like Apply now or Learn more, Facebook adds another section where you can enter the URL where you want users to be redirected. In case you want users to call, choose Call now and add a valid phone number. Once you've entered all this information, verify how the ad looks from the ad preview created by Facebook.
Step4: Choose your audience
This is the most crucial step when building a Facebook ad. If you don't choose the right audience, you will end up wasting all your advertising budget without getting any satisfactory results. Select the restaurant location to shortlist the audience living nearby. If you intend to encourage users to order online you can change the distance accordingly. Facebook helps you filter people based on their age, gender, and their interests.
Step5: Define your budget
Facebook gives you the option to choose your Daily budget for an ad. Based on your advertising budget, you can enter how much you are willing to spend and for how long. The duration is important as it indicates when to stop showing ads to users. Based on your budget, Facebook shows you an estimate of how many people you can reach through your ads daily. The higher the budget, the more people see your ads.
Important: To make sure Facebook won't spend more budget than you wish, you should set Account spending limit.
Step6: Enter payment details
This is the last step before you hit the 'Promote now' button. Choose a payment method so Facebook can charge your account. Check the payment summary to see how much you will be spending on the ad before you publish the ad.
And that's it. Once Facebook approves your ad, it will start showing it to your chosen audience. Don't forget to evaluate the ad performance to understand how the audience is reacting to your content. Based on the number of clicks, you can take a call whether to run the ad for longer or create a new one that drives better results.
6 tips to create effective Facebook ads for restaurants
We are done with the technical part of running ads. But you can't just launch a Facebook ad randomly and expect great results. There are numerous other restaurants running ads trying to grab your audience's attention. You need effective Facebook targeting for restaurants to turn views into visitors.
Use the following tips to ensure you get the desired results from your Facebook ad campaign. 
1. Identify your audience:
First and foremost, identify who to show ads to. Do you want to attract new customers? Do you want to run ads to retain new customers? Based on this, you can define your audience and create the most apt ads for them.
There are different sets of viewers your restaurant can show ads to. It can be your existing customers whom you want to retain. You can run a campaign to engage with them through a quiz and offer a special discount to the winner. Alternatively, you can run a contest and promote it through Facebook ads to ensure your audience stays engaged.
Another set of audience can be viewers who have checked out your website but never ordered from it. For this group, you may have to come up with a one-time offer for new user signup to get them to become a paying customer. If you're hosting an event, you can show ads to people in that particular zip code to get more people to visit.
2. Leverage Facebook's detailed targeting options:
One of the best things about Facebook ads is the ability to shortlist users through various targeting options. To target local users, you can use geotargeting that makes your ads visible to everyone in a particular area.
If you have a specific audience, you can set the age range of ad viewers. For instance, if you run a cafe located next to a hub of colleges, your audience is most likely aged 16-26. Setting the right age range and gender (if required) in the ad campaign will ensure your ad budget is spent on the right people.
In addition to this, you can also filter out your target audience based on their interests. Facebook has rich data about a user's interest, based on the content they engage with. For instance, if you run a sports bar it makes the most sense to show ads to people who like Facebook sports pages or have clicked on sports event links. 
3. Create lookalike audience:
Confused about how to reach a larger audience? Facebook has an option to help you with that as well. Based on your existing customer base and the audience that engages with your content, Facebook creates a lookalike audience that has similar interests and characteristics.
Not only does this increase your reach, but also helps you get connected with more users who closely resemble your core audience. Facebook gives you the option to choose the range for how closely the lookalike audience should resemble your core audience.
4. Get creative with your ad content and design: 
It's futile to create an ad just for the heck of it. For better conversions, your ad needs to be relatable and well-crafted. This does not mean you need to stuff all the information in a small space. Some of the best Facebook ads for restaurants are very minimalistic yet eye-catching.
Use clean design elements along with mouth-watering food pictures to entice your users to click on the ad. Take the following ad by popular fast-food chain McDonald's as an example – Easy to understand copy, simple design that highlights the offer and compels the viewer to download the app in order to avail the offer.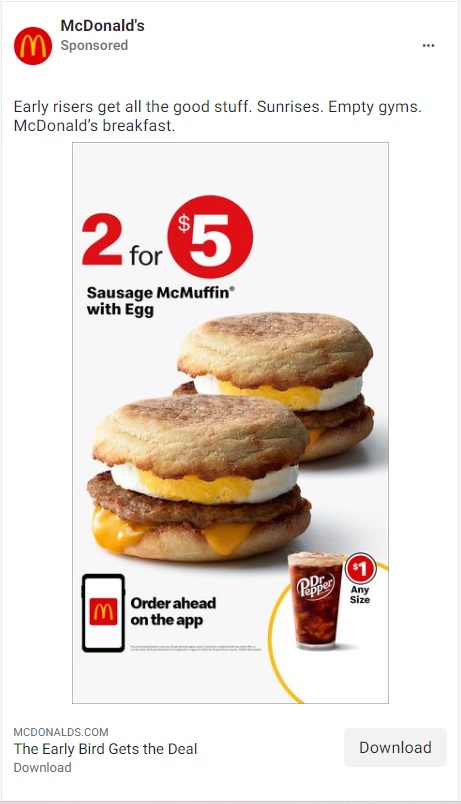 5. Use irresistible food images
Food photography has become increasingly popular in the past decade, and rightly so. By using well-shot images of your menu items, you can evoke hunger and motivate users to order directly from your menu. For example, Queen Margherita's Pizzeria used this appetizing image for a Facebook ad to announce a new pizza on the menu.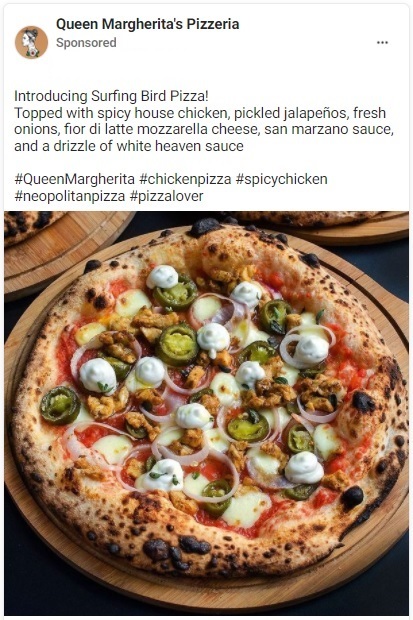 This tactic works especially well for acquiring new customers. Since they have no idea about your restaurant and its food, using food images in your ad can help build excitement about visiting your restaurant or ordering online.
Looking for ideas to create cool restaurant photos for ads? Read our blog: Restaurant Photography Tips & Tricks
While you're at it, post pictures of your restaurant's interiors as well. Your restaurant atmosphere matters as much as its food. So don't forget to show off any pretty corners or a well-lit-up space with a descriptive ad copy. 
6. Keep experimenting:
One of the best advice for those creating Facebook ads for restaurants is to not stick to just one format or version of an ad. Create multiple versions of the same ad to target different age groups and different platforms (Instagram, Messenger) for maximum results.
For instance, you can target users aged 18-25 with offers on your fast food menu items and those aged above 25 with discounts on the overall bill. In addition to this, you can create versions of the same offer for Facebook stories and posts. The insights from these ads help you understand which format is proving to be more beneficial.
You can also create different ads for existing customers and lookalike audiences. A Facebook post that encourages your existing customers to reorder may not appeal to a new customer. Creating two different sets of ads ensures better conversions and helps in increasing your customer base.
Facebook ads for restaurants: Examples from 5 world-famous food businesses
Listed below are some of the best Facebook ads we noticed run by popular restaurants. Use these as an inspiration for Facebook post ideas for your restaurant.
Want customers to order from your app rather than a third-party food aggregator app? Here's how Domino's advertised an offer to ensure users felt motivated to install their app and order from it.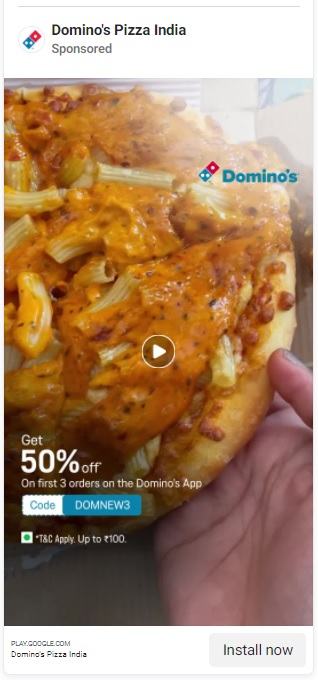 Upload your restaurant menu:
Use Facebook ads to allow users to surf through your menu quickly and push them ahead in the ordering cycle. Here's how Chick-fil-A tempted its users with a limited-edition menu item.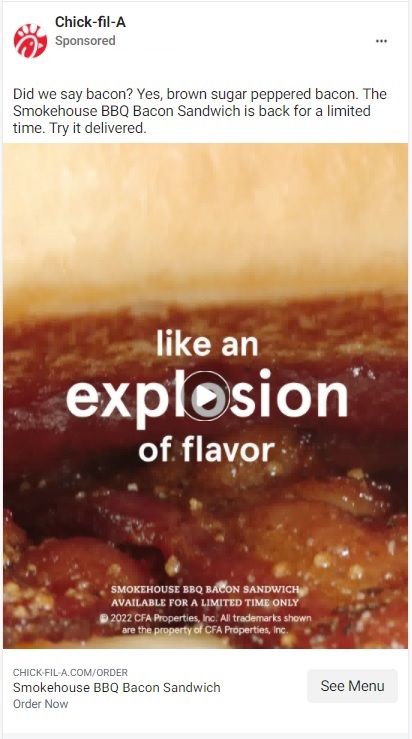 To increase sales, let your customers know about any ongoing offers at the restaurant. Use a concise copy about the new offers to generate excitement. Here's an example of Taco Bell doing the same through the "Build Your Own Cravings Box" offer.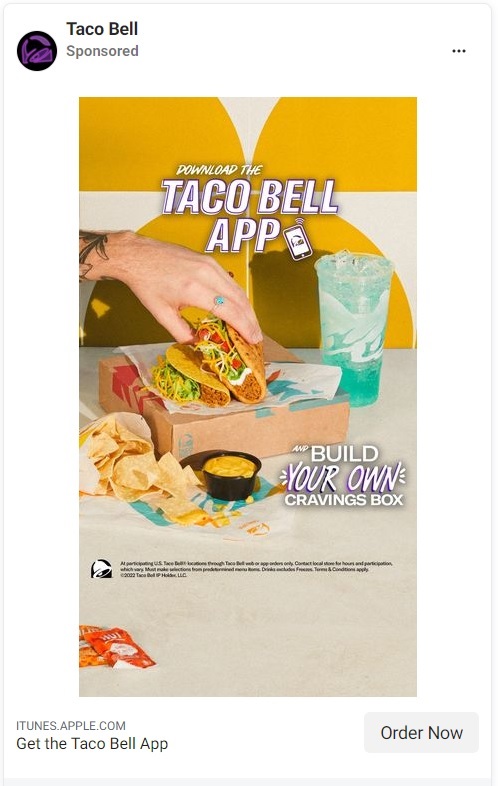 Launching a new menu item? Use Facebook ads to create a video and let your customers know all about it. Here's an example of a Facebook ad by Starbucks to promote their new product.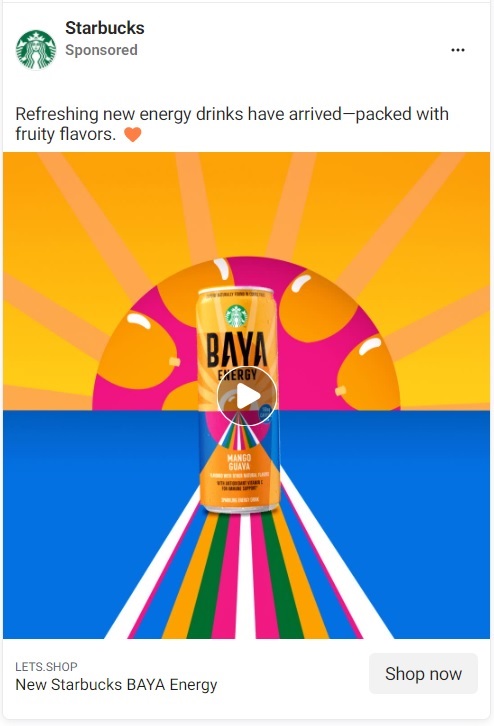 Promote Loyalty membership:
Want more people to become a part of your loyalty program? Use Facebook ads to encourage them to subscribe just like Taco Bell did.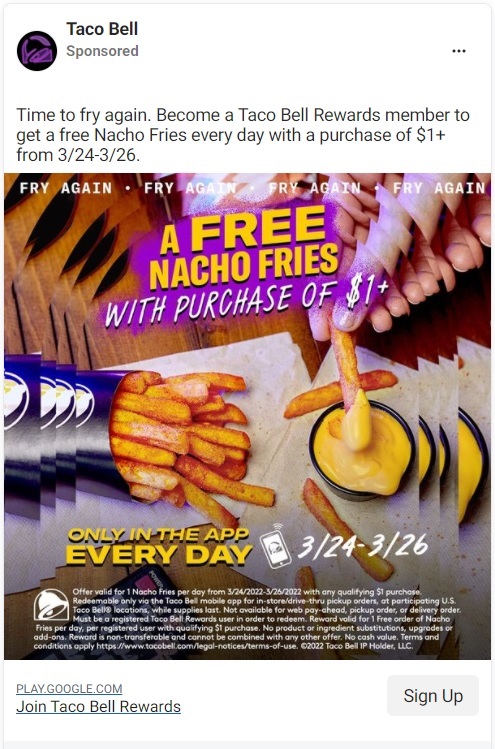 Final thoughts
In conclusion, Facebook ads are very effective in increasing your restaurant's visibility and accelerating its growth. When running a Facebook ad, implement the above mentioned tips and Facebook post ideas for restaurants for best results.
Learn how to grow with EagleOwl. Our restaurant management system can help optimize your finances and increase your restaurant's net profit by up to 25%. Contact us now to schedule a free demo!