It's always exciting to see your business flourish and earn good profits from it. Once you have established a food business and managed to drive sales, the next step is to grow the business. Food business expansion has to be thoroughly strategized to ensure you don't get off on the wrong foot. If you are looking for intel on how to expand your food business, you have landed on the right page.
To start with, you need to understand your existing business model and its plus points. You need to ensure you leverage them in your expansion strategy in order to get a good start. Sometimes the business model needs to be entirely changed to even think of an expansion. Other times, it just needs to be fine-tuned to guarantee success.
Restaurateur and Chef Suzanne Goin says, "When you have one restaurant, you can be there all the time and really micromanage every little moment. Obviously, when you have two places, you can't do that, and that's the scary part. The big question is, are you going to be able to maintain the first place as well as you want to?"
For instance, a stand-alone restaurant wanting to open a second outlet needs to have a very good hold on its inventory and COGS to understand how much supplies need to be transferred to the new outlet. If the restaurant has been doing all its inventory management manually, they need to update their current operating model and opt for a system to automate the process.
This not only brings more structure to the food business but also helps in reducing the chances of food waste. So this particular restaurant will need to first work on their existing business model and then get into the process of growing their business. Instead of competing with the others, work on creating a better space for yourself in the market by perfecting your business model. You can read about how Shake Shack did this instead of competing with McDonald's in this restaurant expansion case study.
Once this is done, here are six other ways that you can adopt for food business expansion:
1. Evaluate your current location:
More often than not, expanding a business will require looking for a better or more spacious location. Most food businesses start small to keep overheads low and wait for when the time is right to spend on something as expensive as the perfect location. Whether you are a cloud kitchen or a restaurant, the location plays a huge role in the proper functioning of your business.
If the current location serves you greatly, try to find a way to expand your operations in the same place. And if you're looking for a new location, conduct thorough research to identify competition in a given area. Are there similar kinds of restaurants in the area you have picked? Will your target audience travel to this location to dine at your restaurant? Collect relevant data and study statistics to make an informed decision.
Make sure you look for shortcomings in your current location and look for solutions that can help you overcome them. For e.g. having a drive-thru or a kiosk dedicated to take-away services has become a necessity in the pandemic. If your current location doesn't have the space for this, you may want to look for a new location where you can incorporate these options.
2. Know your strengths:
Since expansion is on the cards, it clearly means you were offering something to your customers that made your business boom. Before you venture into the next step, understand your strengths and the expertise you have that has allowed your business to drive high sales. Playing to your strengths will ensure you are able to maintain high quality in all the upcoming outlets.
For instance, before you open a new restaurant outlet, make sure you have all the recipes accurately entered out into your restaurant management software so you are able to offer consistent quality and taste across all outlets. It also becomes easy for your staff to stick to a standard format decided for a menu item.
Invest in a POS to have a strong hold on all the aspects of your business operations and can track the orders from anywhere. This helps you monitor everything in real-time and stay on top of things. Any obstacles will easily be detected and quickly addressed to ensure customers don't get disappointed.
3. Consider centralized production:
If you're planning to open multiple branches of a restaurant, having a central kitchen is a great way to organize the chain of outlets and maintain consistency throughout all outlets. A central kitchen, or commissary kitchen, is a premises dedicated specially to creating sub-recipes or entire recipes and supplying them to all the other restaurant branches.
To ensure your guests experience the same taste in all outlets, having certain dishes cooked in the central kitchen is a must. It reduces the chances of the final dish turning out different due to varying cooking methods of chefs in different outlets. Moreover, a central kitchen can also be used to store raw materials and supplies required to create menu items.
A central kitchen also allows you the space to work on creating new menu items instead of disturbing the kitchen of an up & running outlet kitchen. Once a recipe has been perfected it can then be added to the menu and taught to the head chefs of each outlet. You can read more about creating new recipes and adding them to your menu here.
4. Don't lose sight of your restaurant budget
The biggest advice most restaurateurs will give you when you ask them "how to expand fast food business" or "how to expand a food delivery business" is to first get clear about your budget for the expansion. Sucking your bank account dry to start something new is the biggest mistake you can make while scaling a food business.
Not having a financial plan can lead to overspending and make it difficult to sustain yourself for long. From the very beginning, create a budget and review every expense you make to ensure you are sticking to the budget. This will help you stay organized throughout and use your capital in a more efficient way.
To have extra money for desired improvements and to reduce the risk of losing money, you can look for an investor. In fact, a lot of chefs and restaurant consultants consider investing in a budding restaurant chain because they are so closely related to the industry. This gives the restaurant support from a talented chef and a successful restaurant consultant – making the collaboration a win-win.
5. Find the right team
Your staff is definitely your biggest asset as they directly contribute to the customer experience. Whether it is a food store, a restaurant, or a cafe – the right team will ensure consistency across all outlets and ensure a successful expansion. Hire the right people who believe in your business and will offer quality service.
Simon Sinek rightly said, "If you hire people just because they can do a job, they'll work for your money. But if you hire people who believe what you believe, they'll work for you with blood and sweat and tears." Scaling a food business is scary enough, but if you don't hire qualified people from the beginning the business will inevitably tank.
One of Boston's most notable chefs and restaurateurs, Ken Oringer, opens up about this, "I don't think it ever gets easier. You always have the nightmares that you're going to open up and no one will show up to eat there. That's a totally possible scenario. But expansion is sort of necessary if you have capable people working for you."
6. Promote from within
Restaurant or food business expansion needs strong management to handle new challenges and act promptly. In addition to hiring new qualified staff, it is equally important to have trained staff who have been with the business for a considerable amount of time so that they can act as leaders of the new staff.
Start with identifying the key members of your staff whose experience can be leveraged to train new staff members. Promoting these experienced staff members will help in setting standards for the new chain of outlets. Moreover, leaders who have worked as newbies in the same setup are more adept at understanding the best way to impart knowledge than an outsider.
Another benefit of identifying the next level of leadership is that it allows you to effortlessly delegate work and have faith that it will be taken care of. These are staff members who have been a part of your journey and know how the business operates. It becomes easy to hold them accountable for their actions.
7. Host a launch event
One of the best marketing strategies to implement when scaling a food business is to create some buzz around it. Get creative with the launch party to ensure you drive footfall to your new restaurant and stand out from the competition in the area. Your marketing efforts should be in line with your brand's identity and not be a copy of what other restaurateurs are doing.
Apart from your friends and family, invite veterans from the industry and prominent figures who will contribute to your new business's publicity. Inviting food bloggers and social media influencers is also an upcoming trend that helps draw attention to your new business. They can bring your business in the limelight by posting pictures and videos of the grand opening event.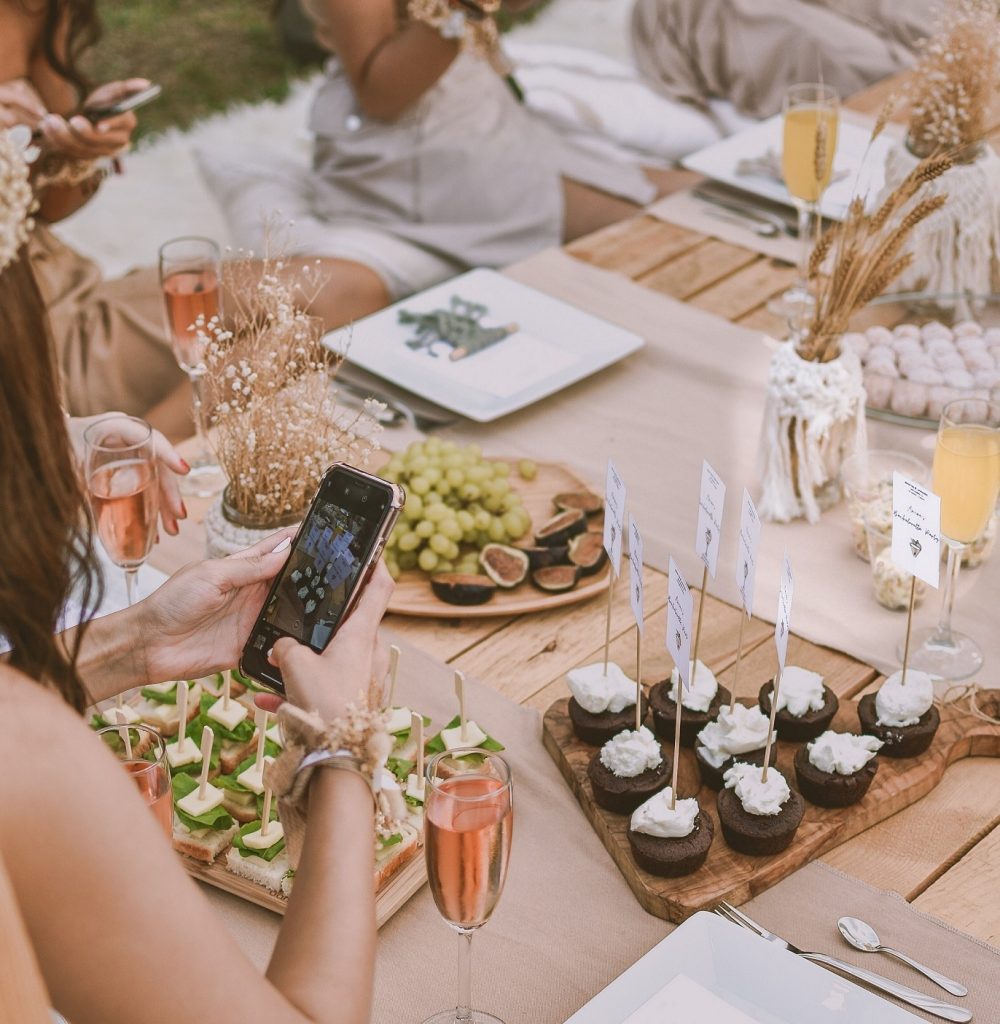 Shahab Kaviani, the founder of CoFoundersLab, states, "Marketing is expensive, and the best marketing is word of mouth. If you can get people talking about you, they will talk with people in nearby markets; so you should take the marketing synergies into account when expanding." He suggests "expanding in concentric circles" so you can leverage your existing restaurant's goodwill.

Learn also: how to hire a restaurant consultants and best restaurant consultants in India
8. Go online
Over the past decade, smartphones have become indispensable and social media has become an integral part of our lives. The question of "how to grow a food business on Instagram" seems very relevant in today's day and age as a lot of new food businesses have started operating and made sizable profits in the pandemic purely based on their social media presence and positive customer testimonials.
People now search for everything online, even if they are eventually going to buy it offline. Similarly, before your customers walk into your restaurant or order your food online they will look for you online to see what you are serving or how your customers are talking about you on social media. Platforms like Zomato allow users to leave feedback about restaurants they have visited and mention what they liked & disliked.
Create an impressive social media presence by regularly uploading visually appealing images of your food to entice your page visitors. Interact with customers through comments & DMs to build a connection. This kind of direct communication is very valuable in helping your customers understand your food business and its offerings. It is also a great way to share offers and seasonal discounts being offered by your food business.
Conclusion
A successful food business expansion, however risky it may look at the start, is possible if you have a solid business plan and know how to get your loyal customers to market your new outlet. But make sure you do ample research on every aspect to avoid any slip-ups. Use the above ideas to make your food business more sustainable, attract new customers, and ensure consistent sales.

---
EagleOwl's restaurant management system can help optimize your finances and increase your restaurant's net profit by at least 25%. Contact us now to schedule a free demo!