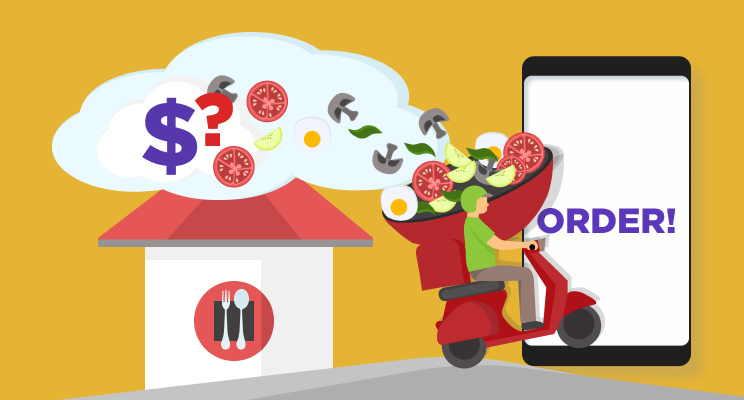 In our earlier post, we spoke to a couple of renowned brewery owners who ventured into cloud setup and covered their experiences. We received a lot of encouraging feedback from the restaurant community and many of them urged us to cover some brands that were doing well, what their numbers are, what works and what doesn't.

→ EagleOwl gives every sort of restaurant business report needed to be looked at from management's view. Request your Demo today. No CC required
Biryani – It has been portrayed as India's emotion and it's not without a reason. According to Swiggy, it remains the #1 ordered item 3 years in a row, as per their report. So we decided to talk to a couple of biryani brands in the market and cover how they were doing. Potful Biryani and Mani's Dum Biryani are two venerable well-known brands in Bangalore.
Potful Case study: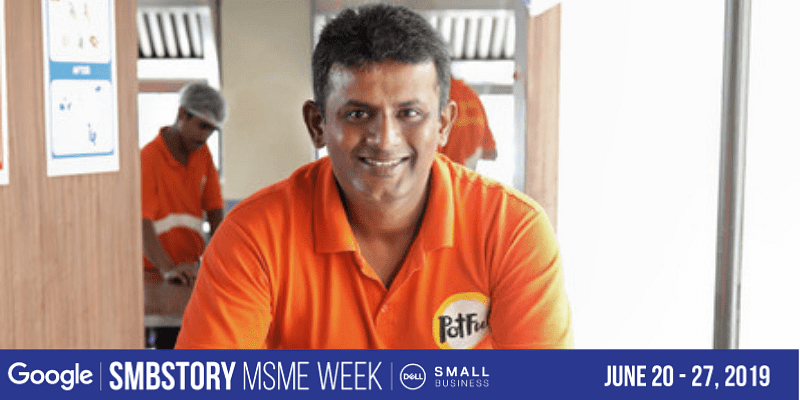 Potful was founded by Lokesh Krishnan three years ago and serves freshly made biryani in a 'Handi' a.k.a 'pot'. I connected with Lokesh a few days ago to gather his views.
VR: Why did you choose the cloud model? What advantages do you see?
LK: People are getting busier, there is a natural paucity of time. Moreover, most discoveries are happening online (digital media) and this drives delivery. A cloud setup is well-positioned to take advantage of these factors.
He goes onto say that it took him one year to 'understand the business', as he was not from this background and is still learning and evolving. When asked if he's averse to physical stores he quips, "Absolutely not, in fact, we might open one or two model stores to connect deeper with our customers".
Coming back to the cloud topic, he says, "It is more scalable, requires lesser CAPEX. Either way, 60% of biryani business is through delivery channels".
VR: Why did you choose biryani?
LK: Well, biryani is a commodity, to be honest. But in metro cities, there is a clear fragmentation and lack of choices when it comes to different types of biryani. By that I mean, it is localised to a few good brands per city in certain locations. There is no organised national player either and we thought we could fill this gap.
We then got into basics – the numbers that matter.
VR: What EBITDA did you plan for? Were you able to achieve it?
LK: As a businessman, my excel sheet was prepared for 20% EBITDA. But the reality is different. We had to keep investing for our expansions and in aggregator platforms.
VR: What type of investments are you talking about wrt aggregator platforms?
LK: In aggregator platforms, customers have either decided what to order and from where or they decide within 20 seconds. The market is so crowded. How do you gather eye-balls? On average, we spent 10% of our revenue on marketing, mainly on aggregator platforms. Unless I actively promote on these platforms I will be lost. It is a catch-22 situation for most players. You have to be there and promote yourself to drive volumes. Ideally, you need to do this in your early days.
As surprising as it may sound, we didn't spend a single rupee in the last 4 months, marketing spend was zero and our growth was way better. In a way, covid was beneficial for us as customers had to order from delivery players.
VR: Coming back to numbers, how is it looking in terms of EBITDA?
LK: Right now, we are just shy of a double-digit margin. But we can get there pretty soon. As I said earlier, a lot of money goes back towards growth. We also continuously invest in tech, right from day one.
VR: What would your advice be to fellow restaurateurs who are rushing to cloud?
LK: Current approach of doing cloud kitchens won't work. Whether it is cloud or dine-in, it is a means to reach your target customer. What's your long term game plan? Is your product unique? Don't worry about high-profits initially. Customer will pay a premium for a good product. It all comes down to why are you doing it? Plus people have to realise that starting a cloud kitchen depending on third-party aggregators won't work. Though we are listed with them, we are trying to drive a lot of traffic through our own website/apps. In initial stages, it is good to gain visibility through aggregators, you won't be able to drive customers to your own site, but you have to invest in your own tech and drive traffic over time.
VR: Coming to tech, what all investments did you make and when?
LK: Since day 1 we wanted to be a tech-enabled business. I was quite impressed with Freshmenu, so wanted to build something similar. Hired some freelancers and it took close to 2 years to build a decent product. Spent a lot too. Would be spending more to make it better. We build our own POS, during the second year, we invested in inventory when our central kitchen started. You need to bring in process before you scale, else it is not going to work. We need to make decisions based on data, so investing and training our team to adopt tech wasn't a big hurdle.
VR: What was your turning point or a moment you felt this might work?
LK: Always honest to ourselves and our customers. We are extremely obsessed with customers. The opportunity was large and am determined to make it large. Just like every other entrepreneur I have gone through many tough times, but am confident of making this big. One needs to be brave and patient.
VR: How do you innovate continuously? What will be your positioning as a brand?
LK: Making it fresh itself is innovative, isn't it? Plus we have launched 'make it at home' products. Innovation is also in process. To last for 30/40 years you need process.
We are clear we don't want to be a mass product. Can't make money. Serve a few but with really good experience.
VR: Congrats on expanding to Hyderabad, aren't you afraid you are walking into a city famous for biryanis and much cheaper?
LK: Not really. 50% of our orders are repeat customers. We are more confident now than ever. We now have a stronger brand presence and recall. In fact, we have received a stronger response in Hyderabad, without any spend on marketing. We are focused on driving more orders to our own platform, that is essential to making the desired margins.
Money and Mani's:
Most Benglureans know them. They have been around for a long time, 10 years in fact. Jayanth Narayan, author of a book on how to start a restaurant is one of the co-founders. An engineer turned restaurateur, he's also my senior from BITS, Pilani.
Jayanth is candid and brutally honest. I called him up yesterday evening to gather his thoughts on the cloud business. As someone who has spent a decade in this industry, his start are rather scathing.
"I don't see how cloud kitchens can be profitable, forget being more profitable, given the current cost structure and market dynamics. It is a ticking time bomb!"
He operates 14 stores in Bangalore, along with one central kitchen and one central store. I probed him further as to why he's being pessimistic when the entire world is going gaga over the cloud.
He retorted, "Vinodh, I have 8 dine-in concepts and 6 cloud setups. I have spent 100s of hours rearranging my numbers in excel sheets. However I tried, there wasn't any meaning to this operating model. I then backtracked and reworked the calculations to make 10% EBITDA. And to do that, you have to do at least 18 lakhs per store to make it work. Not many can do such numbers."
He categorically states, "I just can't see how pure cloud kitchen make sense unless you drive traffic and delivery at high volumes yourself."
He adds, "You have to drive over 60% of revenues yourself, without being dependent on aggregators. Newbies have to understand that aggregators interests are not aligned with yours, no matter what they claim. You are too small for them, a mosquito."
VR: So, how do you drive 60% of traffic yourself?
JN: Very difficult, in fact, it would say it is practically not possible. Think from a user perspective. Would you go to a comparison website and get the best offer that there is or go to each restaurant's website and order? If even a few do, how many would? Even hotels and airlines couldn't do this, so it is unlikely that the restaurant industry will leapfrog and change customer behaviour.
VR:So, what margins are you doing and what's the best you can?
JN: Customers are not willing to spend online. They have too many options. The average order value is in the range of INR 200-250. That's the main issue. Even for a biryani chain like ours with a decade of presence and brand being reasonably known, the max I expect is 12% EBITDA. Right now, we are in high single digits. There is this belief among people that restaurants make a hell of a margin, but this is the reality.
VR: So, if you compare your dine-in versus cloud, what's working well for you?
JN: Look, for us, dine-in is slightly more profitable, but the volumes are actually coming from delivery even in those setups. We need those volumes, else there will be too much food wastage leading to high food costs. Also, we have seen that higher volume drives our food cost down by 1-2%. So, volume matters a lot to us. There's no doubt that delivery will do very well, and will beat dine-ins.
VR: So, how does one plan to drive their online business?
JN: It is a challenge. Customers are not very loyal. They will find another biryani, which is cheaper and order from aggregator websites. Unless you discount, it is difficult to attract volumes. Fortunately, our brand is well known and that helps a bit.
VR: Can you talk us more about your brand and say why you can still drive orders are higher value than your competitors?
JN: We are a 10-year-old brand, that's a great advantage. To tell you a story, we tried a cheaper version from our kitchens a couple of years ago and it failed. The same biryani in a different avatar, but it didn't click. We also noticed that the cheaper variant attracted orders only when discounts were given. There are just too many options for users. Our brand has a good recall value, so we can not only survive without discounting but also command a 5-10% premium over some others. That's why I said earlier, for cloud model to work, it has to be a well-known brand.
VR: Coming to marketing, what is your budget and what do you typically spend on?
JN: Dominos spends 2% on marketing. Historically, we have spent 1.5% of revenue on marketing. Flyers works best for us. Very minimal participation in online discount or marketing. If some outlet is newly opened, we may spend for a few weeks on marketing with Swiggy/Zomato. Otherwise, we rely on traditional methods.
VR: What are the popular misconceptions with people opening a slew of cloud kitchens, infrastructure operators, etc?
JN: Lot of people think they can generate huge cash on the cloud. Who wouldn't like to be told that you can generate 15-20% returns in a few months with less than 10 lakh investment? As I said earlier, this model is inherently flawed and many restaurateurs are being foolhardy to an extent. Restaurants have high mortality rates, but cloud will be higher is my prediction.
VR: Aren't you being over-critical of this segment?
JN: Tell me one cloud brand that's profitable! At least am not aware of any. Take a look at Freshmenu – they are very very smart people. Then Fasoos, Ammi's. They all raised crores and are smarter than most. They have not been able to make it work. Somewhere there is a Dunning Kruger effect, everyone thinks others are stupid but they can make it work. Historically, nobody has, that's the reality.
VR: What's your advice for fellow restaurateurs?
JN: Choose one product and be great at it. Don't try too many things. Am a fan of simple menu, single product, singular focus and fewer SKUs. You also need good locations, even a cloud setup should have a signboard, it works. Think of a signboard and location as your marketing spend. We are seeing more takeaways from our central kitchens, which we never expected. Visibility is critical, particularly in high traffic locations. People need to see your brand more often. We rely on simple paper inserts and flyers for marketing, there is no need to overspend on digital channels.
Also, aggregators don't give a shit about you, depending purely on them is foolish. You will get sales but will lose money and shut.
VR: Have to ask you, why Biryani?
JN: I can say it was strategic, visionary, etc. Reality is, it was a pure survival instinct and a bit of luck. We tried a brand called Cage Argoya in 2009, it failed. We lost money too quickly and were up for sale. We told ourselves, let us try Biryani (Pizza's cousin) for a few months. It became profitable in 3 months and then it was all organic from there.
VR: One last question, we see a lot of kitchen infra providers. What's your take?
JN: I don't see it working long term due to the rates and different focus.
Well, that sums up our interview with two biryani chains. We will also try and reach out to more restaurateurs on cloud and share their experience in due course. We hope you liked this coverage about cloud kitchen profitability. Let us know what you think by commenting below.
Read more about our guide: How To Choose a Cloud Kitchen Software

Interested in starting your own Cloud kitchen restaurant operations? Click below to see how EagleOwl's restaurant management app will help you win.