The online B2B marketplaces for food service industry is growing by the minute. By 2023, it is projected to hit $1.8 trillion in sales – 17% of the total B2B sales in the United States.
→ Ordering from the right supplier and marketplace can help your restaurant save on food costs. After you choose your suppliers, EagleOwl will do the rest! We'll calculate everything for you including recipe costs, cost of goods sold, and more. Find out how by clicking the link!
B2B restaurant supply marketplaces offer a lot of benefits for everyone involved. The buyers, sellers, and marketplace owners all get something from their own point of view. In short, all parties involved in the food service marketplace get advantages such as reduced costs, marketing help, and an expanded reach.
In this article, we will be discussing the benefits for each party involved and a list of the best B2B food delivery marketplaces in India.
But first let's look at the benefits of marketplaces for both parties involved:
4 Benefits of Restaurant Supply Marketplaces for Food Distributors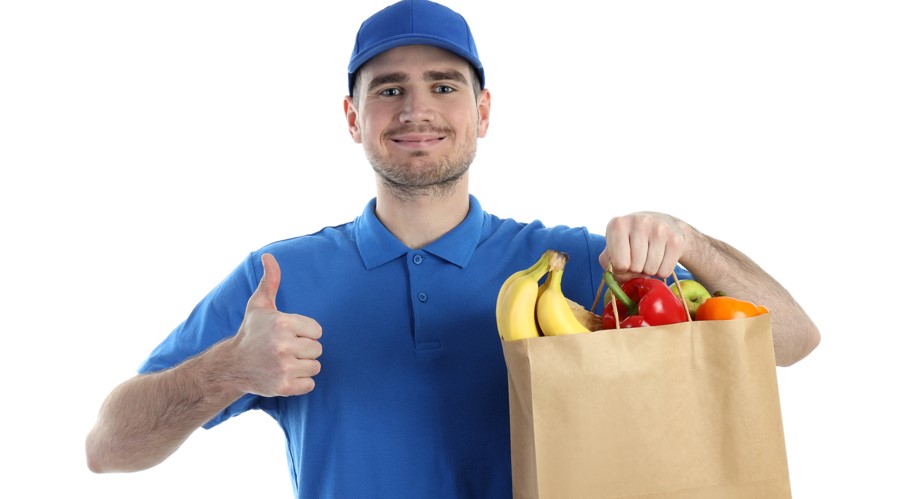 Get More Customers
Being part of an online marketplace is a great way to expand your company's reach. Sellers can showcase their products to restaurants who are potentially looking for partners.
Boost Sales
In line with having more customers, vendors can potentially get increased sales on the B2B marketplace. In addition, vendors can sell to both a retailer or an end-user – two avenues that can potentially help increase sales. Restaurants are mainly looking for a long-term partnership and buy products in big quantities. This presents an opportunity to food distributors to boost sales through loyalty and repeat sales.
Save on Time and Costs
As a member of restaurant marketplaces, you can save on time and costs that you'll be using for flyering or banner ads. As we all know, traditional marketing systems can be difficult to track and results may take time to come in. Being in a B2B marketplace will eliminate the need for traditional marketing and can serve as a medium for sellers to reach potential customers.
Digitized Catalog
B2B marketplaces allow vendors to easily upload and manage their entire product catalog while keeping track of all orders and the overall demand for their products all in one place.
Research the Market and Monitor Prices
Vendors can easily see the prices of their competitors in the marketplace. They can see if their prices are competitive, too low, or too high and adjust accordingly.
3 Benefits of Restaurant Supply Marketplaces for Restaurants
Find Verified Suppliers Faster
Being in an online marketplace helps in vetting the suppliers faster. Without the help of marketplaces, restaurants had to do their own research and call a lot of people to verify the legitimacy of a supplier. In B2B marketplaces, there's a verification system in place before a supplier can register and showcase their products.
In addition, the supplier's page has a seal and is an indicator of being a top supplier or not. There are also customer reviews for suppliers which are open to the public to see how the customer experience was with them.
Get the Best Prices
With the amount of choices in the marketplace, restaurants can choose which suppliers perfectly fit their needs. As soon as they find suppliers for certain items, they can compare prices of each and get the best one.
Reduce Costs
Similar to vendors, restaurants can also reduce costs if they're members of a B2B marketplace. They can streamline purchasing processes and reduce costs by enabling buyers to have access to both sellers in one single online platform. In addition, the emergence of B2B marketplaces have reduced the need to attend physical trade fairs. This has saved restaurants on transportation costs and ticket costs.
Top Restaurant Supply Marketplaces in India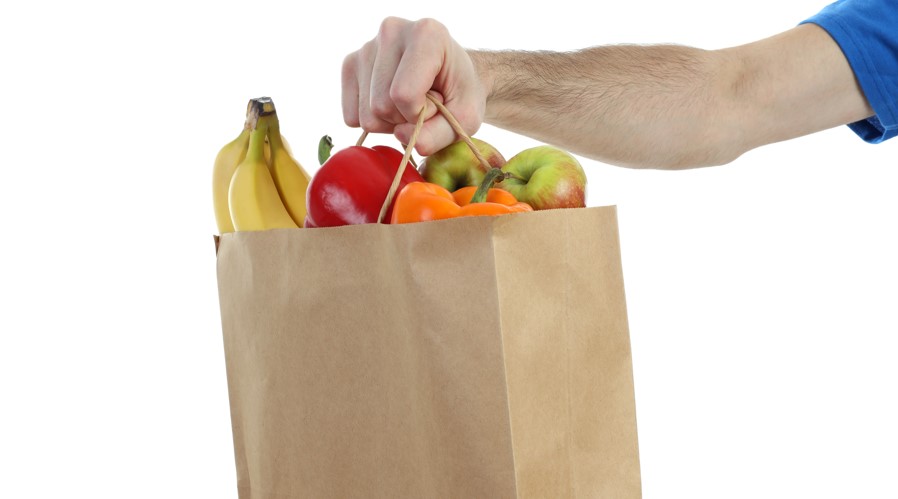 The online B2B marketplace for the food service industry has been on the rise the past few years. Let's look at some of the top innovators in India and how they look to improve the restaurant supply marketplaces industry.
IndiaMart
Without a doubt, IndiaMart is the largest online B2B marketplace in India. As of this writing, IndiaMart controls 60% of the market share of the online marketplace industry in India. The company was founded in 1999 with "make doing business easy" as one of its primary visions.
The numbers for IndiaMart are extraordinary. Currently, they have over 80 millions products & services, 7 million suppliers, and 143 million buyers.
EagleOwl
The EagleOwl marketplace is your one-stop shop for all things restaurant related. Restaurateurs can discover and connect with the necessary supplier for their business. Suppliers, on the other hand, can showcase their products to the massive restaurant industry and boost their sales.
Registering an account with the EagleOwl marketplace can help restaurants find suppliers faster, compare prices, and as a result, reduce costs for the company.
Currently, EagleOwl has about 10,000 partners in the industry. Some of their most notable partners are: Brew & Barbeque, Potful India, Cheelizza Pizza, Catch of Norway, Himalayan Cheese, and Vistara Farms. Register now either as a restaurant or a supplier and take your business to the next level.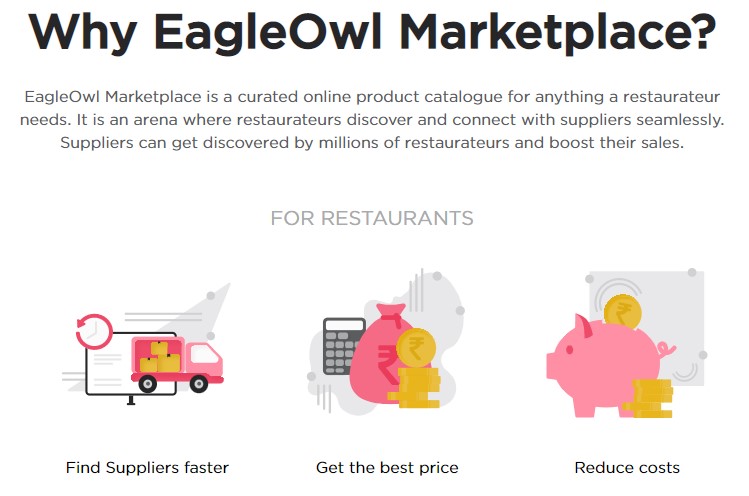 TradeIndia
TradeIndia was conceptualized way back in 1996 where it's purpose is to offer businesses a platform to promote their products and services. As of today, TradeIndia has innovated its services to allow businesses to do their own online marketing on the platform.
In addition, TradeIndia has shifted its focus to client servicing by becoming a 360 degree Digital Marketing Solutions Provider and an E-Marketplace. Not only does TradeIndia assist in the networking of buyers and sellers, it also provides support with payment protection plans, loans, and logistics.
As of this writing, TradeIndia has more than 2,200 different categories and subcategories with more than 4 million sellers and 5.5 million buyers.
JumboTail
JumboTail is one of India's leading online B2B marketplaces for food service industry. One of their main goals is to reengineer the food and grocery e-commerce platform with the help of technology, data science, and design.
Their advocacy promises fair access to markets and increased opportunities for India's food industry – all the way from farmers to retailers.
Ninjacart
This restaurant supply marketplace is considered as one of India's largest fresh produce supply chain companies. Ninjacart connects producers to various restaurants, retailers, and wholesalers using technology.
Ninjacart looks to give solutions to usual problems that hound traditional supply chains. First, the problems that farmers experience when it comes to market value, poor distribution of goods and late payments. Second, retailers face product problems such as high cost and poor quality. Lastly, the overall inefficiency of the supply chain and high rate of wastage.
Some of the solutions that Ninjacart did was to take control of the whole supply chain using technology and data analytics. They build a reliable distribution system to reduce inefficient supply chains. As a result, farmers get better prices and demand while retailers receive fresh products with competitive prices.
ChfMart
ChfMart is an online B2B marketplace for restaurant supplies such as produce, protein, and dairy. In addition to food products, ChfMart also serves as a marketplace for packaging and cleaning materials for restaurants.
The company also has a dedicated logistics team that will fulfill the orders straight to your doorstep. The orders are thoroughly scanned to make sure there are no poor quality products. ChfMart offers its clients a full refund if it does not meet the standard for product quality.
Redbasil
Redbasil's B2B marketplace features a curated catalog of more than 10,000 ingredients and top rated food vendors. These food vendors have been vetted by the top chefs and kitchens in the industry. It has a mobile-app based digital storefront, procurement, ordering, and payment portal to enable low cost operations.
The company seeks to improve several problems that hound the supply chain industry. First, text messages and phone calls aren't very efficient for placing an order. Second, delayed payments from companies for their account receivables. Lastly, the quality and on-time delivery of goods must be improved.
Redbasil looks to address these problems with solutions that use a user-centered design and agile engineering. They look forward to understanding the needs of their customers in the food distribution industry in all of India.
Solv
Solv is a B2B E-Commerce marketplace for SMEs. The Solv platform facilitates commerce in a trusted environment, while easing access to finance and business services through one seamless digital experience.
The Solv B2B marketplace helps retailers and other businesses source high quality products at the best price from suppliers across India. Suppliers in turn can showcase their products, establish trust and find new buyers. The categories that Solv currently serves are FMCG, Horeca, Apparel, Home Furniture, and Electronics.
In order to rate both Buyers and sellers on the Solv platform, they are all distinguished by their Solv Score. The Solv score of a business is based on several parameters. These parameters include traditional data like one's credit bureau score, several forms of alternate data, as well as behavioral and operational data based on one's transaction history on the Solv platform.
The Solv Score serves as an alternate credit score helping SMEs get easier and faster access to credit and also helps businesses establish trust on the Solv platform.
ShopClues
Back in 2011, ShopClues found a niche wherein they can thrive. ShopClues prided itself on being the most budget-friendly online bazaar in India. With over 2.8 crore products, you can get just about everything that you can imagine at ShopClues. They're a jack of all trades in the online marketplace world. They have categories like Electronics, Fashion, Home & Kitchen, to unusual products like cow dung cakes, knife sharpeners, and more.
ShopClues has the support of most certified merchants in India as a marketplace. They have over 3.5 lakhs worth of merchants. The marketplace was created with a vision of empowering both local and regional merchants – no matter what city they come from.
ExportersIndia dot com
Thinking like an entrepreneur, ExportersIndia.com imagined what potential clients would like in a marketplace. For example, every vendor wants maximum exposure. In addition, they want a marketplace where clients can see their products 24/7. And lastly, they want to reply to all inquiries instantly. ExportersIndia.com offered a solution to the problems most vendors encounter – an online B2B marketplace where vendors can promote and appeal to global customers.
ExportersIndia.com has enlisted numerous manufacturers, wholesale suppliers, importers, exporters, service providers, etc. in their marketplace. It is the destination where business enterprises have benefited by the much needed promotion and exposure in the current scenario of the global market.
ExportersIndia.com is committed to provide each business entrepreneur with the utmost exposure to the global market conditions and provide them a platform where they can interact with their respective community.
Final Thoughts
Whether you're a supplier or a restaurant, being present in restaurant supply marketplaces can present a number of opportunities for your business.
All three parties, the supplier, restaurant, and the marketplace, involved can create benefits for one another. B2B marketplaces are changing the B2B scene and it is necessary to be involved in it to be successful in business. Try out some of the marketplaces on the list (start with the EagleOwl marketplace) that we've shared and get started on streamlining your supply chain.
Learn how to grow with EagleOwl. Our restaurant management system can help optimize your finances and increase your restaurant's net profit by at least 25%. Contact us now to schedule a free demo!