Hiring a chef is one of the key factors for success in a restaurant business. Having a chef guarantees that someone will take care of all things related to the kitchen. A chef will take leads on projects related to your menu, new products, workflows, and standard procedures. In short, a chef will serve as the leader of your kitchen.
→ Hiring a chef focuses on getting the right food out to the customer. Help your chef out by optimizing your menu now and increase your profitability. Click here for a demo.
But what are the steps in hiring a chef for your restaurant? In this article, we'll detail all the necessary information you'll need to hire a chef. From interview questions down to the background & experience of the chef.
Benefits of Hiring a Chef for your Restaurant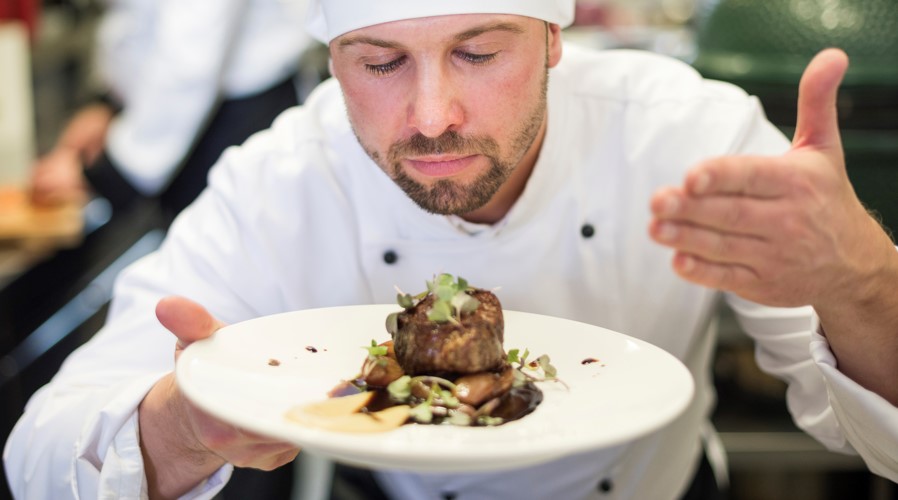 As we've mentioned above, hiring a chef is important to have a successful restaurant. But why? Here's a list of the contributions they can bring to your restaurant.
Menu Construction and Revamp
Depending if the restaurant is new or an existing one, a chef should be able to construct a menu that's fit for both. For new restaurants, the chef that you'll hire will take care of creating the recipes for the restaurant. This will include deciding how many dishes will be part of the restaurant's appetizer, main course, and dessert list. In addition, the chef is also responsible for studying the ingredients that will be used for the menu items.
For existing restaurants, having a chef means having the luxury to add and replace items on the menu. If there's an industry food trend that's looking like a sure hit, a chef can immediately add it to the menu.
Menu Engineering
The chef has the ability and the knowledge to help with the restaurant's menu engineering process. He'll be able to identify which items are low in cost while also knowing which items the kitchen prepares a lot – the highly popular ones.
Training of Kitchen Employees
A restaurant's kitchen employees need someone to look up to. This is where the chef comes in. He or she will be responsible for training and overseeing kitchen operations.
First, the chef will provide training for all kitchen employees. This entails an actual training where the kitchen employees prepare the food themselves and a written training where employees can also sharpen their knowledge.
Second, plating preparation will also be taught by the chef to the employees. In QSRs and FSRs, presentation of food is important to capture the customer's interest.
Lastly, the chef is responsible for training the kitchen employees of all sanitation standards. Food handling is important in the kitchen and it is important that your chef trains the employees well to avoid customer complaints.
Supply Chain Management
Chefs are a huge help when it comes to the supply chain. Since they're more knowledgeable when it comes to the industry, they know which suppliers to go to for cheaper prices. In addition to this, chefs would also have first-hand knowledge as to which suppliers have the best quality ingredients.
Aside from the raw materials itself, the chef will also be responsible for maintaining good relations with the suppliers. In some cases, a good service level agreement score with these suppliers entitles you to huge discounts. Keep your relationships healthy and watch your restaurant flourish.
Chef Salary Range
The average salary for hiring a chef in the United States is around $50,000 annually. The entry level salary for a chef in the US is around $35,000 a year while more experienced chefs can command at least $75,000 per year.
If you want to work as a chef in the US, New York is the best region to go to as they pay around $65,000 annually. The lowest salary for chefs in a region is in Utah, only paying around $30,000 annually.
Chefs in India are a different story. The average salary for hiring a chef in India is ₹5,14,200 annually or ₹42,850 a month. Entry level chefs in India earn ₹18,700 a month to start while 5 star hotel chefs earn exponentially more at ₹2,08,355 per month.
Where To Hire a Chef for Restaurant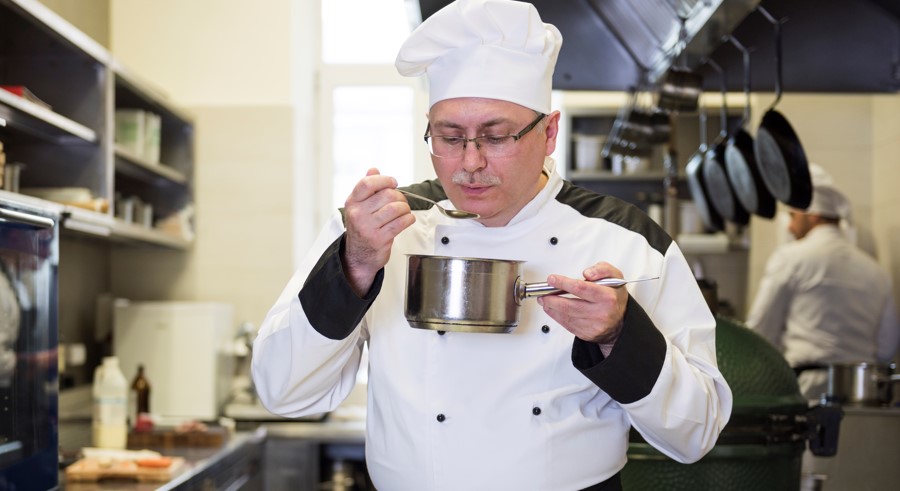 Let's say that your restaurant management has decided to go and hire for this position. How to find a chef for your restaurant ? Where do you begin? Where do you find them? Here are some options that might help your restaurant find your new chef.
Post on Job Boards
Job boards are a good way to get applicants. With the world shifting to a more digital approach, it has become a must to post your job listings on job boards.
The top job boards in the US are:
Glassdoor
Careerbuilder
Indeed
Job2Careers
LinkedIn
On the other hand, here are the top job boards you can find in India:
Naukri.com
IIM Jobs
Snaphunt
Monster India
Referrals
Restaurants are a tight-knit community. It is more than likely that the chefs in restaurants are friends and they'll know which ones would like a change of scenery. Try to ask around and see if there's a chef interested in the concept you're proposing.
Recruitment Agencies
Using an agency to find a chef is a good strategy if you want to outsource the whole hiring process. The agency will handle the recruitment of the chefs and will set up the interview with your restaurant when they've received applications. Agencies will have additional costs when you use them. The fees vary but it is usually at 10%-30% of the base salary of an employee.
Chef Classifications in a Restaurant
As we go through the process of hiring a chef for your restaurant, it is important to note that there is not only one type of chef. There are multiple classifications that start from being an entry-level chef all the way up to being an executive chef.
Cooks
The entry-level position for being a chef is called a cook. They start from the bottom and cook recipes given to them by higher positioned chefs.
There are different types of cook positions that full service restaurants should look to fill. First, the one responsible for cooking when needed is called the line cook. Some of them may still be interns and are still learning from culinary school.
Second, the prep cook is responsible for preparing food for the restaurant. Some tasks include chopping of vegetables, labeling of ingredients in storage, and cleaning the tables.
Lastly, the short order cook is responsible for cooking all quick meals. This includes sandwiches, salads, and other meals that can be done in a couple of minutes.
Specialized Chefs
These types of chefs are not above each other as they specialize in their own specific fields. Here are a couple of examples of specialized chefs.
Example 1: Pastry Chef
The pastry chef focuses on preparing bread, pastries, and desserts. Being a pastry chef usually requires extensive training in baking. As a result, restaurants or hotels usually give the responsibility of the whole desserts menu to the pastry chef.
Example 2: Meat Chef
Simply deriving from its name, the meat chef is responsible for cooking all types of meat. They are also responsible for procuring the best meats in the market to use for the restaurant.
Top-Level Chefs
The top level chefs are the highest in the food chain. They have responsibility over the whole kitchen and they serve as leaders of cooks and specialized chefs.
There are three roles as a top level chef and the executive chef is the highest among them. The role of executive chef is the ultimate goal of all chefs in the industry. The executive chef handles the management of the kitchen of a restaurant. They monitor daily operations, food cost, menu planning, and research & development. Executive chefs are responsible for creating new items on the menu.
The sous chef is the assistant to the executive chef. Their primary job is to monitor the details for every dish made. The sous chef is second in command and will manage the kitchen if the executive chef is not around.
4 Important Skills and Qualities to Look for When Hiring a Chef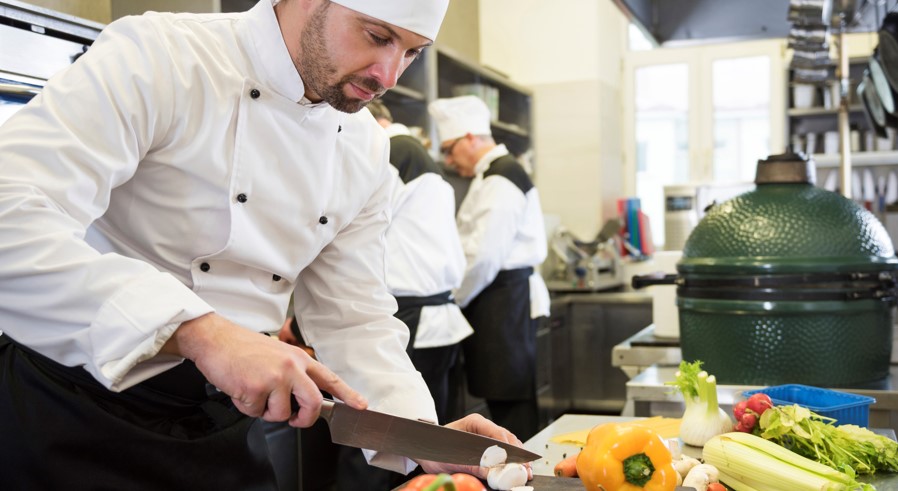 Aside from being good with food, a chef must also be adept at business and communications. Here are some skills and personal qualities that you need to see from your candidates when hiring a chef.
Be a Team Player
At the end of the day, a chef is part of a team and needs to be able to work well with his/her staff. Despite having top notch skills, a chef can lose control of the kitchen if he does not have a sense of teamwork.
Look for these skills when hiring a chef to see if they're a team player:
Ability to accept feedback and criticism
Listening to the needs of your employees
Ability to collaborate with employees lower in rank
Give unbiased feedback to employees
Training of employees
Knowledgeable on Business Aspect of Restaurant
A chef needs to be good at cooking food while keeping costs within budget. It is not wise to hire a chef who does not have any idea of the business side of a restaurant.
Find these necessary business skills in your next chef:
Business sense
Control of food and labor costs
Recipe costing
Food safety
Attention to Detail
The chef must be accurate in all aspects of the kitchen. This includes writing daily specials and checking if inventory is enough to produce the menu items.
Check for these qualities if your chef applicant has them:
Checking of raw material and finished product quality
See if right temperature is being used to cook
Correct amount of portioning ingredients
Ability to plate food
Out-of-the-Box Thinker
As a chef, it is important to be creative when it comes to your food. With the amount of competition in the restaurant industry, being plain and simple will not cut it anymore. Think outside the box and look for a chef that's unique in its own right.
Here are some creativity skills that you should look for when hiring a chef:
Experimenting on the mix and match of ingredients
Menu and plate design
Sample Chef Job Description
See below for an example job description of a Dimsum restaurant hiring an executive chef.
Job Description
The Executive Chef will be responsible for managing the kitchen staff and to resolve kitchen issues in a timely manner. The Executive Chef should maintain a good relationship with team members, optimize staff productivity, and serve as a replacement in team members' absence.
He or she will train kitchen employees to use new recipes, cooking techniques and equipment, and oversee cooks in other stations. He or she will manage the delivery of raw materials, manage the production of meals, and supervise overall kitchen operations during meal preparation.
The Executive Chef will ensure that his/her team delivers high-quality, cost-effective meals promptly. Top candidates should be creative, problem-solvers, service-oriented, and level-headed.
Key Responsibilities
Creating an overall vision and operational plan for the kitchen
Designing innovative menus to suit the restaurant
Implementing new dishes to fit the menu and to keep customers returning to try new offers
Make sure that food quality is consistently high and food safety procedures are followed
Hiring and training kitchen staff such as cooks, pastry chefs, meal prep workers, and dishwasher
Organizing, employing, training new staff and motivating staff in the kitchen
Reviewing staffing levels to meet service, operational, and financial objectives
Setting, monitoring, and evaluating performance standards for the staff
Procuring of quality ingredients for the menus and keeping stock levels fully updated
Academic/Technical Requirements
Graduate of culinary arts studies (at least 2+ years of formal education)
Work experience of at least 5+ years in a similar role/position
Ability to meet deadlines and adapt to fast-paced, agile work environment
Advanced knowledge of professional food principles and practices (e.g., HACCP and ISO 22000)
Available to work on-call, shifts, after hours, over weekends, and on public holidays
Excellent communication and time-management skills
Excellent knowledge of RMS systems like EagleOwl, ordering and inventory
Proficient knowledge of human resources management
Some Questions to Ask When Hiring a Chef for your Restaurant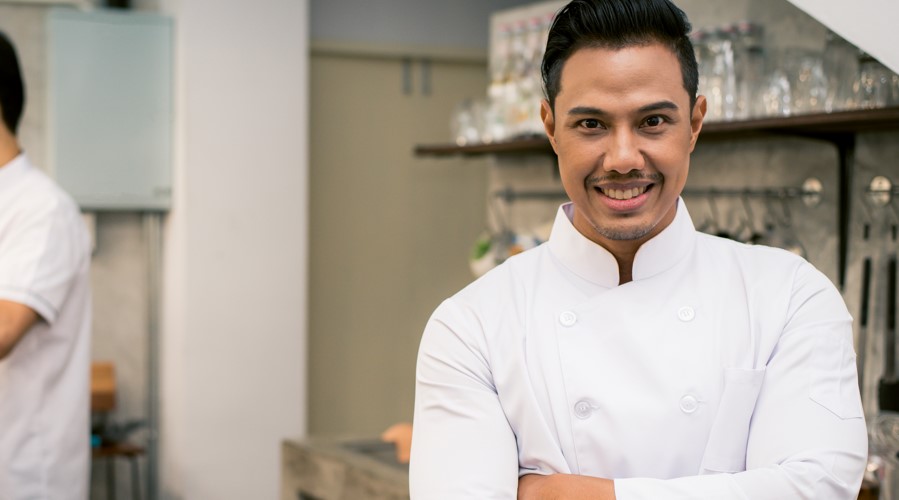 After all the work, you've finally found a profile of a chef that fits your restaurant. It is important to interview them as thoroughly as possible to make sure that they're a perfect fit for your business.
We've outlined some general questions that you can ask during the interview.
Tell us a bit about your background. How long have you been working in the restaurant industry?

Which restaurant did you previously work for?
What cuisine did they serve?
Are you comfortable with our type of cuisine?

Where did you receive your training? Did you attend culinary school?

If yes, which school did you attend? How were your grades?

Have you ever experienced managing a team? In your own mind, how did your team perceive your leadership?
Explain one stressful experience in the kitchen and how you handled it.
Why did you apply to our restaurant? What do you know or like about us?
Final Thoughts
Hiring a chef for your restaurant is not an easy task. It is important that you prepare to interview a handful of candidates for the position as it largely impacts the performance of your restaurant. Know what to look for in your candidates and hire the next chef that'll take your restaurant to new heights.
Learn how to grow with EagleOwl. Our restaurant management system can help optimize your finances and increase your restaurant's net profit by at least 25%. Contact us now to schedule a free demo!