Restaurant owners are always on the lookout for innovative ideas to build a connection with their customers and get them to keep coming back. Since it is directly related to the restaurant's revenue, it is an important point of consideration. One of the most unique ways to do this is to sell branded restaurant merchandise.
Now we know what you may be thinking – is it worth the investment? If done correctly, selling restaurant merchandise can be very beneficial for your organization. In this blog, we'll delve into how this can be made a successful alternate revenue stream for your restaurant, its pros and cons, and popular restaurant merchandise ideas.
Benefits of selling restaurant merchandise
If you're confused about whether selling restaurant merchandise is a good idea, here are some of its advantages that will convince you to get on board:
Create a connection with existing customers:
The first and most important benefit of creating restaurant merchandise is to establish a bond with your existing customers. Wearing branded merch gives them a way of expressing their appreciation or fondness towards your restaurant. So in a way, restaurant merch can help increase a customer's engagement with your brand.
Additional revenue stream:
This one is a no-brainer. Since restaurant merch capitalizes on a customer's loyalty, it becomes a great alternate source of income for restaurants. The best part? It doesn't take much effort. The key is to create fun and creative products that don't just flash your logo in people's faces but also bring value to the buyer.
Increased brand recognition:
Merch created with the restaurant's branding elements makes it easy for people to recognize your restaurant. A well-designed and executed merchandise ensure you always stay on top of your customer's minds. Moreover, it will allow new people to discover your brand through such items.
Imagine a customer using your restaurant merch, for instance, a t-shirt. They're wearing it to a public event with lots of people around. This leaves a positive impression about your restaurant on the viewers and compels them to visit it.
Free advertisement of restaurant merchandise:
By using your restaurant merch, your customers introduce your brand to so many more people. They automatically become your brand ambassadors and do free advertising for your restaurant. You can also include images of customers wearing the restaurant merch on your restaurant's social media handles to create excitement around it.
How to create restaurant merchandise
Now that you're aware of how effective restaurant merchandise is for your brand, let's break down the process of creating it.
1) Shortlist products that you want to sell:
Starting with the most challenging aspect of all, deciding what to sell. While there are hundreds of products that you can consider selling as branded merchandise, you may want to shortlist items that are directly related to your offerings.
For instance, a biryani chain selling coffee beans doesn't make sense right? Similarly, products or food items that people don't connect with your brand are not a good merchandise idea. So with that logic, a bar selling a bottle opener keychain is a great idea as it is relevant and evergreen.
Choose items that customers will be willing to buy from a restaurant. After all, restaurants are visited for food, not for shopping. So the products being sold should make sense in a restaurant setup. Even if you're selling your merch online, it can't be absolutely random.
2) Decide where to sell the restaurant merchandise:
Once you've made up your mind on what the merchandise will be, the next step is creating a channel for sales. You can always sell the merchandise in the restaurant by creating a separate space displaying the items and a sales counter.
The next option is setting up an online store on your restaurant's website. Get a restaurant POS system that helps record these online merchandise sales. You can also sell through Instagram Shop and Facebook Marketplace.
3) Create visually appealing images of merch:
Apart from creating the restaurant merch, you will also need to spend on creating high-quality striking images to drive sales. It's not necessary to spend on getting a professional photoshoot done. You can just use a good smartphone for the same.
But if you can make the investment, getting high-quality images will prove to be quite beneficial. Well-shot and edited images create the right appeal and make it easy for viewers to go ahead with the purchase.
Whether you choose to get a photographer on board or click pictures from a smartphone camera – always click pictures in natural light for best results. Keep your restaurant interiors as a background for these images to show the connection.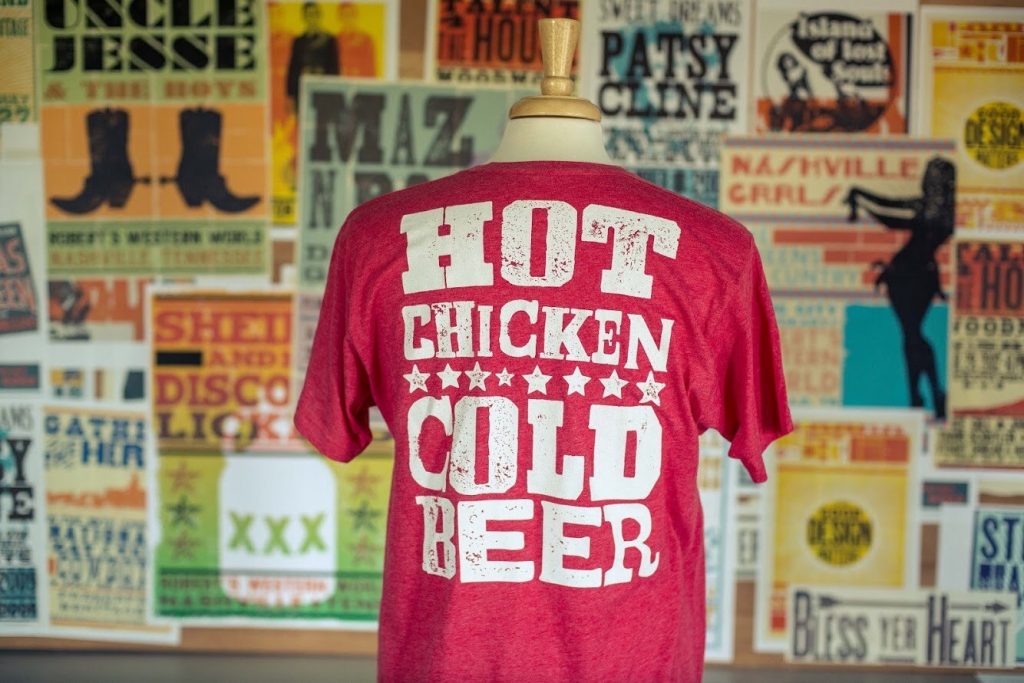 Image credit: culinarydepotinc.com
4) Develop a marketing strategy:
Having your merchandise listed on your website is not enough. You will need a well-planned marketing strategy for selling restaurant merchandise. Firstly, make sure the merchandise is always listed on the homepage of your website so it's easy to spot.
Secondly, use your customer data available through the POS to let customers know about your merch. Share an email newsletter to announce the launch of the merchandise. You need to bring it to your customers' notice to be able to sell it.
If you want to make it grand, organize a launch event at the restaurant and display your restaurant merchandise. This will prove to be an excellent marketing strategy for both the restaurant and the merchandise.
How to sell more branded items
Apart from the above mentioned steps to create restaurant merchandise, here are some clever ways to sell more branded restaurant merch:
Make it make sense:
Don't just sell merch for the sake of it. The merch should be relevant to the type of restaurant you own. Take the following tote bag as another example of how to create relevant merchandise. Created for ice-cream parlors, this ice cream tote bag design is creative and sends the right message with its humorous content.
Image credit: society6.com
Create lively pictures of the restaurant merchandise:
Restaurants are all about people. So when you're selling restaurant merchandise, make sure the images involve people. While plain background shots are always an option, experiment with a photoshoot in your restaurant. For example, create images with people wearing your restaurant merch and eating your food. This will make the pictures look more realistic and relatable.
Include detailed product descriptions:
This is a very important aspect if you aim to create the best restaurant merchandise. Items with detailed descriptions make it easy for the buyer to make up their mind. So make sure all your merch has product descriptions written in the easiest possible words. Include size, measurements, ingredients, contents, and all other details.
Don't forget the holidays:
The holiday season increases the chances of customers picking up your merchandise to gift it to their loved ones. You can offer discounts on the merch during the holiday season and make some noise about it on social media in advance. You can also create a limited edition merch line, especially for the holiday season.
Create space in the restaurant for the merchandise:
Showcasing your merchandise at the right spot in your restaurant is a must to grab customer attention. Therefore, create a separate space dedicated to the merch that's easily visible from every corner. Nobody will buy it if they can't easily spot it. Display it well and make it accessible to encourage impulse buying.
Leverage restaurant events:
To create hype for your restaurant merch, use them as a prize during restaurant events. For example, if you have a game night or quiz night at the restaurant every week, use your merchandise as a gift for the winner. This creates an impression on the participants that it is something exclusive. Once the game is over, make an announcement that others too can get their hands on the merchandise by buying it from the merch counter.
Offer customization:
When it comes to items like t-shirts, aprons, tote bags, mugs, etc giving options to the customer to get it made as per their liking is a winning idea. Let them choose the color, fabric, and, slogan to create a product they'll happily wear/use. This makes the merch more fun and increases the chances of customers buying it.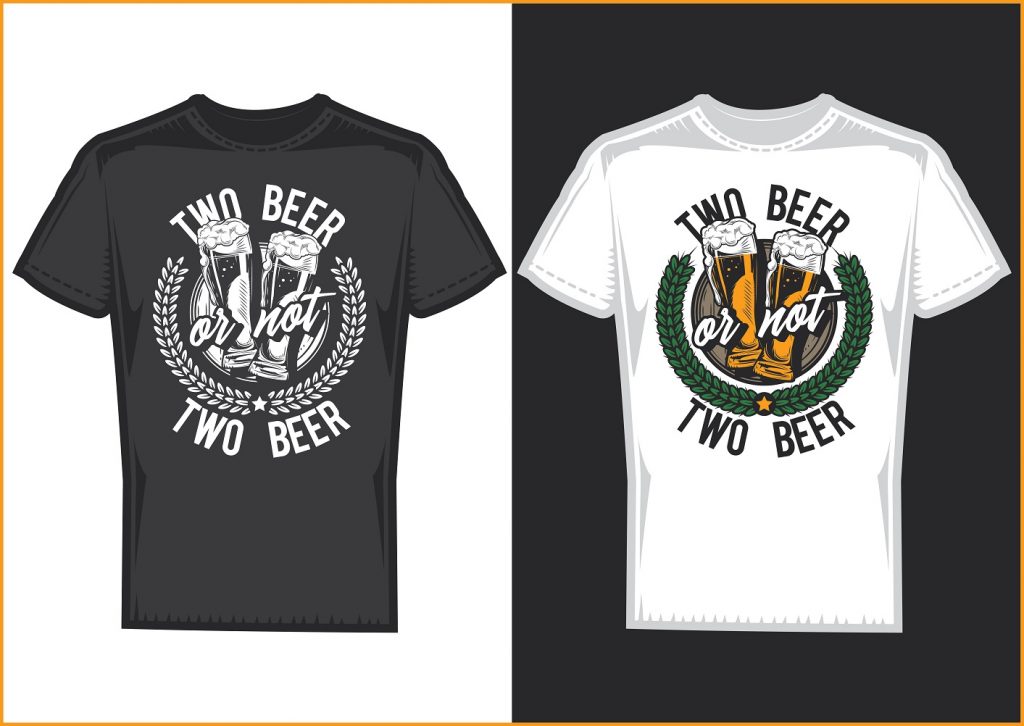 Create high-quality products:
While restaurant merchandise may not be your primary source of income, it is important to create superior quality products. So work only with vendors who are known for providing finished goods of the finest quality. Avoid selling cheap items as they will negatively impact the merchandise sales and downgrade your restaurant's impression too.
Don't go overboard with the pricing:
Restaurant merchandise is an amazing alternate source of income for a restaurant, but it is beneficial only if the merch gets sold. This is why you need to be very careful about how you price the items. Include all the costs that you incur in creating and shipping a product and add a decent profit margin to it. At the same time, make sure the pricing justifies the product you are selling.
Introduce humor:
The right kind of humor can help make your merchandise popular. For example, let's take a look at the following product available on Lithology Brewing's website. It is surprising to spot a onesie listed on a brewery website's merchandise section. But their humorous caption is sure to attract fathers to buy it for their newborn.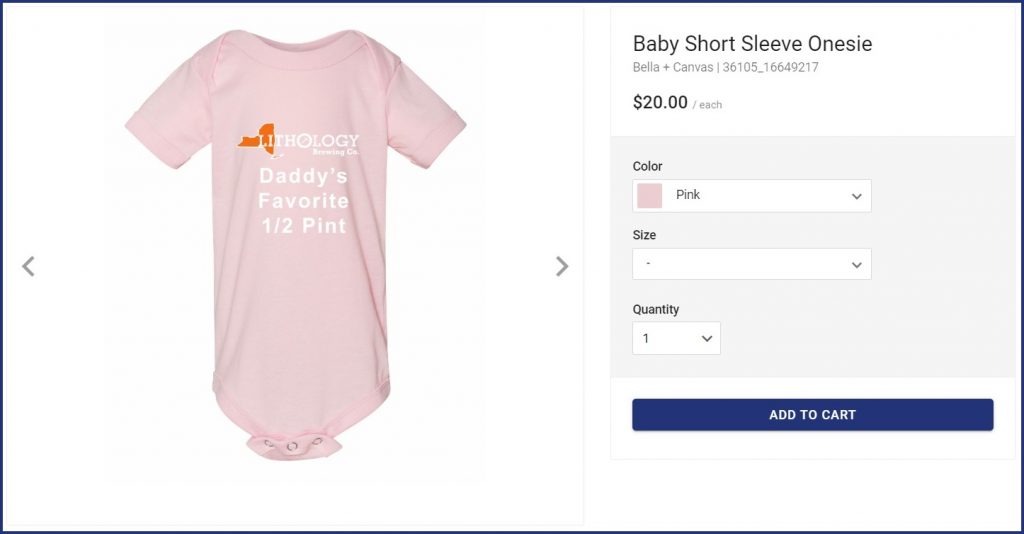 Collaborate with other businesses:
One of the best ways to increase merchandise sales is to partner with other businesses to create something together. Work with local artists to create something valuable. Not only does it expose your restaurant to their clientele, but also broadens the scope of merchandise options you can sell.
List of restaurant merchandise ideas
When looking for ideas for your restaurant merchandise, keep in mind that not every product will be appropriate for your setup. To help you out, we have listed below some of the most popular restaurant merchandise ideas. You will easily find something in this list that matches your restaurant's concept.
Mugs
Cups
Glasses (whiskey, shot, beer, etc)
Tumblers (tea, coffee)
Engraved plates
Serving boards
Coasters
Fridge magnets
Bottle openers
Water bottles
Salt & pepper shaker set
Stickers
Pens
Notebooks
Cookbook
Scented candles
T-shirts
Sweatshirts
Shawls
Caps/hats
Aprons
Picnic blankets
Umbrellas
Children's toy
Tote bags
Grocery bags
Sauces & syrups
Jams
Oils
Mixed herbs
Coffee beans
Dried fruits
Alcohol (wine, beer, whiskey, etc)
Funny posters
Wall calendars
In conclusion:
Selling restaurant merchandise is very much like allowing a customer to take home a piece of your restaurant. Be it through a scented candle that reminds them of your food, or a funny t-shirt that talks about their favorite cuisine. It allows you to earn passive income and boost brand recognition – a complete win-win situation!