If you think that making a great food delivery experience is the responsibility of the delivery company then think again. 80% of buyers will blame the restaurant for a poor delivery experience, not the delivery company. That's why it's key to understand what food lovers appreciate in this process. It will help you decide how to organize the food delivery process internally or how to choose the right delivery companies.
→With EagleOwl, you will be able to track consumption patterns and always have enough ingredients for food delivery. Schedule a demo with EagleOwl to see how our solution works and helps increase your restaurant profitability.
Before moving to the main part of our article about what makes a great food delivery experience, let's understand why food delivery is so popular and what to expect in the upcoming years.
Why is food delivery so popular?
Let's understand what's encouraging people to order more food online and why online food ordering is popular:
Hygiene and safety
Even though many countries are canceling Covid-19-related restrictions and limitations, people are still concerned for their safety. They don't want to attend crowded places and touch the menus, furniture, and tableware that other diners have touched before. But when they are at home, all they need to do is to order food online without the need for tête-à-tête talks.
Convenience
According to FlexJobs, the share of remote job openings grew by 12% in 2021 over 2020. People are working from home or in co-working spaces. Are they going to spend a few hours a day cooking their own food and bringing it to a co-working space or spend all their working time at home in the kitchen? Obviously, the answer is no.

Employees prefer to order food delivery to be able to save time, concentrate on work, and eat well at the same time. One of the secrets to productive and effective work is not letting hunger control you.
Food variety
When you eat at a physical restaurant or cook yourself, the options are limited. But with food delivery, you can choose food from multiple restaurants and have everything delivered together. That's a perfect way to diversify your food and try new recipes all the time.
It is expected that the revenue from online food delivery will show an annual growth rate of 8.38% (CAGR 2022-2026) and result in a projected market volume of US$474.30 billion by 2026. Besides, user penetration in this segment will be at 25.5% in 2022 (Source).
How do you create a top customer food delivery experience?
Delivering a great food delivery experience depends on multiple factors, starting with how your employees cook the food to how and when the delivery man delivers it. We are going to discuss the top 9 factors that buyers care about and help you create the best food delivery plan.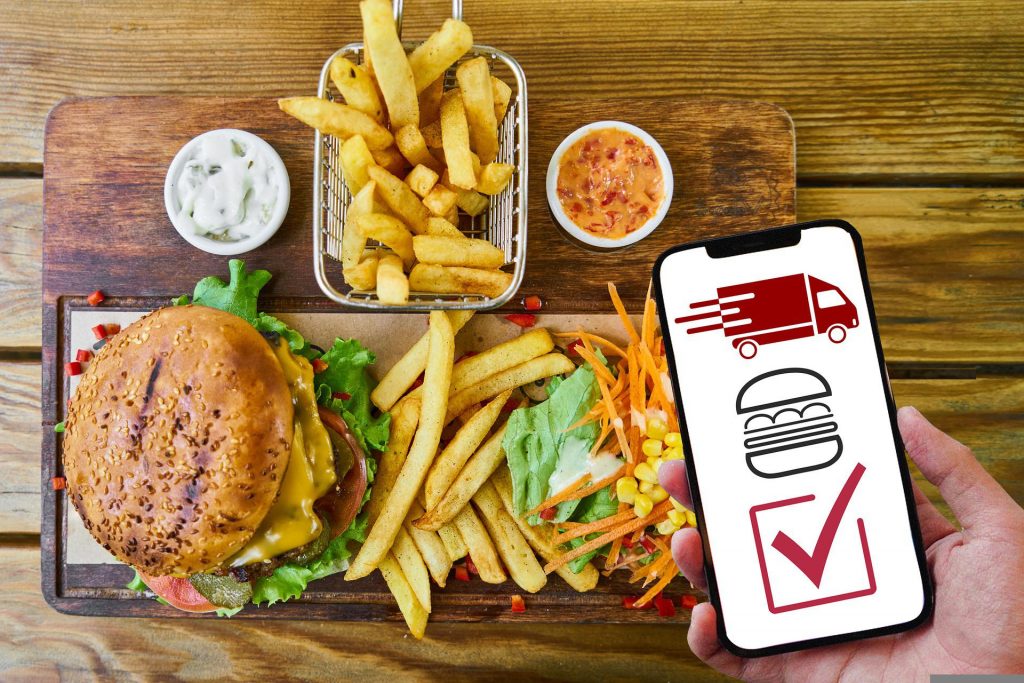 1) Mobile experience
45% of consumers say they will use online ordering services more often if mobile ordering or loyalty programs are available. Buyers spend most of their time with mobile devices, especially phones, and customizing your website or app for mobile devices should be on your list of plans.
2) Order confirmation
When buyers place an online order, call center specialists should call them to confirm the order, delivery time, check the address or payment-related details, etc. If the menu item isn't available at the moment, customers should know about it in advance (you should have updated your online menu but anyway, let them know via a phone call!).
EagleOwl helps you control your inventory levels and make sure you have enough ingredients regardless of how popular the menu item is. This way restaurants can be sure that everything is correct and neither restaurants nor buyers will experience unpleasant surprises.
3) Narrow delivery window
For example, Delfoo's average food delivery time is about 45-60 minutes in Vadodara and 75-90 minutes in remote areas. According to stats, the average food delivery time is 20-40 minutes and your restaurant should do its best not to exceed 40 minutes. This process includes order processing, cooking, pickup, and distance.
Zomato, India's largest food delivery service delivers food in 30 minutes on average. However, their founder and CEO recently announced they would soon start delivering food in 10 minutes without compromising on quality. Why? Because people have less and less time to wait and speed is becoming a top advantage for restaurants.
4) Timely delivery
Promising quick delivery isn't always the same as ensuring it. If your delivery men are busy or the city experiences traffic congestion, let your customers know about it. In similar cases, customers may politely cancel their order because they can't wait or agree to wait for more than they were supposed to. So it's best to be transparent with your customers.
5) Informed, polite, and responsible delivery men
An ideal delivery man is familiar with local streets and neighborhoods, has great organizational and communications skills, and handles food boxes with care. There have been times when delivery men have stacked pizzas on the side and ruined the food, have sipped the drink before delivery, have eaten pizza toppings, etc (Source). Cameras are recording everything.
Following hygiene requirements is also a must for delivery men. If the vehicle containers have been used for transporting non-edible products, thorough cleaning is a must. So when hiring delivery men, make sure you will be working with the right employees.
6) Safely closed package
Your kitchen staff should store food properly to keep it safe. Using sealed containers and ensuring the right temperature is key to customer satisfaction as it helps protect food from bacteria and cross-contamination. Good packaging also ensures all ingredients remain in their places and don't fall into each other.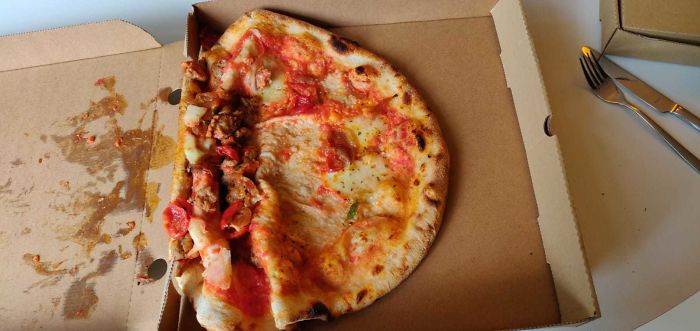 Naturally, this is the responsibility of not only the kitchen staff but also the delivery man because improper food handling in the vehicle may also result in the above-mentioned consequences.
7) The right goods
Delivering the wrong food not only results in unhappy and lost customers but also costs your restaurant extra operational costs, extra fuel, and extra employee payroll. So you should aim for 99.9999% order accuracy, with 98% being your lowest rate.
The 'right goods' refer not only to foods directly but other small details that buyers have asked for while placing the order. For example, a customer may ask you to deliver extra napkins or disposables. Or they might not want to have onions in their burger or hot peppers in their shawarma.
How to make this happen every single time you deliver food?
First, we should get back to our second point regarding order confirmation. If anything seems unclear about customer notes, a staff member should call the customer, clarify, and verify. Next, your restaurant should use POS and online ordering systems that help communicate orders accurately to the kitchen.
Last but not least, cooks should double-check orders against the original ticket before the order reaches the delivery man and ultimately the customer.
8) Tracking information
Customers won't feel comfortable calling the restaurant or the delivery man multiple times to know when the order will arrive. However, a simple-to-access tracking system will keep customers updated about when the man picked the order, when he is on the way, etc. Restaurants can use food delivery management solutions that allow them to
1. Record orders,
2. Update the order status (Food is prepared, Food is out on delivery)
3. Optimize routes,
4. Track driver location,
5. Give customers an estimated arrival time,
6. Let customers track food deliveries on a map,
7. Update customers via text messages and send order status, tracking info, proof of delivery
9) Hot and fresh food
Here are a few tips to keep hot food as hot as possible during delivery:
You should keep refrigerated, frozen, or room temperature food in a separate box/bag from hot food.
Drivers should lower windows instead of running the air conditioner so they can cool off without lowering the hot food temperature.
For hot foods, use thermal or insulated bags instead of plastic or paper bags.
If you are ready to invest, buy portable food warmers that are easy to use and allow you to control temperature. Food warmers are electric and need a power source, so ensure 12V adapters in the delivery vehicles.
For an extra degree of protection, wrap containers in aluminum foil as aluminum reflects the heat back toward the container.
Minimize travel time. No matter what boxes or packaging you use, the longer the delivery time, the sooner the food will get cold.
As for freshness, you shouldn't deliver stale food to buyers simply because they have already paid for it via a card or because they are far away from your restaurant and can't make a complaint. Even if they don't write a review or don't call your restaurant they simply won't trust you again.
Final thoughts
We hope these 9 best practices have helped you understand what makes a great food delivery experience. Implement them and you will see how customer satisfaction is increasing exponentially. People have more online food ordering options than ever before and a single mistake can cost thousands of dollars in the long run.
Learn how to efficiently manage your restaurant operations with EagleOwl. Our restaurant management system can help optimize your finances and increase your restaurant's net profit by up to 25% !