People eat around 350 slices of pizza in the US every second. 
Millions of people admit they'd choose pizza to be their last meal ever.
98% of Americans eat pizza (Source).
As pizza is such a popular food, we decided to dedicate a separate article to pizza marketing ideas instead of describing them in our article dedicated to general restaurant marketing ideas.
Below, we will discuss how pizza restaurants are different from other types of restaurants and will share 10 tips on how to market pizza.
→Want to find out which pizza is more popular among your customers or which menu item is the most profitable? Schedule a free demo with EagleOwl to see how we help forecast sales, increase your bottom line, and reduce wastage.
How are pizza businesses different from other restaurants?
Not all restaurants are created equal. Some of them are ideal for a dining experience, others for delivery. Some of them are expensive or cheap, high or low. Below we want to share the specifications of pizza restaurants and how they are different from other restaurants.
Higher profit margins
On average, restaurant profit margins fall between 3% and 6%. For quick-service restaurants(QSR), that percentage reaches up to 9%. Pizza restaurant profit margins can be as high as 25%! Some of the reasons are low original food costs and the similarity of ingredients that makes inventory management more effective. 
Pizza usually doesn't require one of the most expensive ingredients – meat, and mostly consists of dough, cheese, and toppings, sometimes including deli products (bacon, pepperoni). People also enjoy vegan pizza that doesn't include deli products either and the original costs are automatically reduced.
Delivery-only business model
Delivery-only or dark kitchen business model is ideal for pizza and sushi restaurants. More and more pizza restaurants open that take online orders only and don't offer dine-in opportunities. One of the reasons is that pizza is easy to cook and a convenient option for delivery, unlike some other foods like, for example, soup.
Some menu items bring the most happiness when eaten at a restaurant, right after they are cooked and served. But pizza and delivery are definitely a perfect match!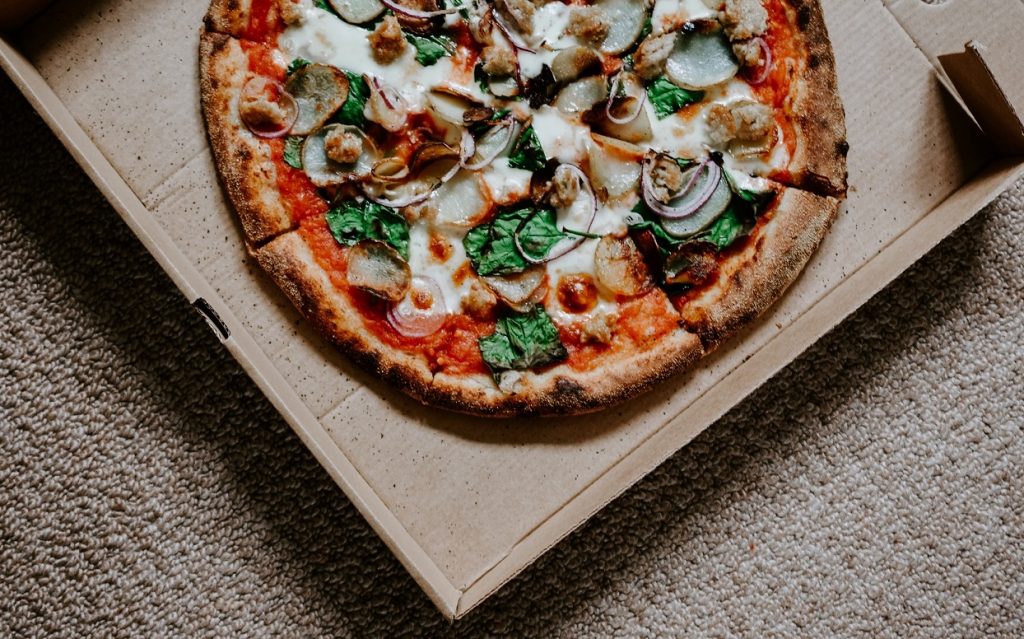 Only pizza
It's difficult to find a restaurant that offers only soups or only salads. But there are plenty of restaurants that offer only pizza with different toppings. As this food is extremely popular and can be eaten without side dishes, a pizza restaurant might never experience a lack of customers. That's a perfect opportunity to specialize in pizza cooking and know all the secrets of this process.
You might want to offer pizza:
with different types of crust (stuffed or not),
for people with different diets (vegan, vegetarian, meat-eater)
with different toppings, sauces, and spices.
The recipe opportunities are endless and you will be able to attract customers with different ingredient preferences. But how do you do that? Here are 10 pizza marketing ideas and strategies to help you get organized.
10 pizza marketing ideas you should start implementing
1) Share mouth-watering pizza photos
Food photography is one of the most successful pizza marketing ideas. The first thing to consider when it comes to shooting pizza is your camera. Nowadays you don't need an expensive camera to take professional photos. All you may need is a simple smartphone with a high-quality camera, natural lighting, and the right angle.
Research some photography composition rules and you will learn about important terms like negative space, rule of thirds, etc. Let us share a few essential tips for you. For a pizza background, you may use items like basil leaves, pizza cutter, tomatoes, flour, mozzarella balls, and similar items that come to your mind when thinking of pizza.
However, you shouldn't forget about leaving part of your background empty. Last but not least, you should take photos right after the pizza is out of the oven and hot. It will become cold and lose its attractive appetizing appearance quickly. So you have only a few minutes to find the best angles.
2) Offer pizza by slices
Selling pizza by slices is an economic and convenient option for pizza lovers, even for those who are on a diet. In addition, it's more profitable for the restaurant to sell pizza in slices. In that case, the price is higher than the individual price of a slice of a whole pie.

However, selling pizza slice by slice is a time-consuming process and you might not be able to sell all slices by the end of the working day. To avoid food waste, firstly you should consider using a restaurant management solution like EagleOwl. It will help you forecast daily sales and hold you back from cooking more pizza than customers will order.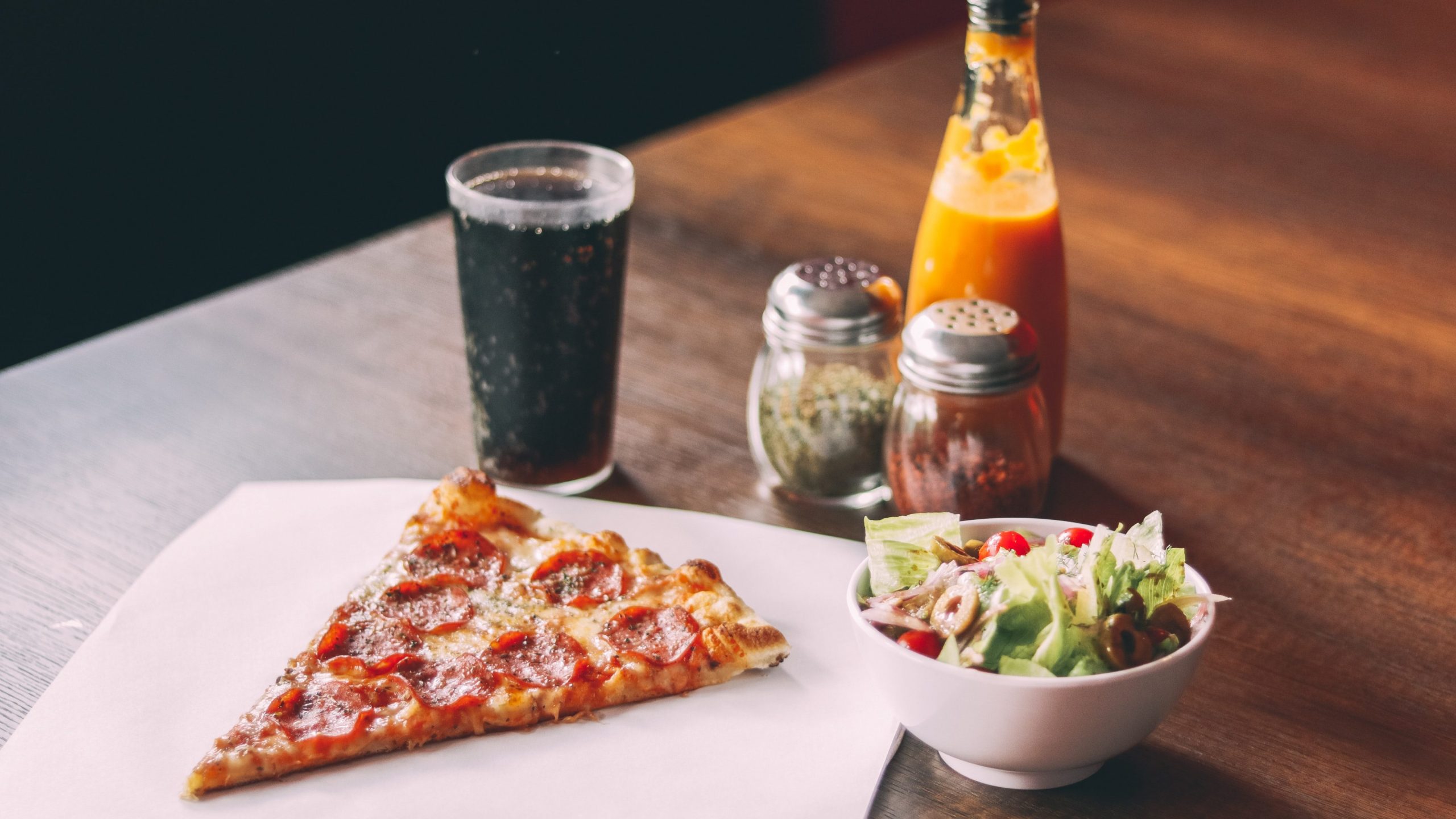 The next step is to deliver only whole pizza orders late at night. Imagine a customer ordering 1-2 slices of multiple pizzas at the end of the day. You are unable to cook only 2 slices of pizza, right? So you will end up wasting other slices that haven't been delivered as you won't have time to sell those slices to other customers.
3) Offer pizza combos for game days
For football and tennis-watching parties, pizza is a go-to dish. First, you should actively monitor the dates of upcoming tournaments and matches and promote combos. They may consist not only of pizza but other food as well. Here are a few combo ideas:

1) Pizza + salads + drinks
2) Pizza + chicken wings + drinks
3) Pizza + French fries + ice cream
4) Pizza + spaghetti + drinks
5) Pizza + mushrooms soups + iced tea

As you can see, you can create as many combos as you can think. But offering too many options might confuse your customers. So try to keep the combo menu minimalistic yet interesting.
Also, don't forget about rewarding your customer for ordering food for a large group of fans. For example, you can offer free drinks, ice cream, or garlic bread with cheese with your combo offers.
4) Support fundraisers
As profit margins are high and food costs are low, you might be able to afford donating a certain % of the order check or an annual fixed amount to a charity. Here are a few examples.

Pizza Hut is in partnership with Uplift Education, a public charter school network. One of the initiatives is an annual $25,000 scholarship to Uplift seniors. On the other hand, Pizza Express has been in partnership with Macmillan Cancer Support since 2016. They raised £2m to help the charity achieve its mission and support people with cancer in the UK.

Katie's Pizza & Pasta Osteria select a nonprofit charity once a month and donate their entire day's profit to that charity. On the 4th Tuesday of every month, they host Giveback Tuesday. Zpizza has created school and community programs to support kids. They donate food, funds, and time to promote sound nutrition, character development, and access to education for kids.

There are so many causes pizza restaurants can support. Find a list of charities in your community, understand who you'd like to support, and donate money or food to people in need, kids. In addition to making the world better, you will increase your brand awareness and attract customers who love supporting companies with a sense of social responsibility.
5) Be flexible with recipes
Pizza is such a versatile food. As a pizza restaurant owner, you should allow your customers to customize their pizza according to their preferences. On your website, you should allow them to check a few checkmarks before placing their orders:

1. Crust (cheesy or not)
2. Extra toppings (mushroom, olives, corn, ham, salami, etc)
3. Size (small, medium, large)

This is a great way not only to satisfy your customer needs but also cross-sell to pizza lovers. The more options they add to their order, the higher the order value.
6) Celebrate holidays & special days
You probably think there is just one holiday dedicated to pizza. In reality, there are multiple. Save these dates for your marketing campaigns and you can thank us later!

– February 9: National Pizza Pie Day
– April 5: National Deep Dish Pizza Day
– Third Friday in May: National Pizza Party Day
– June 11: Pizza Margherita Day
– September 5: National Cheese Pizza Day
– September 20: National Pepperoni Pizza Day
– October 11: National Sausage Pizza Day
– October 25: World Pizza Makers Day

And even besides that, October is National Pizza Month! However, you don't have to celebrate them all. Dates are very close to each other and you might overwhelm your customers. Choose 1-2 holidays instead + celebrate October in a unique way.

Besides, don't forget to create associations between pizza and other popular holidays. For example, you might plan to offer heart-shaped pizza for Valentine's day. Or you might cook wreath-shaped or Christmas-tree shaped pizza before or after Christmas and decorate it with colorful ingredients.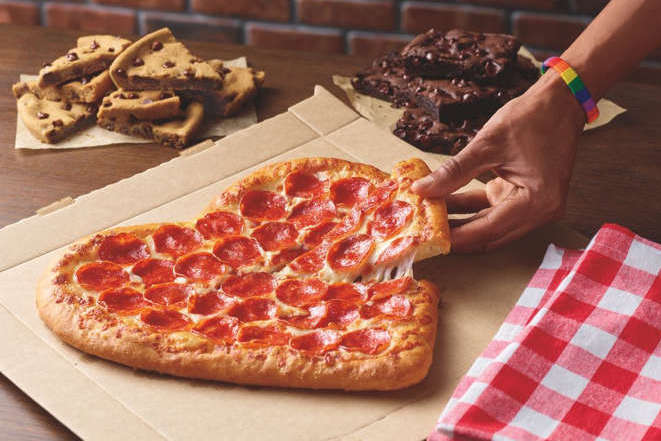 7) Promote healthy pizza
Eating healthy is a trend now and millions of people are ready to pay a higher price to order healthy food in restaurants. Pizza is considered fast and unhealthy food. But you can create a new culture where pizza is loaded with healthy ingredients.

You need to start with using a whole wheat (or other whole grain) dough. It's rich in minerals, protein, and fiber. Then, choose low-fat cheese options like mozzarella and parmesan and give advantage to fresh products over processed, pre-shredded. Use natural sauces with no preservatives.

Last but not least, decorate pizza with healthy ingredients like fresh bell peppers, mushrooms, olives, pineapple, etc. When it comes to meat, use freshly-cooked chicken, shrimp, healthy sausages, etc. For healthy food lovers, minimize the use of processed meat products like salami, ham, etc.
8) Use a restaurant management solution:
Which pizza is the most popular? What toppings are the most wanted? Which menu items are the most profitable? Which menu items create waste? How do consumption patterns change?

If you want to find data-based answers to these questions and organize your operations accordingly, you need to use a restaurant management solution like EagleOwl. It will show your stock level, automate ingredient costs, create sales reports, manage waste, and more.

As a result, you will always have enough ingredients to fulfill all your orders, control food costs, reduce wastage, and increase your bottom line.
9) Use pizza quotes to decorate your dining area, website or social network
Have you noticed these quotes before? We believe you have!

"A slice a day keeps the sad away."

"You can't buy happiness but you can buy pizza."

"People disappoint. Pizza is eternal."

They are just a few examples of how people adore this food. You don't have to use old and well-known quotes for your website or social media but you can be creative and offer new, unique, humorous quotes. You can even organize a contest among your followers and reward the author of the best quote.
10) Accept online food orders
As mentioned in the beginning of the article, pizza is one of the most delivered foods and many pizza restaurants work on a delivery-only business model. But how do you make delivery experience exceptional?

Firstly, your customer should be able to order pizza via a mobile device, including a mobile app or a mobile-friendly website. Secondly, make sure delivery drivers wear clean uniforms and have clean cars/mopeds. Thirdly, use corrugated cardboard boxes that are cheap, recyclable, and are easy to hold pizzas.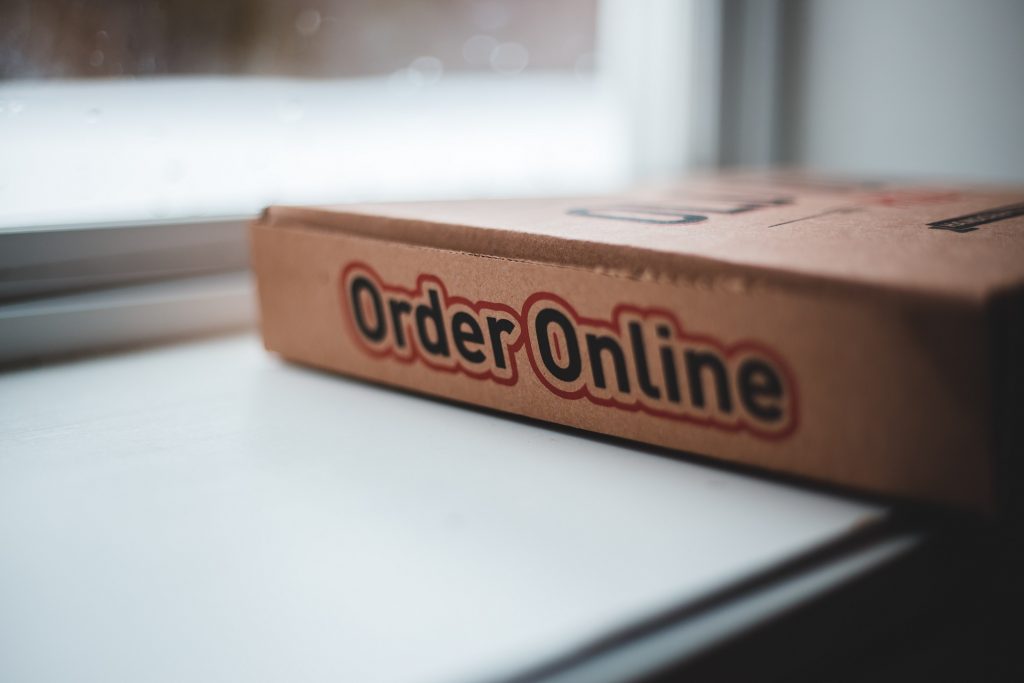 The average delivery time depends on the number of orders at the same time, direction, traffic status, etc. However, you should optimize as many aspects as you can and try to deliver pizza in around 40 minutes.
You can train your kitchen staff to follow certain rules when a new order is placed. For example, employees have only 2 minutes for checking the order and 12 minutes for cooking.
Final thoughts
Finally you are familiar with more pizza restaurant marketing ideas and can already start implementing them. Create campaigns catered to different groups of customers and see your number of customers increasing.
Learn how to grow with EagleOwl. Our restaurant management system can help optimize your finances and increase your restaurant's net profit by at least 25%. Contact us now to schedule a free demo!