We announced the beta version in August'17, took it to the market with bare minimal features to get user feedback. At that stage, you are usually unsure what the reaction would be, your mind goes through thoughts you wouldn't ideally want it to and you are excited to even get a demo.
We were fortunate to get more than expected demos and leads in August and September. The feedback was positive and they appreciated our in-depth focus on back office operations of the restaurant.
So March 10th it was. We officially launched EagleOwl in our office, with our first set of users as the Chief guests. Our intent was not to show off, but to share our happiness with friends, family, colleagues and clients who have been a part of this intense journey.
It was a very joyous occasion for our team, a red-lettered day and what better can you hope for than your happy users inaugurating the product launch with 'Annamalai super scene' music playing in the background, as the chick found its way to the world, breaking the shell.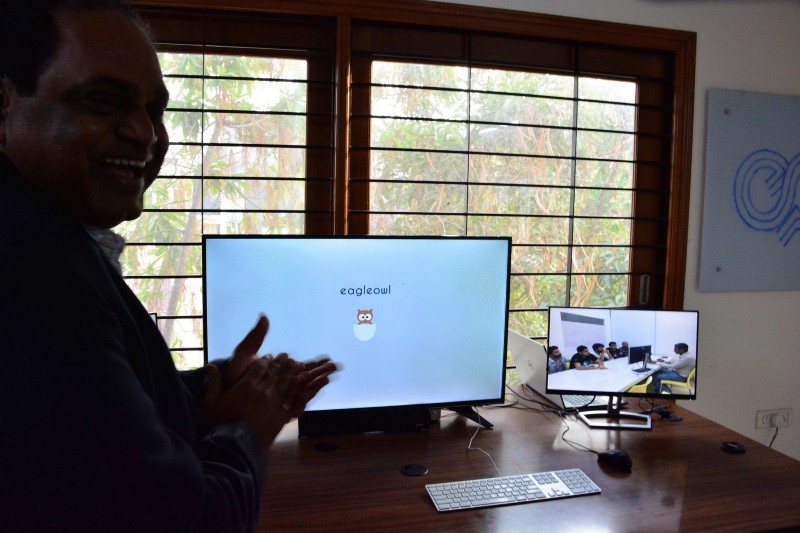 Beginning of the learning:
A famous chain in Bangalore with multiple brands and outlets was our first pilot, we spent a month with them — in their kitchens, office and prepared weekly reports. Arun (my colleague) spent a lot of time at their office, it helped him better his understanding of the problem, gained valuable user feedback, prioritized feature development. They were very happy but when it came to closing the deal, they mentioned that without POS it is going to be difficult to switch.
We exposed API's to consume sales data, but their POS vendor didn't cooperate. We were singularly focused on backend operations where we believed we could differentiate. It is near impossible to enter or compete with just a POS offering in this market, there are thousands of them. I remember those days and nights filled with optimism and dreams that we were close to closing our first sale. But lack of closure hurts me big, there is this inexplicably intense feeling of pain and disappointment. It seemed like we had it and we hadn't.
Apart from me being crestfallen, you are more worried about your team. I spend a lot of time with Arun and Nitin Sachdev on a daily basis  – discussing EagleOwl. Though they didn't say anything, you can feel it.
Looking back, we were able to quickly iterate and prioritise our feature development during this exercise. Rejection teaches you things that acceptance doesn't.
Became a dad again:
The SSB group signed us up in October for the pilot. Arun, Nitin and I visited Vaniyambadi, stayed for 2 days and helped their team onboard. They would call us if they encountered any difficulty and a quick team viewer would suffice. During this phase, they continuously passed on feedback that was very critical for us. We encountered some use-cases we hadn't thought of (you've got to admit) and started building them. Not even in my wildest of dreams did I think that EagleOwl would be used in a place called Vaniyambadi, this is a small town in Vellore district, Tamil Nadu. For a product such as this, you are inclined to look at metros and tier 2 cities at best. Metha Reddy is a self made person and someone who learned business all by himself, as a partner he takes care of operations of multiple outlets juggling between Vaniyambadi and Vellore.
When I met him first and asked what their veg meals costed — he reeled out numbers and measurements so fast I couldn't pause to think. Such was his mathematical acumen, I understood he couldn't have learned that in any school.
After a month of piloting, they became our customer in November. That was the big moment, November 25th, 4:10 PM. Arun and I went to their house in Bangalore to collect the first cheque from their CEO, for whom I have deepest respect. We thanked him, took his blessings and left. We walked back slowly and silently, moments such as these make you communicate in silence. I dropped him back at the office, asked him to share the joy with all others and went to meet my friend Murali for the evening.
Undeniably, the day I became a father 9 years ago was my happiest moment but I didn't cry then, in fact I felt my role on earth was accomplished and was relieved. But on this day, tears welled up and happiness filled me up. This is a surreal feeling, one that other entrepreneurs will relate to. We have a very special relationship with the SSB group that can't be expressed in words.
Effect of belief:
Nothing is ever accomplished alone, you need to have a great team, a bunch of guys with indomitable spirit and unshakeable belief in what you've been selling to them. Because till something is attained, hardly anyone believes you, not because they don't want to, that's the nature of most new businesses with unverifiable hypotheses. That's where a special person deserves a special mention — Arun Prakash. He was our second employee, and joined us in July, 2016. I don't think he aced the interview but we liked him, he just didn't give up. It turns out that he's one of the best performing guys around and definitely most dependable. Am just
happy we made the right decision to have him with us. A lot of credit goes to him for where we are today. Nitin Sachdev is another smart guy with us, he is one who likes engineering and business equally. He's spent his entire time with us on EagleOwl. I take him to all restaurants
I visit, else he refuses to code. This helps us, we now have engineers who understand what they do and more importantly why. Most client issues are directly handled by them. And they are now confident of doing
sales.
Nitin, Jose and Arun — the blue birds.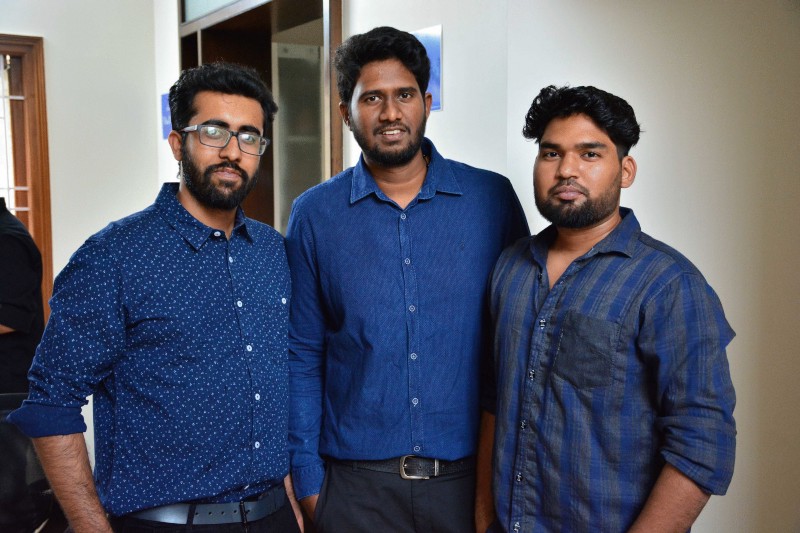 Windmills Craftworks:
We got introduced to Ajay, CEO of Windmills on August 18th 2017, my partner's friend and Ajay were buddies. We met a week later for a demo.
When I followed up, he said he was engaging with the leader in the segment (Indian) and that he's going to be busy for the next few months with setup and transition. That message literally crushed my heart, but for every follow up email I sent, he duly responded. So my follow ups continued to continue. I again reached out on Nov 16th asking if the transition was complete and he said "No, come over". That's when our engagement started. He told me, "Vinodh, do whatever you want, but get it done".
I juggled between the office during the first half of the day and the second half at Windmills in December'17. It was a complex problem to solve considering his 3 outlets were of different types, their operations were unique, the sheer amount of data that needed cleanup and the number of people I needed to work with. Apart from food, we also had to handle liquor and craft beer costs. On top of this, we had only built a system for independent outlets, not for chains. So, I literally spent the next 3 months at their office (and continue to, though at a lesser frequency of 3/4 days a week) and visited my office once a week. The good thing was that they followed all the right processes using excel sheets and a combination of software. It occurred to us that our product was well suited to them with a bit of tailoring and the amount of learning we will get from being there wouldn't just be possible if we chose to limit ourselves to our office and code.
As Steve Blank says, "Get out of the building". And if someone is thinking "How will you scale?", I found the answer here, happened to come across that wonderful essay recently and felt much better.
Anshuman Saagar is all ears to Ajay Nagarajan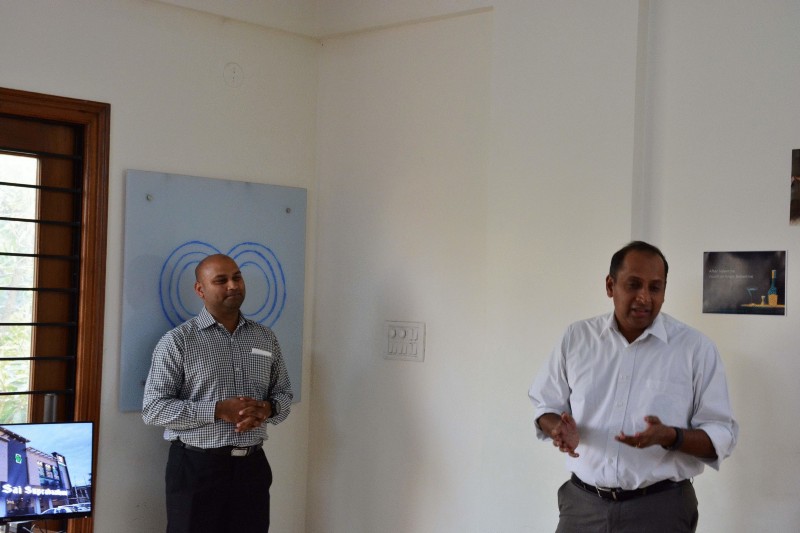 Ajay is very meticulous, demanding, process oriented and loves perfection. To make it worse for his vendors, he loves to see everything beautiful. Naturally we were under more pressure to deliver to his expectations. I've by now spent so much time with him and his staff that the answer to why they are so good is not a surprise. 
They are consistently rated very highly in Bangalore and India as one of the best in business. As of this writing, we have managed to setup 2 out of his 3 outlets. The third one is a buffet and requires more thinking and tinkering.
Windmills is very special, they made me feel like I am part of them. There was never a moment I felt like a vendor, a salesman. I have made numerous friends there — Chef Mandaar, Chef Suresh, Chef Manjit, Sudheendra, Srinath, Ramesh, Ajith, Ganesh, sous-chefs, guys at the bar, cashiers, Shaan and then Neil, who taught me the EagleOwl pose (below). Everyone there calls me Eagle but some don't know my real name. It is such a fun place to be in and we have promised Ajay and Metha Reddy that we will deliver the best experience along with the best product.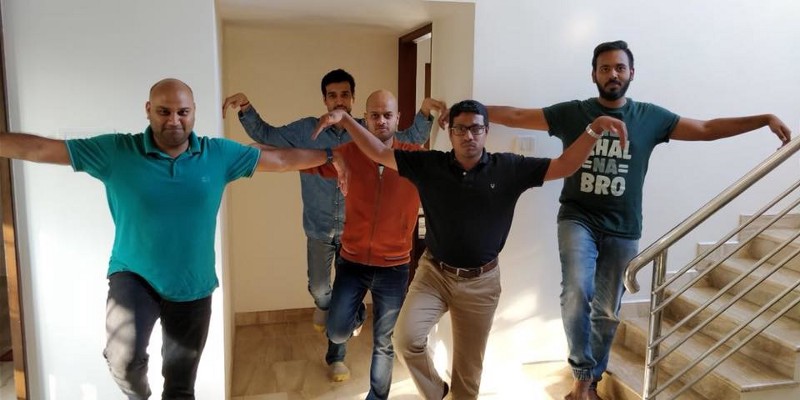 Rigor:
While all of this was happening, Sijeesh provided us with new designs, a wonderful logo and we also had to redo some of our core components to meet the customer requirements. And when the core changes, everything else does. It was a rigorous 2 month period where we ran two different versions of the software for our clients, with different features. We were back on track after Binu and team merged them to the same platform. 
Thanking our customers isn't justice, in fact we are indebted to them for being very patient with us. We were very honest about where we were and they were willing to wait a while, if we could deliver what they needed. 
During this period, I was literally pushing my team to the limits, it was one of the most stressful times ever. But at the end of the day, when you hear a few happy words from users, all the stress vanishes in thin air and sanity returns.
Way forward:
No matter how hard, giving up is not an option and this is a tough business, as most are. There are many out there to write you off, I've heard many by now, the worst that can happen is you writing yourself off. We have made a modest and steady start, but more importantly a happy one. But we have a long way to go. Our goal is to build the best restaurant inventory management system and I strongly believe we are well ahead of our competitors, just that not many know us. Our confidence comes from the fact two more restaurateurs have decided to switch to us this month, they are presently using a competing product.
When you see a couple of happy customers, it gives you that joy and confidence that's indescribable, that keeps you going.
We are presently working with a bakery chain, an upscale restaurant, and a brew pub in Bangalore. And all of them were connections of Chef Manjit and Ajay Nagarajan. We also have another exciting announcement (POS) coming soon, with a new offering which is in pilot.
As Usain Bolt said "There are better starters, but I am a strong finisher". I hope we finish well, because hope is such a good thing !