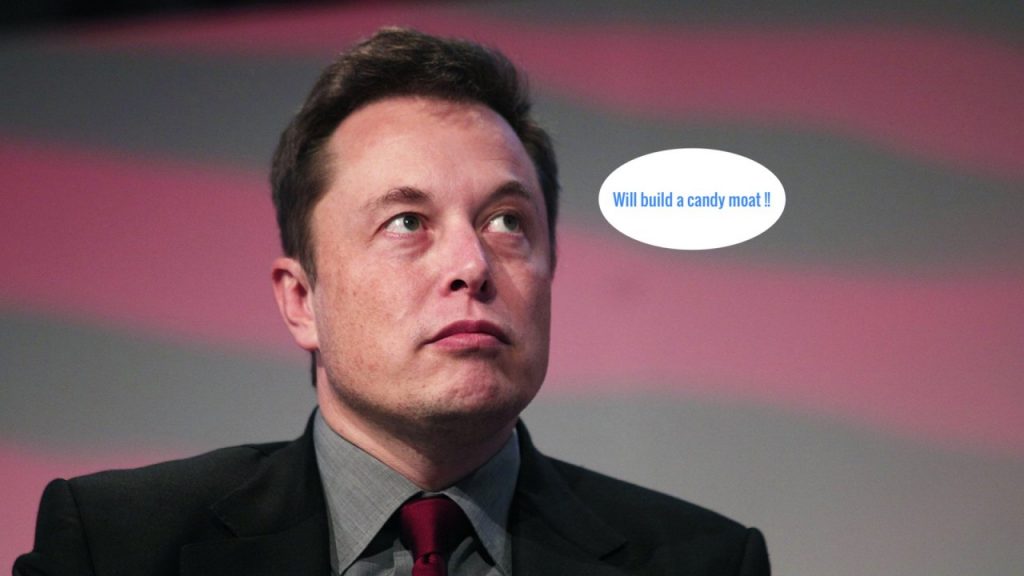 "I'm starting a candy company & it's going to be amazing," tweeted the mischievous Musk. "Then I'm going to build a moat & fill it w candy. Warren B will not be able to resist investing!"
Every product, well almost all, has competition. Quite often, prospects will ask what's your USP, or why you are different from someone, I already have all of it, so why you? As a founder it is a question you will very often hear, be it friends, prospects or investors. This is something your team and salespersons will also ask – he/she needs to tell the prospect why his/her product is superior, how it adds more value to them.
Let us take our own space – a restaurant BOH solution a.k.a inventory management. Almost all of our competitors are complete restaurant management solutions – that encompasses billing, inventory, reservations, analytics, CRM, etc. They have more features than we do, in terms of breadth. These are standard terms and a company cannot suddenly coin a new acronym just to look different. Well, you could do if you want to stand apart, say RaaS, etc but am not yet sure if that will help. The main reason most prospects ask this is that they genuinely don't know the difference until they experience it, everyone has been telling and selling them the same. It is also difficult for some owners to decide just based on a demo, which is typically 10-30 minutes. What could be the reason for this line of thought? One anomaly here is that there are a set of owners/decision-makers who are super smart, detail-oriented and see the value within minutes into the demo. They'll then ask very detailed questions and cover complex use cases which we normally don't hear from others.
Inventory is hard:
What we have observed is that many restaurateurs will see the value add and will say it in as many words. Some will have a system that has common features, but wouldn't have tried, some would have tried but failed. These are the early adopters who 'really' wanted to do it right but for some reason couldn't. They will negotiate and sign up very quickly, ensure their team implement and will be on top of it every day. They typically belong to the 'data-oriented decision takers club', are very experienced in this industry (hospitality management, CA's, management/tech/ops background). It is an absolute pleasure to work with them, as they'll aggressively drive the implementation.
The Pizza Bakery Story:
A case in point is Nikhil Gupta from 'The Pizza Bakery'. He's from Bishop Cottons and an economics graduate from Lancaster University. I still remember our evening demo in his Indiranagar outlet, in Sept 2019. He is known to be a data-oriented, hard negotiating toughie. My colleague who set up the meeting asked me to take the lead. During our brief, the usual resistance was seen – we already have everything and at a cheaper price, so why should we look at your product. As we got talking, I realised that though he had software to manage inventory, it was merely used for purchase entries and transfers. I told him that he doesn't have to buy EO, whatever he chooses to use, he has to run it the right way and not how it's been running so far. We got into a pricing war for a few minutes and the deal was closed within a couple of hours.
I told Nikhil, "It is not just about pricing, am more concerned if you will use it to the fullest. Are you truly interested?". He shot back, "That's my worry, not yours, I will strip everybody's pants if they don't"! He pulled in his team and said, "We are signing them up, from tomorrow the work starts".
I was delighted to see his full involvement. From my experience, it is only these types of owners with a vision for the future that set the trend. Radhika, who handles finance and accounts was surprised with his execution speed. We met him around 5 PM, the contract was signed by 6:30, money was wired by 7. It took a month or so for them to settle down, we helped them with the process, feedback on usage, identified gaps and areas of improvement. Fortunately, he has two great team members in Chef Guru and Praveel, who handles purchases, inventory. It didn't take long to train them as they knew the fundamentals. In this case, the owners and staff wanted to implement but had starting problems. From 1 outlet that we started within Sept 2019, it became 4 by Jan 2020. The system hygiene is in good shape, so is Mozzarella Cheese consumption! Nikhil and I speak almost every week, not all related to EO. More of industry trends, his expansion plans, what's happening in the market, etc. He pro-actively refers us to friends in his network.
What it takes:
Then there are these owners who have tried, failed and have given up. What has hurt them is not the lack of intent, but inadequate staff knowledge, apathy from vendors and lack of support. Here I must mention that the initial support they need can be quite significant – this is something they are mentally prepared for. Many of them are willing to spend anywhere from 2-3 months to get settled and start seeing results. What happens is that the vendor doesn't help the 'many' users of the system understand the nuances nor guide them to use it the right way. It is also that users at times don't make much of an effort to learn or experience the product on their own – possibly due to fear of screwing up something or the usual mentality of 'do and show me everything, till am comfortable'. At times, this can genuinely annoy a vendor, due to which they wash their hands off, parties stop communicating and the implementation is a dud. After a few months, owners also give up and they resort to just billing, and glorified system plus excel based costing and analysis. We have seen many such owners who just don't have the will to take it up again, having seen multiple failures. The fault isn't one-sided. Software vendors have their version and to be fair they have a point. I have met with a few peers in this segment and they quip, "Are they willing to pay for the type of service they expect? We would rather focus on bigger enterprises here and abroad". Naturally many of them have shifted their focus to more mature and rewarding markets, targeting enterprise segment, bigger chains both in India and abroad. A $130-$150 MRR is par for the course, and payments are prompt. They value your time, will clearly articulate the problem statement, what their expectation is, sign up and get on with it.
The moat:
Different products have different moats. For some, it is an "I-have-everything" complete offering, though some modules could be also-rans. For too long, the industry has struggled without a "great" complete solution, we are one of the culprits as well. We realised that there is so much depth to cover in each product line, that it is extremely difficult to be good at everything. This is exactly what happened, everyone tried everything and customers don't get the best of what's available. The underlying DNA of a company is difficult to change, no matter how hard you try.
We strongly believe in doing "one-thing" with the intent of doing it "better than anyone". If we can do this, we should be good. As a company, we will double down on the BOH space rather than try everything possible. Customers have access to every product in the market, they have already seen or heard from their friends and they will know the difference. I normally don't get into discussions on why someone is better than others, would rather have them experience it and decide for themselves. Either way, there is a monthly subscription option and they can cancel anytime.
For the commoner, it's a car with an engine, it takes you from A to B, whether it is a Maruti or Bentley. But the work under the hood is largely unseen and that's where the magic is. And you can go from A to Z much faster, happier and more efficiently. And magic will happen.